Red Dead Redemption 2: Where To Find The White Arabian Elite Horse Location
Which is the best horse in Red Dead Redemption 2 and where can you find it? It's a bit difficult to make a choice considering the fact that Red Dead Redemption 2 features a total of 19 different horse breeds, and some people might have a tough time choosing just one. For us, this is not the case—in this Red Dead Redemption 2 guide, we are going to show you the exact location of arguably the best horse in the game, "White Elite Arabian Horse" (white in color, looks absolutely beautiful), and how to tame it. So let's get started without wasting any time.
Where To Find The White Elite Arabian Horse In RDR 2?
The best part is that you can find Elite Arabian Horse pretty early in the game, the moment the game's world opens up for you. It is not locked behind any Story Mission or Side-Quests and you don't have to pay some in-game currency to buy it or anything like that. We highly recommend that you go and look out for this horse first—leave aside any mission or quest you are doing currently—keep it on hold and continue once you get the Elite Arabian Horse.
White Elite Arabian Horse Location In RDR 2
You can find Elite Arabian Horse in the mountains near the Lake Isabella (the north-eastern side of the lake—visit during daytime). As you will be entering a snowy region make sure you have the Warm Garments. There is no specific location, you have to look for the Arabian Horse near the Lake Isabella, it visits the lake and circles around it very frequently.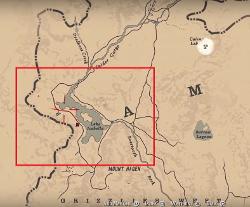 Tips To Tame Elite Arabian Horse In RDR 2
Once you find the Elite Arabian Horse, approach it slowly, once you are near the horse, try calming him down—do this multiple times, and frequently pat him as well. Once you get the feeling that the horse has become friendly with you, mount it, and continue the calming and patting for few more times. Once you are all set, and the horse is completely under your control—take the saddle from your previous horse and put it on your new companion—Elite Arabian Horse.
Follow our Red Dead Redemption 2 Wiki Page for more interesting guides like this – there are map locations for all Fishing and Hunting i.e. maps with marked locations of all animals and fish in the game including the Legendary animals, all story missions walkthrough, list of best tips and tricks on clothing, hunting, controls, and many other things.