Tips To Defeat Scorcher, Frostclaw And Fireclaw In The Frozen Wilds
One of the best new things added to Horizon Zero Dawn: The Frozen Wilds DLC is new 3 machines – "Scorcher, Frostclaw, and Fireclaw". To register a win over them is not an easy task, you need to be a PRO i.e. all small and big tips and tricks from the main game i.e. Horizon Zero Dawn. Guerrilla Games has also added a Control Tower in The Frozen Wilds – it has an ability to heal the machines in its Pulse Radius. Sounds like the battlefield between You (as Aloy) vs 3 New Machines Enemies is one-sided? On paper, it looks exactly this way. On this note, we present to you Tips That You Need To Follow To Defeat Scorcher, Frostclaw, and Fireclaw Easily in The Frozen Wilds DLC of Horizon: Zero Dawn.
Tips To Defeat Scorcher, Frostclaw, and Fireclaw
How To Defeat Scorcher
He is really a huge and aggressive robot Just like a powerful wolf, which has both melees and ranged fire attacks. They are quick, stronger and well armed, they have got a Mine launcher which can be a real pain sometimes.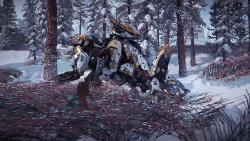 Tips To Kill Scorcher
They are easy to stun if you chip off some of their armor.
Make a hit on their Power Generators this will make a heavy impact to make a heavy damage.
You can also make a use of fire arrows on their Blaze Canisters to make a Heavy damage.
For your first attack try making a heavy and strong attack with the help of the Tearblaster.
Try to get away after you attack as it will explode.
Try to take the mine launcher first so that you can use it against Scorcher itself.
Jump away when he is about to charge on you.
Here are the tips you need to follow if you encounter Scorcher in an Open Space
Try to attack mostly in a Stealth mode.
Take the Mine launcher first.
Then go for the armor plates and its flanks.
Try attacking the fire attacking unit, so that once it's been cleared you will be free to kill him very easily.
How To Defeat Frostclaw
This one is a huge Bear like looking Machine which has a got a tanky health to deal with. Due to its huge structure and tanky health, it is going to be a bit difficult to kill him even after taking off his armor. He is not only strong against the Shock and corruption but also against the frost damage as well. And the Good thing is that he is weak against the Fire attacks. Now you can have a relief. And keep this in mind that the best time to tackle him is when you have taken down the nearby enemies.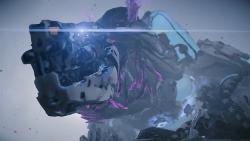 Tips to Kill Frostclaw
Try to remove some of his armor first.
Then go for its Two Freeze Sacs on either side.
Try to take down his Freeze attacking unit from the chest as this will stop his ranged attacks, it's a bit difficult but make sure to remove it.
For which you will have a very good opportunity when Frostclaw is scared or curious he will standing on his hind legs giving you an open wat to hit on his chest.
This one might sound a bit gross but, if you want him to stun him and put him in some more trouble then you should destroy the Power cells on his Butt!!!, yes you heard me right on his Butt and for better result shoot from the behind.
Now that you have removed all the important and major factor of his body, make a constant hit with fire and then let the Fire, work on its own.
Take then Nearby enemies down with your Stealth attack or corrupt them.
Make use of the Guerrilla Tactic, by hitting it hard.
How To Defeat Fireclaw
Well if you were not enough happy with the new machines that are been introduced then here you have Fireclaw, which is an upgraded version of Frostclaw, but with a twist of having all the Elemental Attributes reversed. He has Fire as his main attack and a bigger tanky health, making you feel like you are having a fight with one of the boss.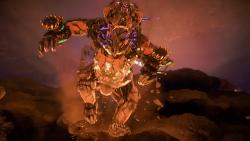 Tips to Kill Fireclaw
TO kill Firclaw you will have to follow the same process as you did to kill Frostclaw.
Make use of the Upgraded version of the Icerail that you got while doing the Main Quest.(by speaking to Varga at Longnotch)
when you freeze the Fireclaw make the most of that moment by attacking him with the most powerful weapons that you have as he is been freezed for a short period of time and you can take the complete advantage of it.
Many at times even after making a heavy attack you will have to run to save yourself.
Don't lose your concentration from them as they have a got a huge amount of health to deal with.
How To Destroy Control Towers
Control Towers have never been a good thing for the players. They are actually the real pain in @$$. These Control Towers in The Frozen Wild have the ability to heal the Deadly machines that we attack and even damage to the machine that is friendly to Aloy. There are Two ways to take these Control Tower Down.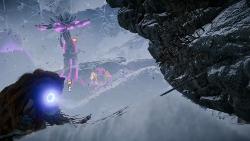 Method 1
This one is a close ranged method that you have to get to the machine and then Override it.
Pros: This will cause the last pulse, stunning all the nearby enemies.
Cons: It is nearly impossible to get too close to these tower without getting detected.
Method 2
This one is a bit more ranged and Stealth way to kill the tower, a method which will not get you detected. All you need to do is hit the Powerbox at it's back, which can be easily spotted using the Focus. Killing these towers will be easy as you will just need to hit three times and then you can either have a fight with the nearby enemies or just move ahead in the game. But killing these tower will surely help as this will stop protecting the Mean Machines out there.
How To Defeat Daemonic Machines
There are some new Daemonic Machines introduced to the game which is been denoted by the Purple light. (Your Focus will also notice this)
The only one thing added to these Daemonic Machines is health rest all will be the same as the Earlier machines.
Keep this in mind that these new Daemonic machines are too strong against the Shock and Corruption but weak against stun.
Make sure that you fight against them more tactically then against the usual ones.
Make a point that you Corrupt or even Override the nearby small and regular Machines.
Make a point to separate these Daemonic machines first if you have more than one around you and kill them one by one.
Making use of the Tearblast arrows to take down their vital parts is best.
If you are too close to these daemonic machines the try to make a few heavy melee attack on them and then make a critical Hit or simply run away to make long-distance attacks.
You can also stun these Daemonic machines by hitting a three notched arrow on their foot for best results.
Completing "A Secret Shared" side quest will let you upgrade your spear for greater damage.
That's all for this guide on How to Defeat the New Machines and Tower in The Frozen Wild. Stay Tuned for more, amazing guide on the Frozen Wild. till then do refer to our other guide on New Outfits And How To Unlock Them.