Fisk Hideout | Spider-Man PS4 Walkthrough
In the previous mission Something New, Something Old after unlocking the suit section of the game you will get a call from Yuri about Fisk's men who are using constructing sites to run a racket. This one is a short mission and you will also have to play some side-mission to level up your character to progress to the next one.
Fisk Hideout Walkthrough
As Peter Parker you will be mostly in the lab, there won't be any fight. Don't forget to play the mini-games for an extra bonus.
Fisk Hideout
Go to Fisk construction site. Dr.Octavius will send gadget idea – Impact Web. It can release a powerful web blast that can instantly web an enemy in front of you. Such gadgets will be very helpful when you are battling with a group of enemies, along with this you will also get an upgrade section for every individual gadget. By paying through crime tokens you can increase the power of these gadgets. So go for an upgrade for Impact Web and press L1 to open a gadget wheel from here you can pick the one you want. On the mini-map in the right corner, you will see enemies.
If you don't want to indulge in a heavy battle you can play in stealth and take down the guards around quietly. Stay in the upper area and use the new gadget impact web to disarm them instantly. The missions will now have bonus objectives, by doing that you earn extra rewards. You can also use objects around to hurt enemies.
Defeat Fisk's Men
After dealing with the men on the construction site go to the next marker and there you will found more. This time you will be dealing with armed guards, take down the one who have rocket launchers. They can cause high damage if you get a hit. After clearing them in a small cutscene, the mission is over. You will earn three Base Tokens, +2500XP, Level 5 and a skill point. After Yuri's call, you will see more Constructions Sits on the map.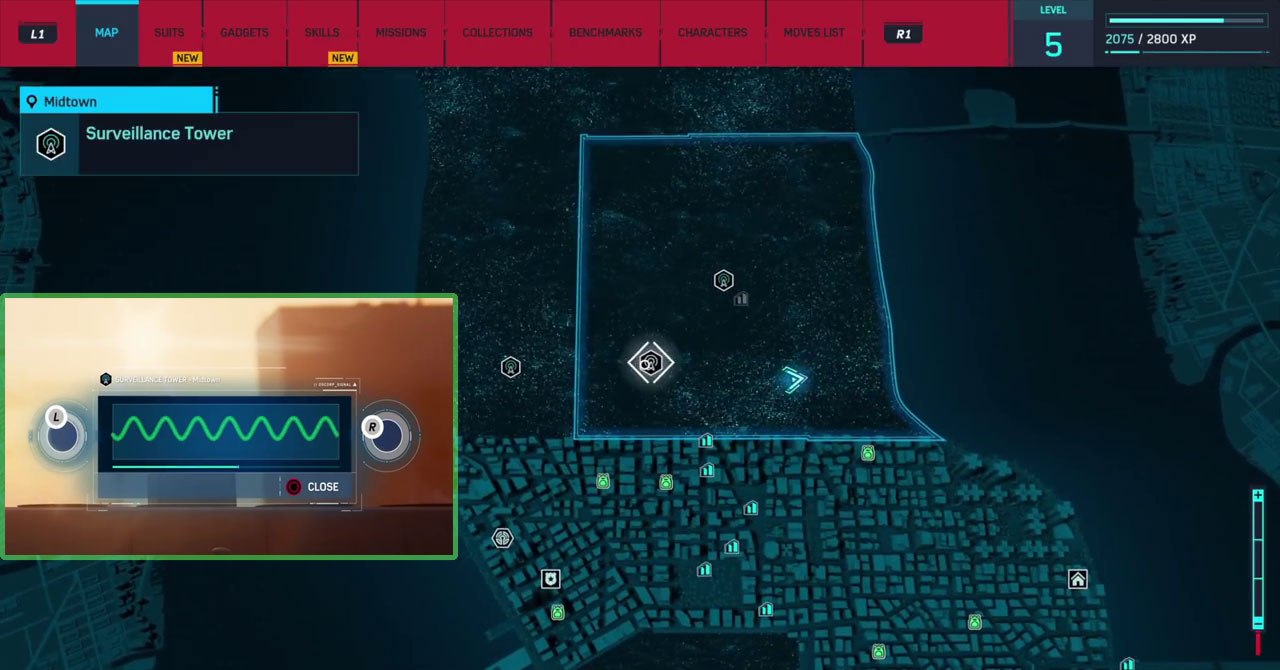 Towards the marker, you will see three surveillance tower. You will have to calibrate the towers to unlock the maps. So go to the three locations and get access to the map to get info about side missions. The marker will take you to Empire State. Just click a picture to earn a Landmark Token + 100XP for discovering it. Once you pick a surveillance tower like the one in above image you will see a lot of side missions, like a backpack and crime locations. Play that for a while. The green lights you will give you Backpack tokens and the red one are for Crime Tokens. You can play the small mission for getting new upgrades.
After some time you will get a call from Martin Li for the second time and he will call you. Follow the marker that will lead you to a bag, you play as Peter Parker here. Follow another one meet Martin for cutscene. Once it is over, go out to check the voicemail send by Yuri. This will initiate the next main mission Don't Touch the Art.
For more similar guides on the game do have a look on our Marvel's Spider-Man Wiki guide.