The 10 best Adamant Rail builds in Hades
The best Adamant Rail builds to free yourself from the Underworld.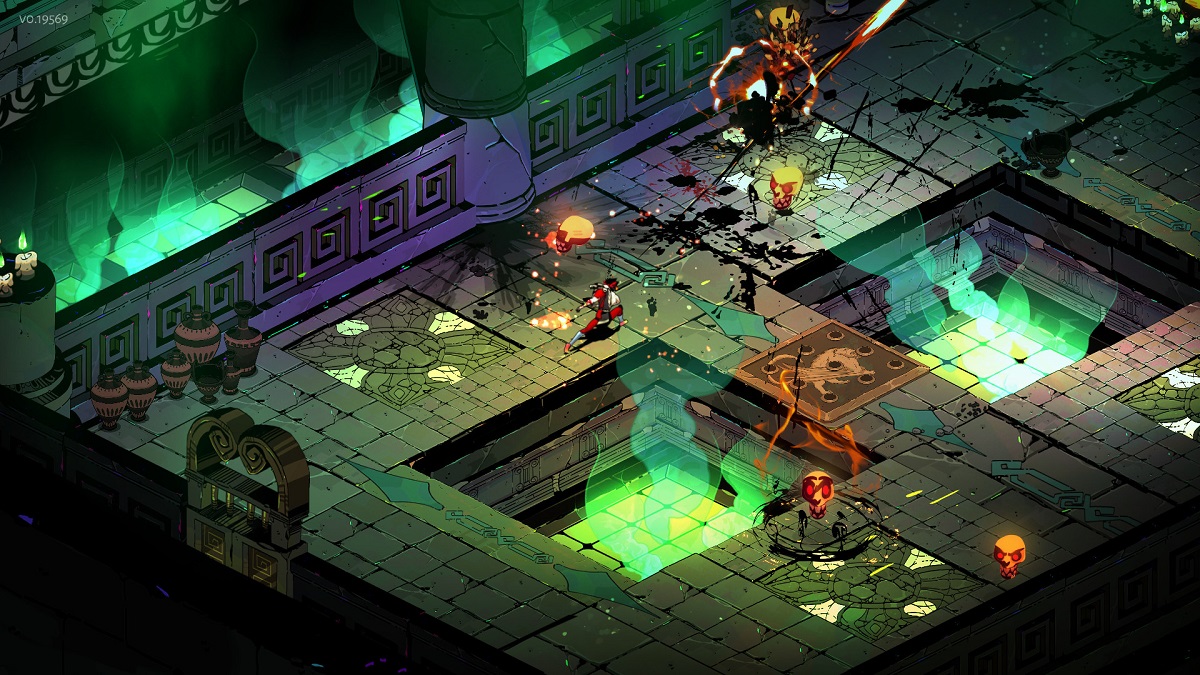 The Adamant Rail, or Exagryph, is one of the most powerful weapons you can wield in Hades. It will take some time to get used to its attacks, especially the reloading speed. With the right Boons, Aspects, and/or upgrades, you can quickly start decimating the enemies that stand in your way. It's great to mix and match different combinations but there are certain builds that stand out among the rest. Let's take a look at the best Adamant Rail builds in Hades.
Which Adamant Rail builds work best in Hades
If you are looking to get better with the Adamant Rail, here are some builds that can help improve your performance. Given the random nature of Boons, Aspects, and weapon upgrades, builds will only reference a few key parts. Everything else is up to you; there's no build that is too specific that getting one thing wrong throws it off course.
10) Demeter: Frost Strike, Killing Freeze, and/or Arctic Blast
The Adamant Rail's quick attack speed allows you to build up Chill stacks on a target. It will slow them down and allow you to move around them, dodging their attacks. If combined with Killing Freeze, you can rapidly deal damage over time. Arctic Blast is the other part of the equation, dealing burst damage upon a target reaching ten Chill stacks. It's easy to tear through enemies while they struggle to touch you.
9) Ares: Curse of Agony, Dire Misfortune, and/or Impending Doom
This is an extension of building stacks on an enemy, though you will require Dire Misfortune for stack-building to be effective. The attack speed from Adamant Rail will build more Doom stacks for Dire Misfortune, allowing your eventual Doom damage to be greatly increased. If combined with Impending Doom, it could easily tear through stronger enemies, especially armored ones.
8) Dionysus: Drunken Strike and Numbing Sensation
Dionysus is one of the best suppliers of damage-over-time Boons. The effect starts quickly and it's not hard for the Adamant Rail to build five stacks quickly. You can increase the strength of Drunken Strike through Poms of Power, making each stack deal significantly more damage. With Numbing Sensation, you can slow enemies down and get some distance, letting enemies experience all the damage while you are safe.
7) Daedalus Upgrade: Flurry Fire
Getting more ammunition and attacking faster is always positive, and Flurry Fire allows the Adamant Rail to do both things. It increases total ammunition to 18 and increases attack speed. With some of the Boons above, it can result in powerful damage-over-time effects that can quickly add up. With Ares and Demeter's Boons, it can create some powerful damage that enemies will struggle to respond to.
6) Poseidon: Tempest Strike and Typhoon's Fury
Poseidon's Tempest Strike allows you to push an enemy back repeatedly, preventing them from reaching you. It's perfect for larger enemies that try to rush you, or who are preparing an attack. Typhoon's Fury is great if you can push them back against a wall, because you deal increased damage. It's possible to take out difficult enemies this way, especially in Elysium.
5) Daedalus Upgrade: Delta Chamber
The Delta Chamber upgrade prevents you from having to reload at all, though you are stuck with three-round bursts. There's a half-second of downtime, though it doesn't slow the attack speed at all. In fact, not having to reload allows Zagreus to be more offensive with the Adamant Rail. Damage-over-time effects and even other Boons that deal damage with attacking become considerably more powerful.
4) Zeus: Lightning Strike, Double Strike, Static Discharge, and Splitting Bolt
Zeus is one of the best suppliers of damaging Boons for the Adamant Rail. Lighting Strike will kick off the chain lightning effects, which get stronger with more of Zeus's Boons. Double Strike allows lightning to strike a target twice, while Static Discharge inflicts the Jolted status on enemies. Splitting Bolt provides another instance of Lightning Bolt, which can tear through several enemies like butter.
3) Artemis: Support Fire
Unlike other Boons, Support Fire doesn't need to take any of the offensive Boon slots. You need one of Artemis's other Boons such as Artemis Aid before you can access Support Fire. Once you have Support Fire, it's almost like a second attack that tracks down enemies. Combined with any of the Boons above (or Delta Chamber), you will shred the health of any enemy you encounter.
2) Aspect of Eris
One of the best weapons for a speedrun, this amplifies Zagreus's damage if he is standing inside the radius of his Special. The damage bonus can go as high as 75%, which can really put the hurt on enemies. This doesn't factor in other upgrades, such as Boons that increase damage (i.e. Aphrodite), or weapon upgrades such as Delta Chamber. With the right components, you can tear through rooms easily, even making short work of bosses.
1) Aspect of Lucifer
The Aspect of Lucifer replaces the Adamant Rail's normal attack with a 20-round laser beam. The attack speed of the laser beam is fast, perfect for Zeus's Boons or Artemis's Support Fire. It also works great with the other damage-over-time Boons discussed earlier. It's not compatible with the other weapon upgrades listed here, but you won't need them when your Boons can make up for the damage.