Animal Crossing: Pocket Camp Reference Guide Explains Flower Breeding
In the past week, Nintendo unveiled gardening for Animal Crossing: Pocket Camp, letting players plant and take care of their own flowers by watering a garden plot. As it turns out, the game also comes with a significantly in-depth cross-pollination system, letting players breed their own flowers in exchange for special items. So one Reddit user decided to create a chart explaining how to cross-pollinate 17 different kinds of flowers in the game.
If you're unfamiliar with gardening, the process in Pocket Camp is simple enough. Players simply need to water their plants until they bloom, after which camp managers can either harvest a flower or cross-pollinate it. Flowers are pretty important, because they can be exchanged for items, so it's a good idea to grow flowers and cross-pollinate them for unique breeds.
As for the cross-pollination side of things, it's remained a little mysterious since the system came out, but the chart below details how cross-pollination works. Created and maintained by r/ACPocketCamp user Mistreil, the reference chart comes alongside a guide detailing how cross-pollination's success chances work. Since the chart itself regularly updates, click here to see the latest version.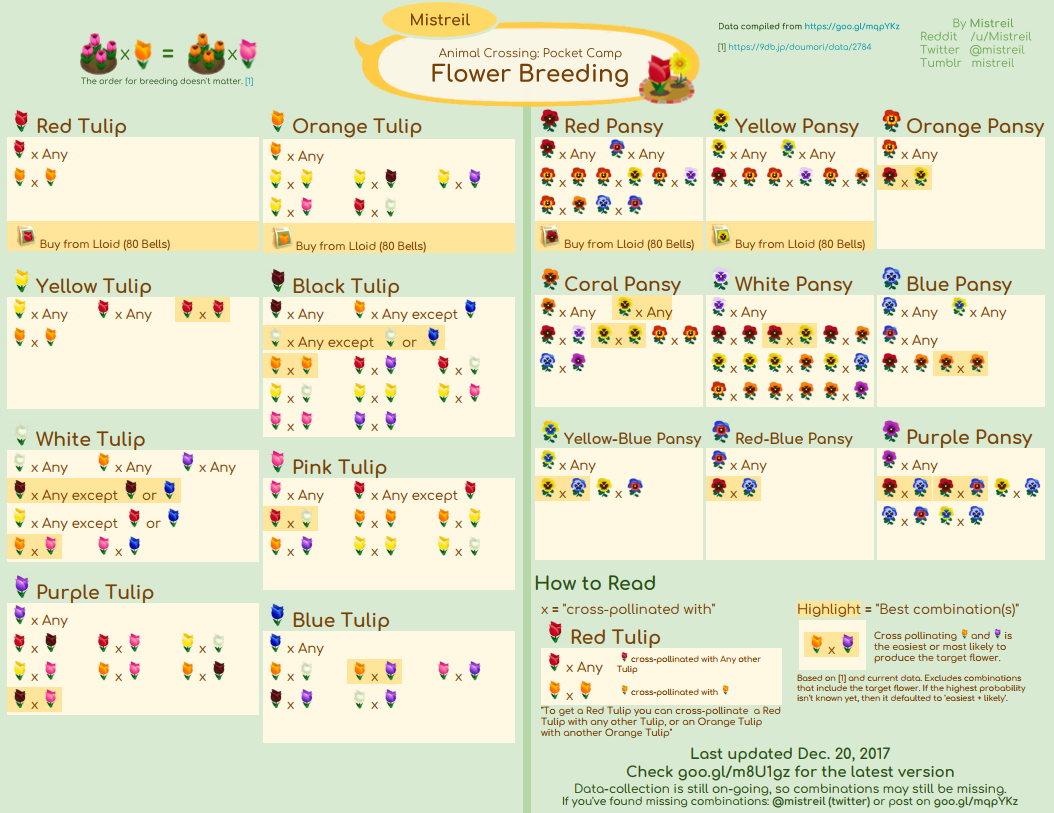 There's a few things to keep in mind with flower breeding in Animal Crossing: Pocket Camp. For one, cross-pollination doesn't always work, as there's a chance players will fail while trying to grow flowers. According to data gathered by the subreddit, some combinations have a higher chance to breed a flower than others. Mistreil has outlined these above. And of course, four flowers can be bought from Lloid to get your garden started: red tulips, orange tulips, red pansies, and yellow pansies.
The Animal Crossing: Pocket Camp community regularly creates guides detailing how to optimize farming for resources. For information on the new rustic villagers' preferred raw materials, check out the latest guide from r/ACPocketCamp users.