Everything New In The For Rent Expansion Pack In The Sims 4
For Rent Lets The Sims 4 players experience a new location, aspirations, characters traits and more – all while managing property.
EA and Maxis have finally released the trailer for The Sims 4's next DLC expansion pack: For Rent. Rumors about this pack have been swirling for some time, and now details have finally been cemented concerning new additions and contentl.
This pack introduces the Southeast Asian-inspired neighborhood of Tomarang, along with a host of new items, features, and experiences. Fans are eager to explore the new location and see what secrets might be tucked away in the new location. 
Related: The Sims 4– How To Create and Use Horses?
New Items Come To The Sims 4 in For Rent
Like in every Expansion Pack, For Rent comes with an abundance of new items and styles. This pack features a variety of colorful and practical new looks which perfectly compliment the colorful world of Tomarang. In addition to the new Create A Sim items, there are new pieces of furniture as well.
This pack brings Southeast Asian-inspired items to the game, including rattan furniture, wood carvings, and new Build items. One item featured prominently in the trailer was a new squat-style toilet. There is also a new limited-edition grill available which can be used to prepare some of the new food items coming to the game.
New Activities & locations to Enjoy in Tomarang
Tomarang features a bustling night market that serves up a variety of delicious regional dishes for Sims to try. Some of the new food options include Tofu Pad Thai, Burmese Samosa Soup, and Thai Iced Milk Tea. Sims will likely be able to learn how to prepare these recipes at home after trying them. 
Excitingly, Tomarang also comes with some new Sims 4 lot types, both public and private. Among the new public buildings, Tomarang has an animal sanctuary and a building called the Spirit House.
Change up Neighborhood in The Sims 4 For Rent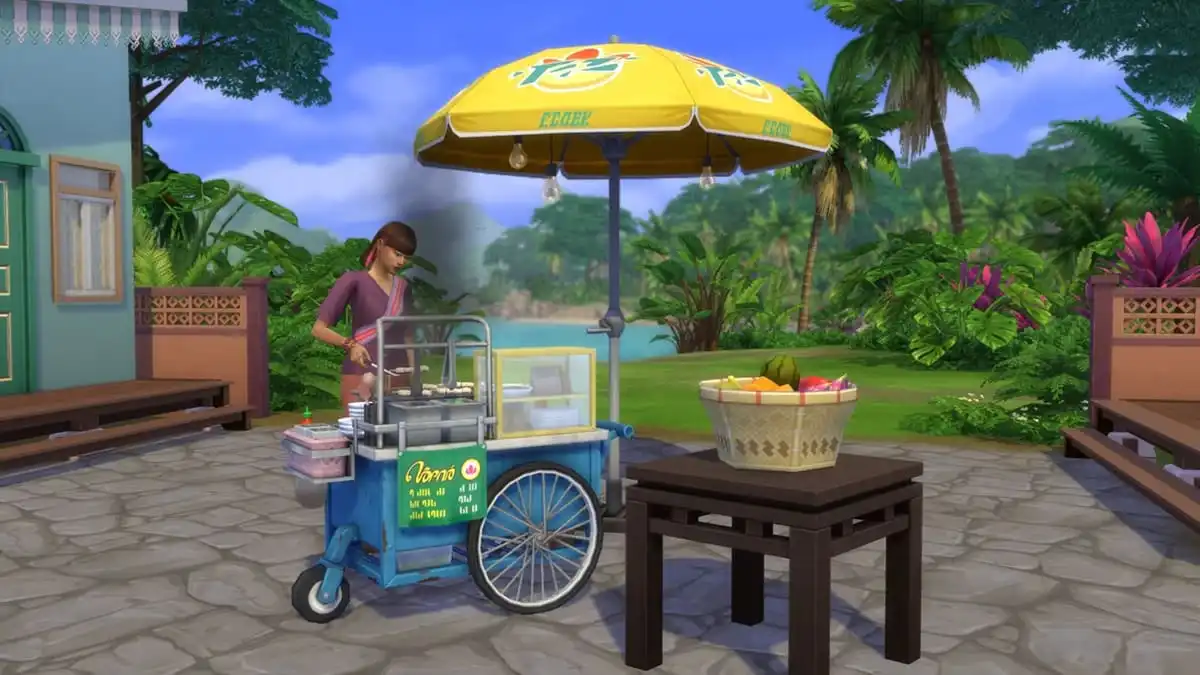 The biggest change this pack brings, and the feature the pack was essentially named for, is the new private lot type: Residential Rentals. These new multi-unit buildings are distinct from the apartments introduced in City Living. They are fully customizable and can be built from the ground up, and—most excitingly—this new lot type can be added to any preexisting neighborhood. This new lot type allows multiple Sim households to coexist on the same lot.
Sims can also become a "Property Owner." Property Owners can live in the building they own, or just use it as an investment property and live elsewhere. They are responsible for maintaining the building and keeping things in livable condition for their tenants. If not, tenants may start to rebel.
Sims living in multi-unit buildings can try to be the best neighbors or become the scourge of the building by snooping on their neighbors and even breaking into their homes. But be warned, if a particularly snoopy tenant becomes too bothersome, a Property Owner can evict them.
The Sims 4 For Rent Expansion Adds New Aspirations
This expansion pack also brings new four aspirations and five traits into the game, along with a Fear of eviction that a Sim can develop. The new aspirations are to snoop to their heart's desire as a Seeker of Secrets, manage their buildings well as a Five-Star Property Owner, a location aspiration called Fount of Tomarani Knowledge, or become a well-behaved tenant as a Discerning Dweller. The new traits include being Nosy, Generous, Cringe, a Child of the Village, or Wise.