Xbox Game Pass Trailer Hints At Halo: The Master Chief Collection Joining In May 2018
In a new quick trailer promoting it, Microsoft has hinted at Halo: The Master Chief Collection soon entering the Xbox Game Pass offering for all the subscribers of the $9,99/month the service.
In the trailer, you can see several packages being handed over at a drive-in, with different familiar faces on them: Super Lucky's Tales, Sea of Thieves, Rise of the Tomb Raider, State of Decay 2, Crackdown 3, and The Master Chief Collection.
It is worth noting that the tweet shared in the occasion of the publication of the trailer has been thus far removed, we don't know why.
It might have been an issue with the announcement, or a mistake based on the fact that the logo used in the trailer is from the MCC while it perhaps had to be Halo 5: Guardians' – which is instead officially part of the Xbox Game Pass portfolio.
Differently, from the others, Halo: The Master Chief Collection's inclusion in the subscription has yet to be announced, so this could be one of the main entries as soon as May's lineup gets properly revealed by the end of the month.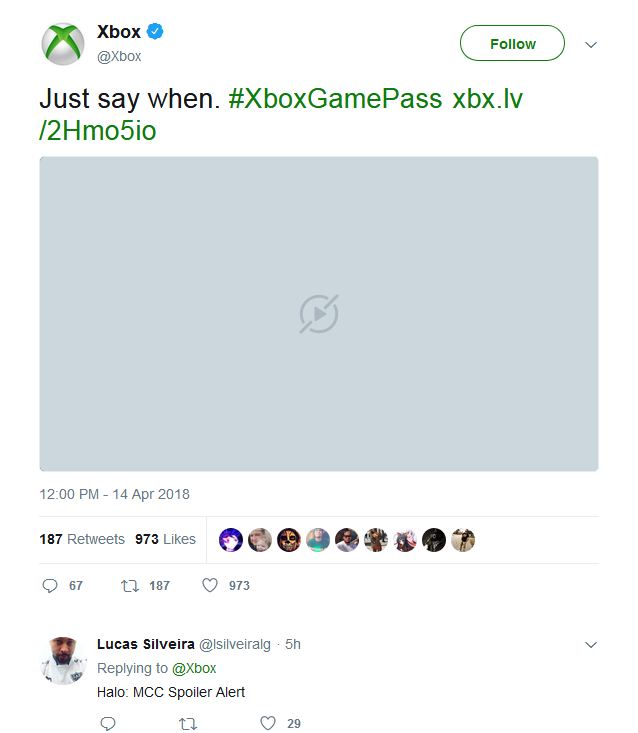 In the meantime, three more games are being removed from the library of Xbox Game Pass by the end of April. They are NBA 2K17, WWE 2K17, and Lumo. So go and download them before they completely leave the service, if you still want to play them.