PS5 Rumors Roundup: Release Date, Specs, Lineup, Models And Prices
As we're slowly getting closer to the release of PS5, more and more rumors get unleashed over the internet about how the next-gen console from Sony is going to be like.
At this moment, we don't have any official information about the platform, but we have lots of reports and pieces of opinion from multiple sources.
A lot of things have been reported by insiders, more or less reliable depending on the case, and forecasts have been released by analysts about a plethora of aspects involving PlayStation 5.
Let's give a look at that information, in the effort to offer you a proper roundup of all the rumors, supposed leaks and the believable tidbits which have been coming our way over the last few months.
PS5 Reveal
For what matters the reveal, we've been sticking for a while around forecasts from analysts and supposed leaks from an insider.
The most believable pieces of information on the matter are split between a proper announcement at a PlayStation Experience 2019 which would be airing in December and another couple of solutions.
Another would be for Sony to directly reveal its next-gen console at a PlayStation Meeting-like event in February or March and then go for a full presentation at E3 2020, similarly to what happened with PS4. This is our best choice.
There is also a rumor for a mid-2019 PlayStation Meeting-like event that would arrive just a few months before the full blowout of information at the PlayStation Meeting in December.
Finally, analysts also report of a chance for the presentation to happen directly at E3 2020, since the platform holder doesn't feel the need to rush things up for PS5 since it still has a good lineup of first-party exclusive to unleash on PS4.
As for the proper release, it's quite sure PlayStation 5 is coming in 2020, most likely in the favorable November launch window.
PS5 Specs
For what matters the specs, we have very little intel but we do know PS5 will be a "beast" when it'll come to raw power.
The latest report claims the console is set to support an 8-core Ryzen CPU, so would keep running a relationship with AMD similarly to what will happen with Xbox Scarlett.
We're told the console would be releasing with 8 to 12 GB of RAM, although – with PS4 already equipped with 8GB – we tend to believe at least 12GB will be included.
On top of that, dev kits would be already out in the wild since early 2018, and the platform would integrate the breaker box for a PlayStation VR 2 to be released together with it or shortly after.
There would be a new DualShock 5 in the making with a touchscreen included instead of the current touchpad, and also new PS Move controllers would be in the making.
Both the DualShock 5 and PS VR 2 would come equipped with cameras, which would replace the current system based on the lightbar.
Multiple reports agree that VR "goodies" are baked in at the silicon level, while Ryzen has not been mentioned by more than one insider.
Another source reported in 2018 that the architecture would be a custom Navi solution from AMD, while the CPU would come from the Zen family. We tend to rule this rumor out as it reported that a 2018 PlayStation 5 release would be feasible and didn't happen in the end.
A few more reports and predictions are available for other aspects of the system.
Analysts all agree when it comes to backwards compatibility, which is said to be part of the plan this time around.
On top of that, the console would be very traditional when it comes to how it works and that would also still feature disc – a discless solution (or a discless solution alone) from the get-go is ruled out.
Other sources report that the PlayStation Network would be the focus of a great revamp, in order to bring the infrastructure on par if not at a superior level in comparison with Xbox Live.
It looks like Sony is pushing again on the cloud technology, with PlayStation Now extending its audience in terms of supported countries and streaming seriously being a part of the plan during the next generation.
PS5: Prices and Models
When it comes to prices, multiple sources agree that this additional power will come together with a bigger cost required to players upon day one.
PlayStation 5 would be releasing at a price of $499, which means $100 more in comparison with PS4 in 2013.
The price would be in line with 2013's Xbox One bundle with Kinect, and with the latest Xbox One X.
So, it seems both the platform holders could be reaching the market with a higher price in regards with what we've been treated like in 2013's PS4.
Price is always a delicate matter when it comes to gaming: PS3 had, among the other things, bad pricing upon day one that harmed its business until the late years; and the same has happened with the original Xbox One.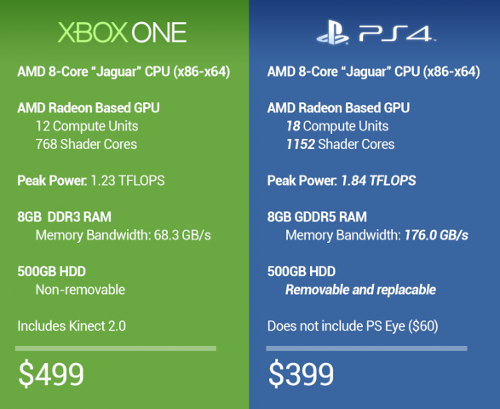 So, it'll be very important to understand the possibilities of success of both the platforms, with Microsoft which will likely be more aggressive on this matter.
Recently, while Xbox Scarlett is reported to be coming with two consoles upon day one, we've received an analyst prediction that Sony won't be opting for this solution with PS5.
PS5 Lineup
In regards to the lineup, of course, it's a bit too early to offer a proper prediction of what's to come together or for PlayStation 5.
Anyway, we have a few tidbits on this matter, which both involve sequels and cross-generational releases.
As we get more and more into 2019, it's clear that we're not going to receive any The Last of Us Part II, Death Stranding and Ghost of Tsushima release dates.
This means they'll all slip into 2020, at the very least, and Sony could be using those titles to launch in Pompa Magna its newest console while not leaving behind PS4.
A cross-gen release would allow the platform owner to have games that are already well known and much anticipated on PS5, claiming that customers could still play them on the console they own or get them even better on the latest system.
We know Guerrilla Games is already working on what's next after the success of Zero Dawn, which could be a next-gen Killzone and/or Horizon 2 in time for launch. Insomniac Games has to wrap up Marvel's Spider-Man and then will work on a direct sequel.
Similarly, we already know Santa Monica Studio is working or about to start working on God of War II since the original game ends with a cliffhanger and has been very successful, and Sony sees SMS as a GoW factory, too.
Of course, more surprises are on the way so don't think it's all here (not only from the Japan Studio guys with From Software and a supposedly incoming Bloodborne 2, Polyphony Digital with Gran Turismo 7, just to name a few things).
Sony firmly believes in the power of new intellectual properties and has partnership all around the world, like Quantic Dream which never releases sequels so will build something from the ground up.
On top of that, it's seeking more studios to invest in, so similarly to Microsoft will try and set up some interesting acquisition to further boost its first-party lineup on PS5.