All Subway Word of Power Locations in Alan Wake 2
Words of Power in Alan Wake 2 enhance your abilities in the Subway, and this guide shows you where to find them.
Words of Power are how you can enhance Alan Wake's abilities and arsenal while he's in the Dark Place in Alan Wake 2. They're scattered throughout the game, and there are places you can explore in the Subway with Words of Power.
Tracking down these Words of Power can take a good deal of time, and you'll want to retrace your steps to make sure you grab each one, unlocking a new ability for Alan. Here's what you need to know about all Subway Word of Power locations in Alan Wake 2.
Related: How To Solve All Cauldron Lake Nursery Rhymes in Alan Wake 2
Where to Find All Subway Word of Power locations in Alan Wake 2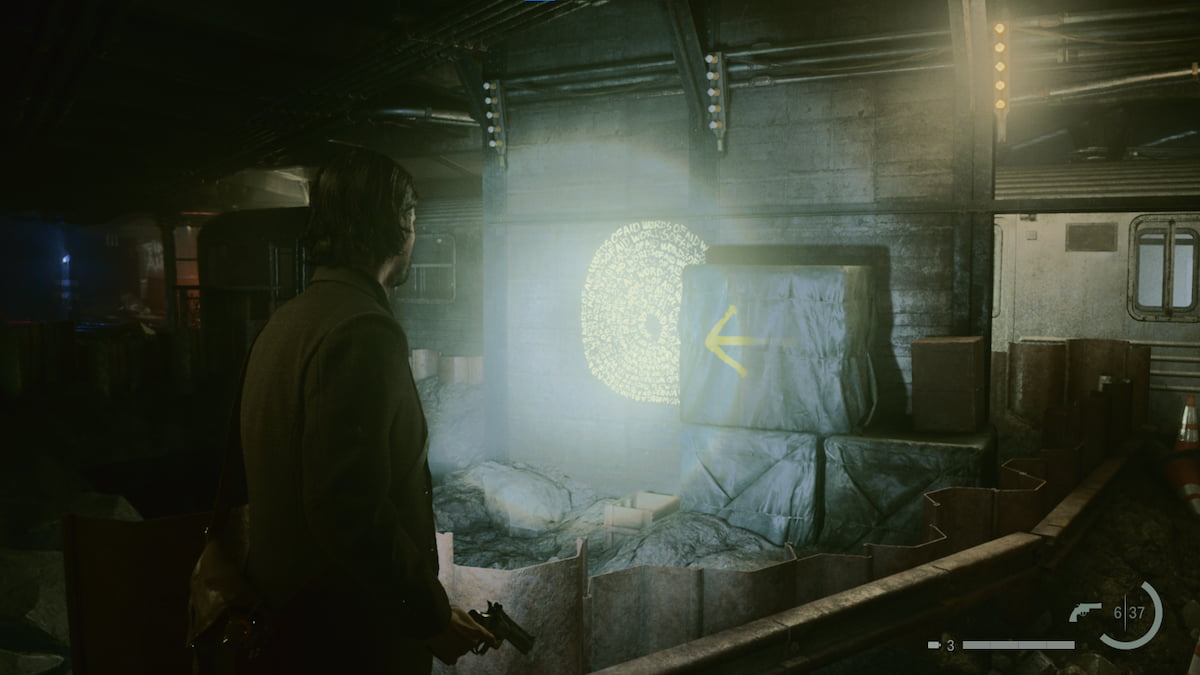 A Word of Power in the Dark Place is a large spiral of words that you can find while exploring the game. These are typically hidden, and difficult to find in Alan Wake 2. However, when you come across them, focus on them with your flashlight, and zoom in to get a better view of them. After a few seconds, Alan will recognize the words that appear, and he'll become stronger while in the Dark Place, enhancing his abilities to make it easier to survive in this dreadful environment.
There are several you find while exploring the Subway. These are every Word of Power location you can find as you explore the dangerous subway in Alan Wake 2.
| Subway Word of Power Location Image | Word of Power Location | Description |
| --- | --- | --- |
| | Word of Power – Subway | You can find this one at the start of Caldera station after you've transformed it using the Missing FBI Agent. Turn around, and you'll find a Word of Power inside the window of the subway car. |
| | Word of Power – Subway Car | Close to the break room within the Subway, there's a deserted subway car. On the left side of the car, you can find the Word of Power tucked into the wall. |
| | Word of Power – Collapsed Tunnel | After clearing the collapsed tunnel, and taking the light from the overhead lamp, there's a small area you can explore to the right. There is a Word of Power on the back wall you can acquire. |
| | Word of Power – Above Break Room | Once you head up to the area above the break room, turn around and duck your head underneath the platform. You'll find the Word of Power on the ceiling. |
| | Word of Power – Wooden Panel | Make your way through the tunnel using the Torchbearer's plot point, and when you reach a ladder, there's a small alcove with a wooden board protecting the Word of Power. Shoot it to reveal it. |
| | Wood of Power – Dead End | On the path forward, look to the left. You'll see the Word of Power on the other side of a Subway exit. |
| | Word of Power – Train | After you get out of the light puzzle, and make your way toward Shrine St. Station, there is a Word of Power message outside of a train car. But you need to take its light first before you can grab it. |
| | Word of Power – Train Room | After you learn the Summoning Ritual plot point, use it at Shrine St. Station to get to the other side, and you'll find the next Word of Power in the station room. |
| | Word of Power – Train Exit | Once you emerge from the Shrine St. Station, you'll loop back around to the starting location. Before you leave, there's a Word of Power you can grab. |