Upcoming Guild Wars 2 core mechanics changes: Armor Repair, Story boundaries, cursor contrast, class changes, and more
Fine tuning is sometimes needed.
Whether you're a hardcore PvP player or a take-it-slow explorer of the PvE realms, there's something for everyone in Guild Wars 2. The MMORPG recently launched its third expansion, which has brought with it a renewed focus on improving the basics. In a recent blog post, the development team shared details on many upcoming quality of life improvements to Guild Wars 2 PvE and core mechanics and extra goodies for players.
Related: Guild Wars 2: End of Dragons warms the heart to soften the darkness beneath the surface
Core changes in Guild Wars 2
While there are PvP aspects to Guild Wars 2, most of the content is driven by its PvE content. Whether this is through the Living World story or the introduction of cooperative modes, Guild Wars 2 is a PvE dominant game. To make this mode play smoother, the development team has decided to introduce several small but powerful changes to the game.
Removal of Armor Repair mechanics in Guild Wars 2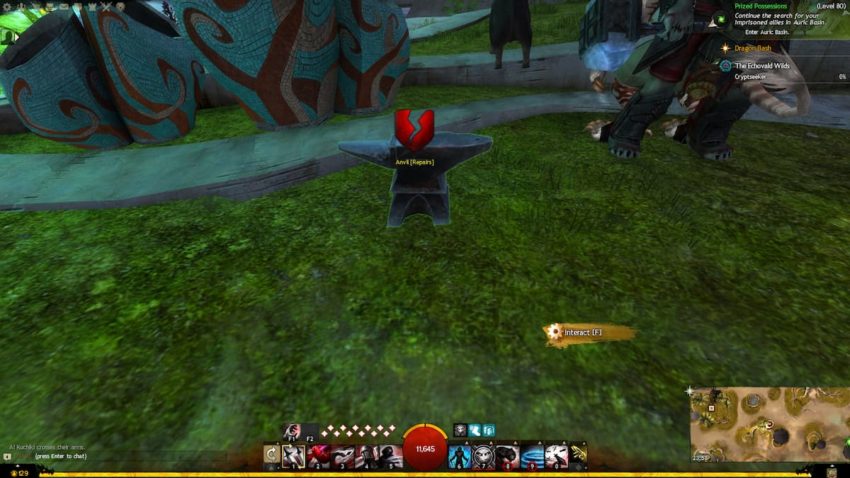 The development team stated in the blog post that the long-incorporated aspect of Armor Repair, which changed once before, has ended. Players no longer need to head to the various Anvils worldwide or use Repair Canisters if they've been downed or killed in-game. Instead, your armor will remain undamaged, and using Repair Canisters or Anvils will grant you a small boost for twelve hours; this is not applicable to PvP or WvW.
Story boundaries and cursor contrast changes in Guild Wars 2
The boundaries of the story instances have always been a bit of a hassle. Sometimes being knocked back or accidentally stepping out has kicked you from the instance and resulted in you having to restart the whole instance from scratch. The same tech introduced into Guild Wars 2: End of Dragons is now being applied to all instances. This means you won't be kicked from the instance if you stray too far; instead, you'll be bumped back into place.
Players will also be able to change the contrast of their cursor, making it easier to locate in times of heavy action. Players can choose, Off, Low, or High.
Class changes in Guild Wars 2
The devs have also decided that they want to improve upon the skills, traits, and weapons for the individual classes to boost the overall variety of builds. Slated for release on June 28, players can expect the following changes to each class:
Elementalist: Tempest will now be able to provide party alacrity with a rework to their Grandmaster trait, Lucid Singularity.
Engineer: The rifle weapon skills have been adjusted to better support engineer power damage builds. Min and max ranges for a number of range-limited traits (such as Aim-Assisted Rocket, High Caliber, and No Scope) have been changed.
Guardian: The Guardian's signet skills have been altered, including a significant improvement to Signet of Resolve.
Mesmer: Chronomancers will be able to effectively choose to provide either quickness or Alacrity based on their Grandmaster trait selection. The radius and methods of provision have changed to cater to high mobility party members.
Necromancer: Updates to Warhorn and the related trait Banshee's Wail will improve the Necromancer's ability to provide healing to allies.
Ranger: Spirit skills have been overhauled to provide boons and allow rangers to provide Alacrity when using the trait Nature's Vengeance.
Revenant: Legendary Centaur Stance skills and Salvation traits provide better support healing roles, while Herald will now be able to provide quickness to allies with the trait Draconic Echo.
Thief: The Shadow Arts trait line has been updated to provide better support options to synergize with Specter and updated options for stealth and defensive gameplay.
Warrior: Banner skills have been overhauled to provide boons. Warriors can provide quickness to allies by deploying banners, an update to Warhorn's Charge skill, and the Tactics trait Martial Cadence.
Related: All upcoming changes to Raids and Strike Missions in Guild Wars 2, explained
Boon changes for damage classes in Guild Wars 2
Boons are the buffs to your player and surrounding players that can make or break a fight. The devs have decided that the uptime of the more important boons, such as Alacrity, needs to be boosted. As such, some skills that were only self-targeted boon sources will now be shared with allies, subsequently taking weight off the support classes and adding versatility to the damage roles.