Mask of the Quiet Exotic Helmet – Destiny 2 Unlock Guide
Mask of the Quiet looks absolutely deadly in Destiny 2. It is a Exotic Helment for Titan Class. The best thing about Mask of the Quiet is the "Dreaded Visage" Perk which grants you an ability energy when damaged, and health regeneration when inflicting Void damage. There is no sure-shot method to Unlock Mask of the Quiet in Destiny 2. So, how to get Mask of the Quiet in Destiny 2? Check out our guide details – we have listed all possible ways from where you can have the Mask of the Quiet Exotic Helmet in Destiny 2 as fast as possible.
How To Get Mask Of The Quiet One
As mentioned above – There are less chance of Getting Mask of the Quiet Helmet in Destiny 2 via Random Drop and Engrams, but still don't give up trying as it is one of the best thing have in the collection and the Perks it offers also works well. Below mentioned are some of the ways where you can get Mask Of The Quiet One in Destiny 2.
Step 1: You might get them Randomly in Exotic Engrams.
Step 2: Many Players got it from Luminous Planetary Engram, which was rewarded to them for completing Cayde's Flashpoint Milestone in EDZ.
Step 3: You might get it for Completing Shaxx's Call the Arms quest.
Step 4: You might also have this in Random Quest as a Reward.
Step 5: Many People have also got Mask Of The Quiet One from Xur's Randomized offerings, but he appears only once in a week.
Step 6: Can also be collected by doing Heroic Public Events.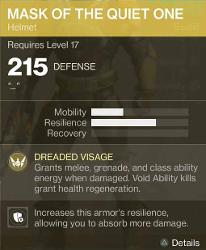 Mask Of The Quiet One Attributes:
Type: Helmet Armor
Class: Titan
Rarity: Exotic
Special Ability: Improves Armor's Resilience, which helps in absorbing more Damage.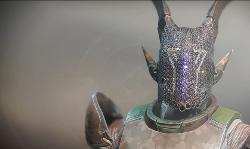 Additional Info On Mask Of The Quiet One:
The Helmet is Deadly in looks, wish it would have been a complete body Armor as well, but it's only the Helmet. It has got a Slight Bronze tint, some Pointy Ears and has got Giant Pair of Curved Horns. A cool looking Purple Light, right in the middle of the Face, with a complete Chain Covering.
Mask Of The Quiet One Perks:
Dreaded Visage: It helps in Re-generating your Health after you make a kill with the help of the Void Ability, and it also helps in RELOAD some of the Gears-like – Melee, Grande and class Ability Energy, when you take some Damage.
Mask Of The Quiet One Lore:
"Must you all be so dark? You're too focused on the horns. Look, I have died hundreds of times hunting the shadowed killers in Murder Row. I spent years mulling over Toland's and Osiris's discourse on thanatonautics. I have dabbled a bit myself and saw what lingers immediately upon all death. What I have done is found a way to channel the Void to draw that essence in before it is lost to the ether, to return it to Light so it can be properly bestowed back on our enemies. Death does not need to be final; it can, in fact, be recycled. What's so dark about that?"
That's all we have got on Mask of the Quiet Helmet and how to unlock it in Destiny 2. For more interesting Destiny 2 guides like this check out our Destiny 2 Wiki page – it carries complete campaign walkthrough, best legendary exotic weapons to use, tips and tricks, and many other things.