How to Use & Craft Bait in Stardew Valley
Take your Stardew Valley fishing technique to the next level by mastering how to use and craft different types of bait.
In Stardew Valley, fishing is one of the key cozy features you can spend time on. However, if you want to catch fish quickly, you'll need to use bait – and it isn't always obvious how to attach bait to your fishing rod.
There are a number of different types of bait you can use with your fishing rod in Stardew Valley, which can help attract fish more quickly to increase your chances of landing that elusive catch. In this guide, we'll take a look at how to attach bait to your fishing rod and the different kinds of bait you can craft in the game.
Related: Stardew Valley Fishing – All Fish & Where To Catch Them
How to Make Bait in Stardew Valley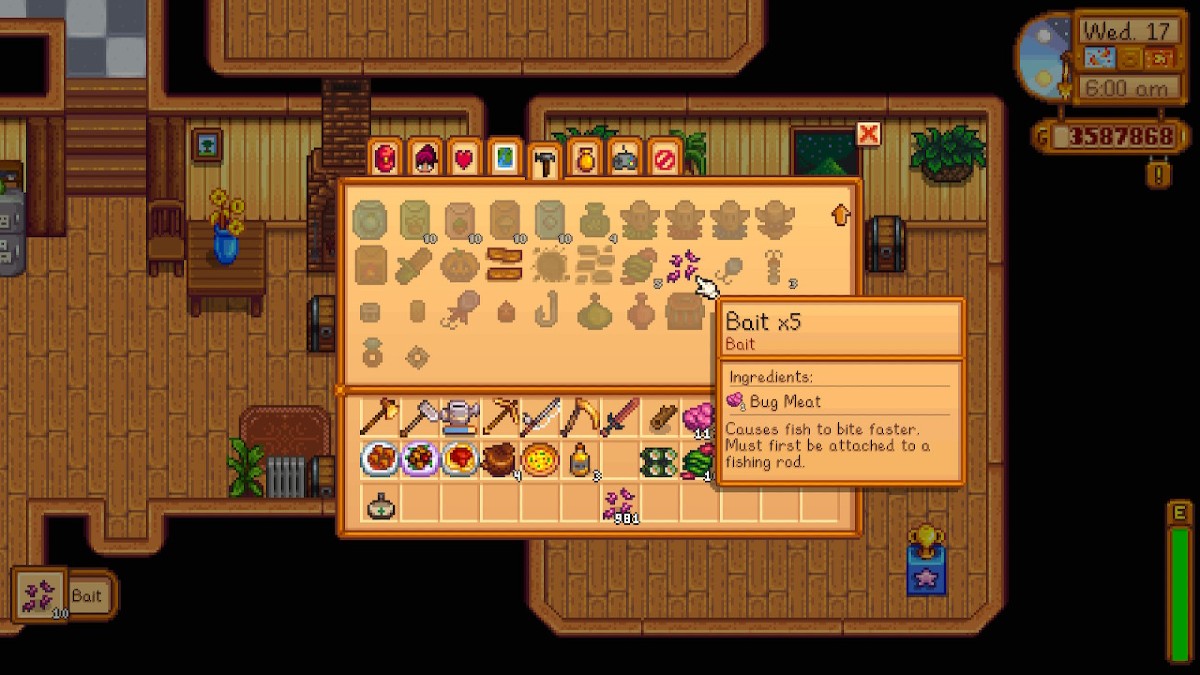 Bait increases the bite rate for fish, meaning you'll wait about half as long before you get a bite compared to using a fishing rod on its own. That makes it a handy item to have on hand when you're trying to catch fish in the game, especially if you get impatient waiting for a bite.
To make standard fishing bait in Stardew Valley, you'll need bug meat. You can get this by battling bugs in the mines, which usually results in plenty of meat for bait.
To create the bait, open up the crafting menu, scroll until you see the bait image, and click on it to craft. You'll get 5 bait for each piece of bug meat you use. The bait will be added to your inventory, where you can equip it to your fishing rod.
How to Make Wild Bait in Stardew Valley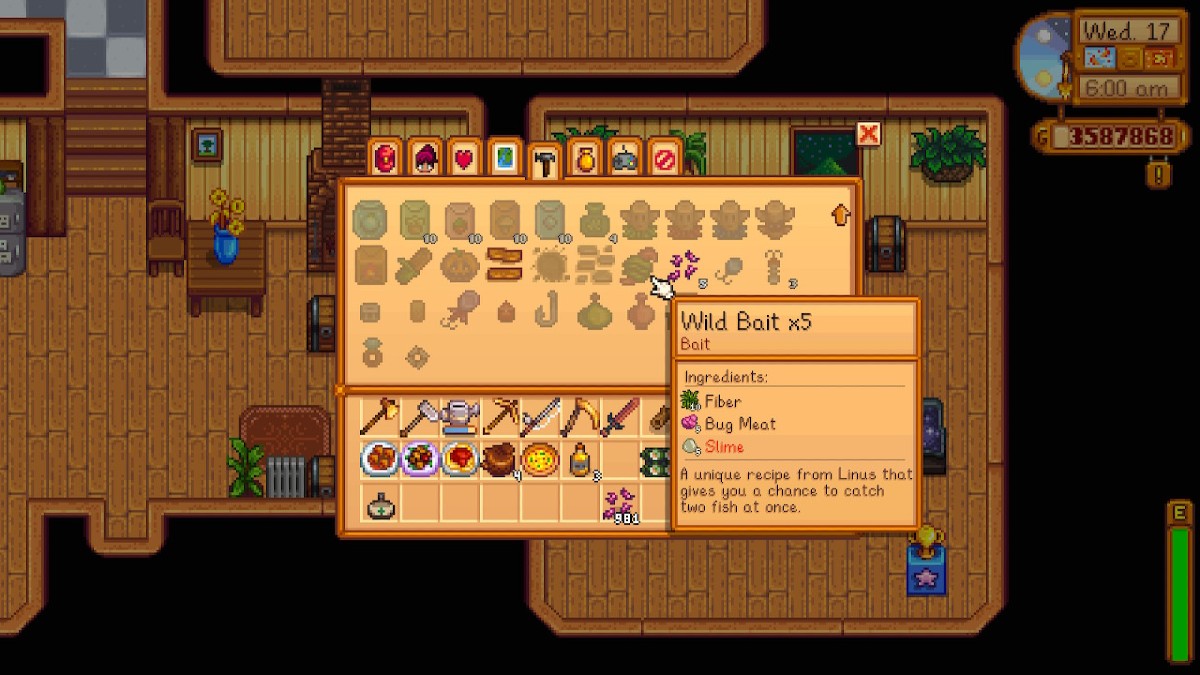 Wild bait is a slightly higher quality product that will increase the bite rate for fish even more, and even let you catch more than one fish at a time. To learn the recipe, you'll first need to level up your friendship with Linus, who will eventually teach you how to make it.
Once you have the recipe, making wild bait requires three ingredients: 10 fiber, 5 bug meat, and 5 slime. You can get fiber by slashing up weeds with your scythe or sword, bug meat from defeating bugs in the mines, and slime from defeating slimes.
To make wild bait, simply open the crafting menu and scroll down to the wild bait icon. You will get 5 wild bait for each set of 10 fiber, 5 bug meat, and 5 slime that you use.
How to Attach Bait to Your Fishing Rod in Stardew Valley
Attaching bait to your fishing rod isn't the most intuitive process, but it's easy once you know how. First off, you won't be able to use bait with the bamboo fishing rod you start out with. You'll need at least a fiberglass rod, which you will unlock when you reach level two of the fishing skill.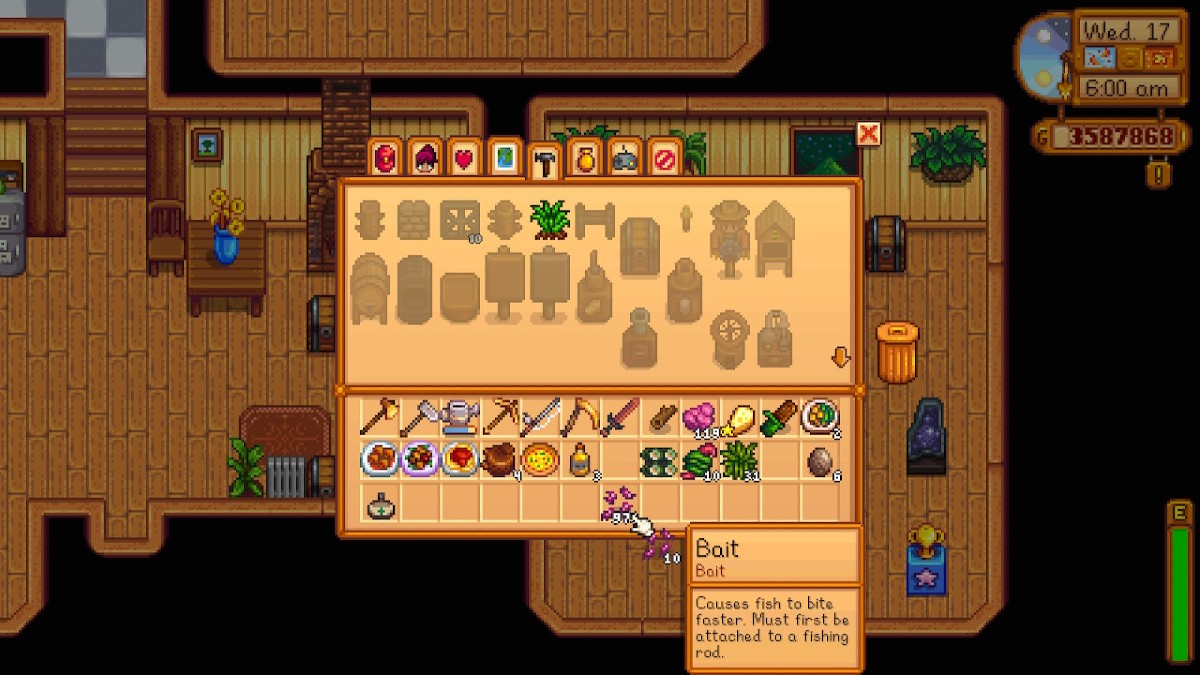 Once you have a fiberglass rod, you'll be able to equip bait. To do this, open up your item menu. You'll need to select the bait you want to equip. You do this on Nintendo Switch by hitting the Y button and on a PC by right-clicking. Continue to press the button until you've selected the amount of bait you want to equip.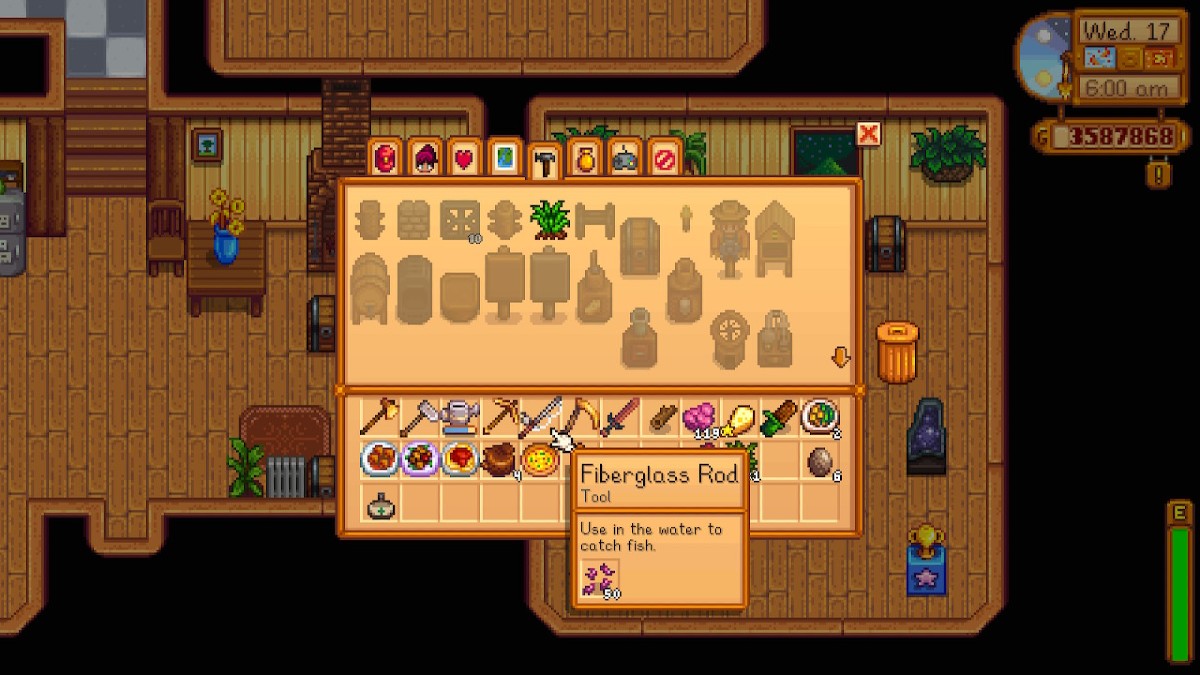 Then, move your cursor to the fishing rod. You will see an empty slot where bait can be equipped when you hover over the rod. Hit the Y button again or right-click, and the bait will attach to your fishing rod. You will see the image of the bait in the item slot for the fishing rod, along with a number for how much bait is attached.
How to Use Bait in a Crab Pot in Stardew Valley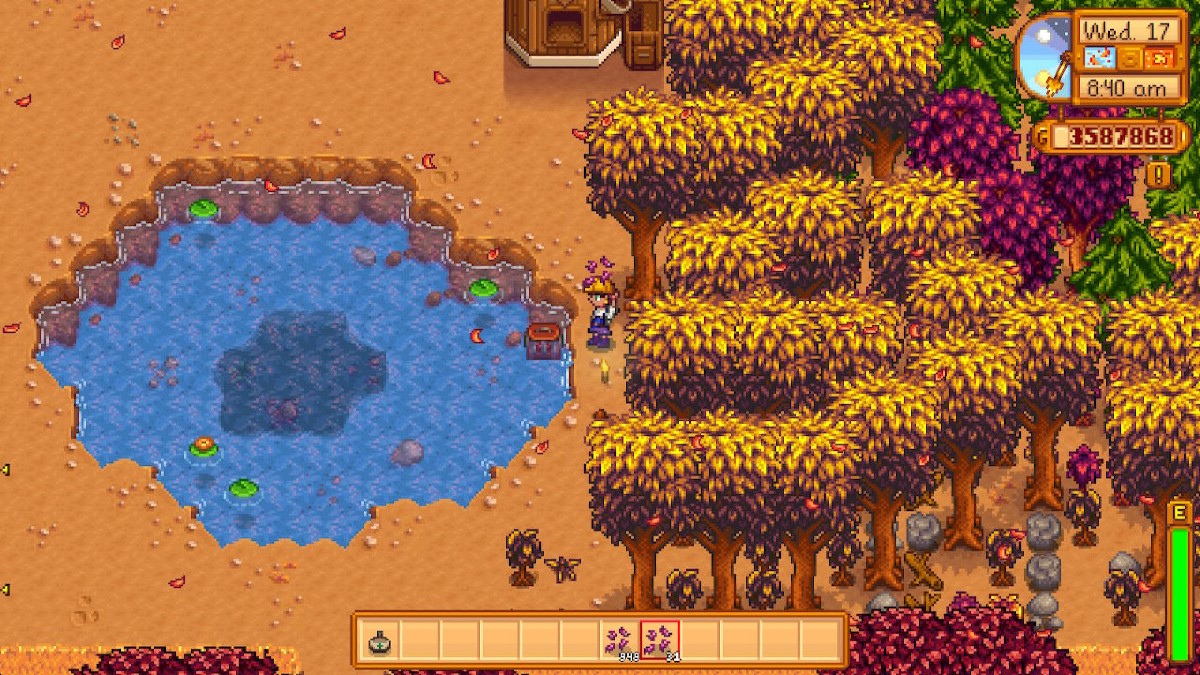 Another use for bait in Stardew Valley is catching crabs, lobsters, and other items in the Crab Pot. To use bait for this purpose, you'll first want to place a crab pot in the water where you're trying to catch sea creatures.
Then, stand next to the crab pot and select the bait you want to use from your inventory. Then, press Y or right-click while standing beside the crab pot. You will see one bait disappear from your stack and the crab pot lid will shift a little, which is how you know it worked. Check back the next day to see what you caught.