Red Dead Redemption 2 Cougar Locations | Map Locations And Loot
Cougar is a species of animal found in Red Dead Redemption 2. In this Cougar Map Location guide of Red Dead Redemption 2, we are going to tell you the exact in-game locations where you can find Cougar. Please note: if you decide to hunt Cougar then visit the locations mention below during the dawn or at night time as Cougar are found in small numbers during the daytime.
RDR 2 Cougar Locations (Map)
Cougar is a large-sized mammal animal and has the ability to kill you and your horse in just two attacks. The technique they use to attack player is "Hit and Run" – hit the player down and run to a safe distance and immediately get ready for the next attack. So you have to be very careful when hunting Cougar, one of the most aggressive animals in Red Dead Redemption 2.
Where To Find Cougar Locations In Red Dead Redemption 2
The primary location where you can find Cougar is New Austin. Cougar also exists in large numbers within Black Bone Forest. You can check out the Cougar Locations in Red Dead Redemption 2 below. We also have a map location of it.
Big Valley: Black Bone Forest
Cholla Springs (northwest-central)
Gaptooth Ridge – Ratheskellar Fork (south of)
Rio Bravo – Between Benedict Point and Plainview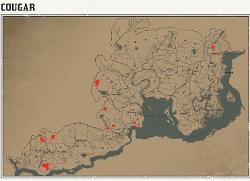 Tips To Hunt Down Cougar In Red Dead Redemption 2
One of the simple ways to hunt down Cougar in Red Dead Redemption 2 makes use of a Bow with Poison Arrows or a Rifle.
Loot You Get After Hunting Down Cougar
Cougar Fur
Big Game Meat
Cougar Fang
Cougar Carcass
Cougar Perfect Pelt Crafting Item
If you manage to get a Cougar Perfect Pelt when hunting then you can craft a Cougar Cutaway Coat, Rustic Vest and Cougar McClelland Saddle at a Trapper.
That's all we have on Cougar Locations in Red Dead Redemption 2. For more interesting guides like this follow our Red Dead Redemption 2 Wiki Page – it carries all missions walkthrough, how-to guides, best weapons to kill legendary animals, and many other things.