The Talos Principle 2: DLSS Frame Generation Artifact Fix
Enabling DLSS Frame Generation in The Talos Principle 2 can cause messy artifact issues. But you can use this quick fix to get rid of them.
The Talos Principle 2 is one of the latest titles to use Nvidia's DLSS 3 Frame Generation technology. However, the version of DLSS in The Talos Principle 2 at launch is known to cause artifact issues.
DLSS Frame Generation is a setting many PC gamers with Nvidia 40 series graphics cards have taken advantage of, as it boosts the performance of titles to provide a higher frame rate. However, some games with DLSS 3 are known to cause artifact or ghost issues – which was highly noticeable, particularly on HUD elements.
The Talos Principle 2 appears to be using a newer version of DLSS that causes these artifacts. The good news is there is a way to correct this problem while leaving Frame Generation turned on. Here is what you need to know to fix the DLSS Frame Generation Artifact issue in The Talos Principle 2.
Related: How To Solve 'Imprisoned' Puzzle In The Talos Principle 2 (E3 Puzzle 5)
How To Fix DLSS Frame Generation Artifcat Issue In The Talos Principle 2
Because The Talos Principle 2 uses a new version of DLSS 3, the Frame Generation setting can leave ghosting and artifacts on the screen when moving around. You can see this in the image I shared above, which is especially noticeable in sections of the HUD. For an unknown reason, this issue hasn't been addressed, and this same problem has been seen in other titles that also use Frame Generation, such as Star Wars: Jedi Survivor and Immortals of Aveum.
There is a way to fix this; however, you'll need to replace a file within The Talos Principle 2 installation folder using an older version of DLSS Frame Generation. If you're uncomfortable with doing this, I recommend playing The Talos Principle 2 the way it is, as there is a risk you could break a file structure and stop the game from working. I've tested this method, and it has resolved the problem and not run into a single issue or crash in over 15 hours of playing.
The file you'll need is the DLSS Frame Gen DLL version 1.0.7.0, which can be downloaded from the TechPowerUp website.
Once you've downloaded this to a local folder, locate your The Talos Principle 2 game installation folder.
Navigate to the Win64 folder which can be found in the following location – The Talos Principle 2\Engine\Plugins\Marketplace\nvidia\Streamline\Binaries\ThirdParty\Win64
Rename the file nvngx_dlssg.dll to nvngx_dlssg_old.dll to keep a backup of this file, or create a backup by moving it to another directory.
Extract the nvngx_dlssg_1.0.7.0.zip which you downloaded and copy the nvngx_dlssg.dll to the Win64 folder in The Talos Principle 2.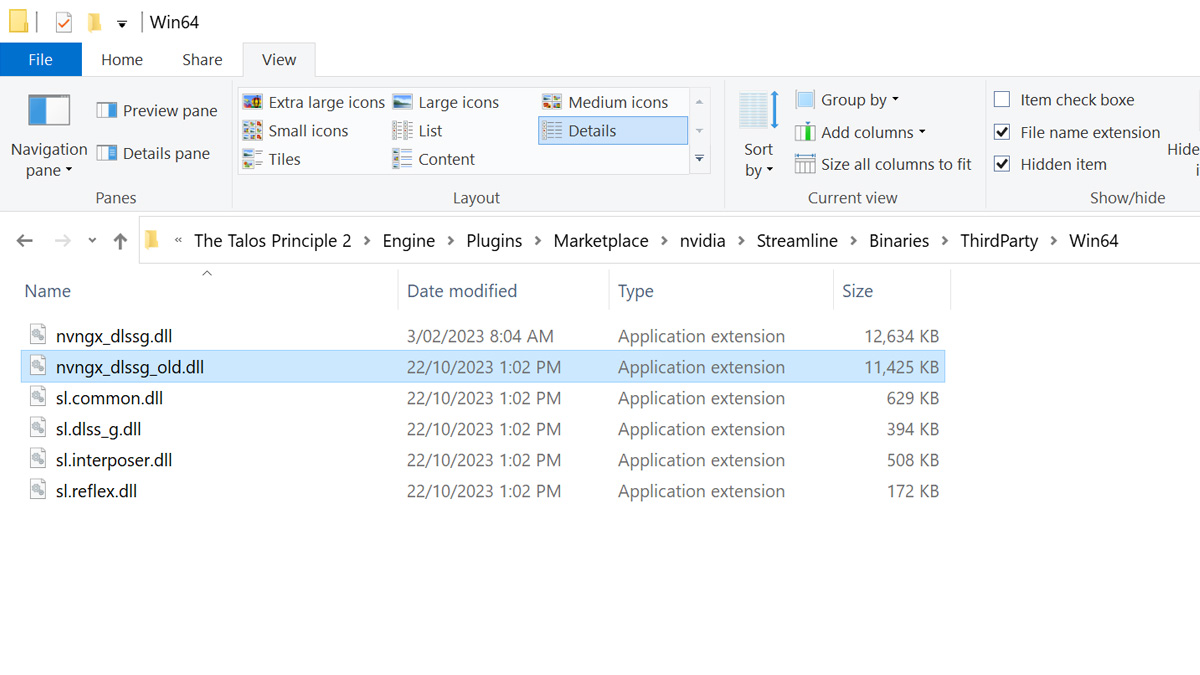 This will have replaced the DLSS Frame Gen DLL version 3.5.10 that is used in The Talos Principle 2 with version 1.0.7. The ghosting and artifact issue should now be better with this change. If at any point you want to revert the changes, you can move the backup file back to the Win64 location or rename the nvngx_dlssg_old.dll to nvngx_dlssg.dll, depending on which method you chose.
Related: Best PC Settings For Cities: Skylines 2
At some point, the developers of The Talos Principle 2 could release a fix that will resolve this artifact issue; until then, this is one of the best ways to work around the DLSS Frame Generation Artifact problem.