What is today's Legends and Master Lost Sector in Destiny 2? – October 4
A featured Lost Sector can be given a higher difficulty, making the location more challenging. Still, the rewards for completing it are far better, with a chance to earn an exotic weapon for your Guardian. This guide covers where you need to go to find today's Lost Sector in Destiny 2 and what challenges you can expect.
Where to find today's Lost Sector
The Lost Sector featured for October 4 will be the Quarry. You can find it in the Sunken Isles at the EDZ.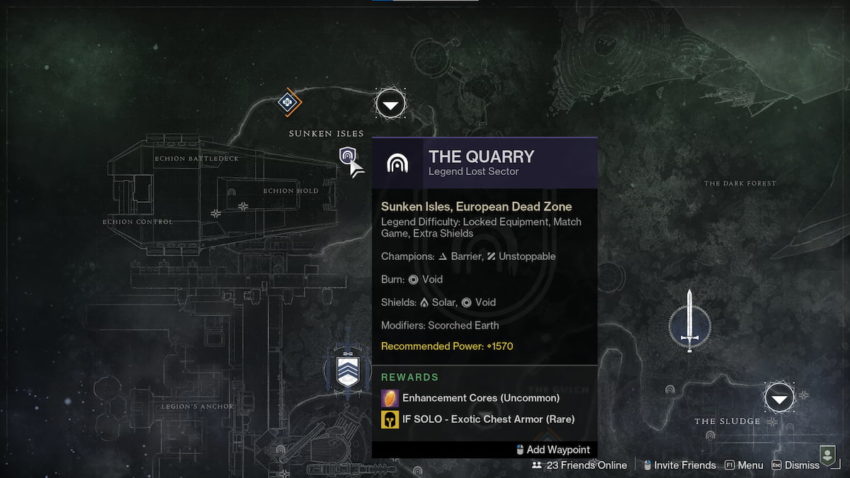 You will need to complete this Lost Sector at least once. After that, it will unlock the Legends Lost Sector banner. You can find it at the entrance of the cave. Interact with the flag, and you can choose to complete it on one of the greater difficulties. Although you can meet with other party members, we highly recommend you complete it, giving you a chance to receive the featured exotic.
All Lost Sector rewards
These are all of the rewards you have a chance to receive for completing this Lost Sector and the challenges awaiting you.
Champions: Barrier and Overload
Burn: Solar
Shields: Solar and Void
Modifiers: Arach-no!, Chaff
Rewards:

Boots of the Assembler
Rain of Fire
Radiant Dance Machines
Secant Filaments
Star-eater Scales
The Path of Burning Steps
You will want to bring the best weapons in your arsenal to tackle the multiple Champions you can expect to encounter in this Lost Sector. Alongside those weapons, make sure to bring some self-sustaining equipment to keep yourself in the fight as much as possible. You only have a limited number of revives while attempting to complete this Lost Sector challenge. You have until the Daily Reset at 1 PM ET to complete this Lost Sector before the next one rotates into the game with new rewards.