The best small gaming keyboards (mid-2020)
The best small gaming keyboards you can find on the market.
Much like a gaming mouse, a gaming keyboard is different in many ways from a standard one. The biggest differences mostly tend to be mechanical, leaving them more responsive and "clickier" than traditional membrane switches. This lets you execute keystrokes faster than usually possible, enabling quick reactions and repeated movements (like wiggling quickly between lean positions in Rainbow Six: Siege). Here are the best small gaming keyboards you can find on the market.
The original Blackwidow Tournament Edition Chroma was a brilliant keyboard (and made this list last year). However, the main problem with it was it was bulky. Not necessarily something you want in a small keyboard for gaming. The second edition fixes that by further shrinking its size while allowing a wrist rest to ease the tension in those areas. It also provides for a choice between three Razer switches that all have different actuation forces and an actuation vs. reset point value.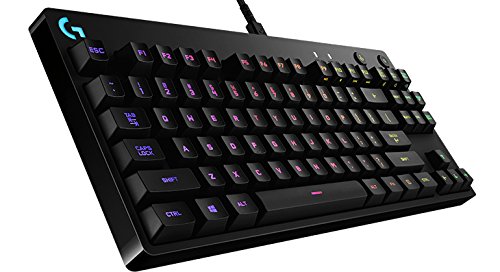 If you want a reliable, inexpensive, and high-performance piece of hardware, it's difficult to go wrong with Logitech. This keyboard is a lot quieter than many other models, aiming for speed over feedback (it uses a custom switch similar to the MX Speed Silver switch), and is built durably of a combination of metal and plastic, lightening its weight a bit for travel.
Plus, it looks beautiful. I'm not a sucker for RGBs, but the way only the Key Caps light up on this one is nice.
Featuring Cherry MX Low Profile switches, the Cooler Master SK630 travel distance and actuation points have been reduced by 0.8mm. One of the best things about this keyboard is that it is compact, but things do not feel cramped together. To avoid having to adjust your settings in the middle of everything, it uses an On-the-fly System that lets you adjust each key's backlighting, switch lighting modes, and record macros with just a few keypresses. With this system, it does not need any software.
In many ways, this keyboard is pretty standard. It's ergonomic, mechanical (with quiet keys), compact, and well manufactured, for a reasonable price.
The only rub is some of its specialized features. It lights up in response to in-game events and boasts Discord integration, doing the same thing for incoming messages. I find this to be immensely distracting but could see how somebody could like this feature, so it gets a spot even with that small mark against it.
This keyboard is slim, to put it mildly. It's about six inches shorter than a standard keyboard; it is Tenkeyless, and some lesser-used keys like PrtScrn have been conglomerated into alternate functions of existing keys to save even more space
This is a great portable keyboard, though a bit cramped for my preference.
The Redragon K561 VISNU is compact without being cramped like the E-Element model above and looks quite nice. While it doesn't provide the same level of material quality as a top of the line brand, it also costs half or less what those top of the line models do, and should last you a fair amount of time, if not as long as a metal keyboard will.
Ducky is well known for its line of keyboards being some of the best in the business. The One 2 Mini RGB keyboard is a compact, sleek piece of equipment. It has a detachable USB-C cord port and does not waste any space for the keys to fit in this lightweight board. It's not the best thing on this list, but you could definitely do worse with a mechanical keyboard.
The Corsair K65 LUX RGB mechanical keyboard is another tenkeyless iteration, but it is slightly larger than other options on this list due to its inclusion of media keys on the top. It has a sturdy aluminum frame with a wrist rest and a choice between Cherry MX Speed and Red switches.
Gamepur may receive compensation on some purchases made via links in this article.