ASUS ROG STRIX GL502VS REVIEW - GTX 1070 Powered On The Go Gaming Laptop
Gaming laptops compared to desktop does compete on the performance level, or deliver higher quality if we have something like ASUS GL502VS. It is a part of ROG series driven by high-end hardware to deliver top gaming output on portable grounds. It holds a new generation processor, high ram and graphic memory, big storage all packed well into a compact size that weighs just 2.2KG (approx 5pounds).
Our test told us the laptop do has some power, anyhow being a portable model it also fell short on few things. Before moving ahead, let's have a look on the features list and hardware specification.
Important: ASUS GL502VS the model today we test is a part of ROG series that has different variants with minor changes in the hardware and screen size. Our review and test are based on the Model - ASUS GL502VS-FY057T.
Features:
Compact and lightweight design
VR Ready
Wide-View Gsync Panel
Hyper Cool-Duo Copper Cooling System
Hyper-fast data transfer speed on USB Type-C
Mini DislayPort
Dedicated SSD for fast load
Tactical Backlit Keyboard
Mic with Ambient Noise Filter and Icepower Speaker
ROG Gaming Center
Specification:
Display - 15.6" FHD Display
With WideView Technology
Operating System - Microsoft Windows 10 (10.0) Home Single Language 64-bit (Build 10586)
Processor – 6th Generation Intel Core i7 6700HQ @ 2.60GHz
Graphics Card – Nvidia Geforce GTX 1070 8GB GDDR5
Memory – 32GB DDR4
Chipset - Intel HM170 Chipset
Hard Disk 1 – 256GB SSD and 1TB Hard Drive
Keyboard - Illuminated Chiclet Keyboard
Card Reader - Multi-format card reader (SDHC/SDXC/MMC)
WebCam - HD Web Camera
Networking:

Wi-Fi - Integrated 802.11b/g/n & Integrated 802.11 AC
Bluetooth - Built-in Bluetooth V4.0

Connectivity ports:

1 x Microphone-in/Headphone-out jack
1 x USB 3.1 TYPE C port(s)
3 x USB 3.0 port(s)
1 x RJ45 LAN Jack for LAN insert
1 x HDMI
1 x mini Display Port
1X AC adapter plug

Audio - Support Windows 10 Cortana with Voice ASUS SonicMaster Technology
Battery - 4 Cells Battery
Dimensions - 390 x 266 x 23.5 mm (WxDxH)
Weight - 2.2 kg with Battery
Optical drive – Not available
Video Review:
Asus STRIXGL502VSDesign:
STRIX GL502VS is less impactful on the design part, Asus had tried to preserve the signature ROG look, by adding up LED on lid covered with gleaming red color strips, too flashy this time. The body made from plastic, a major contribution to the light weight is due to this thin chassis.
Display: 15.6inch FHD screen seems small for games, enough if you are out, or else go with a widescreen monitor over HDMI, and let the 8GB GTX Geforce 1070 handle decent mid-range game settings.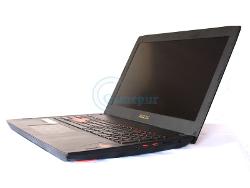 Keyboard: Full Back-lit chiclet keyboard is nice, but for gaming we love tohave dedicated gaming keyboard and mouse. Otherwise the keyboard is good enough for web browsing, texting, etc. with some annoying adjustment, like the ROG key placed before Number key 7, I pressed it accidently various time in search of Delete. The power button is shifted to the extreme right side above the Minus key, again a glitch that cause the system gets into sleep mode accidently by hitting it.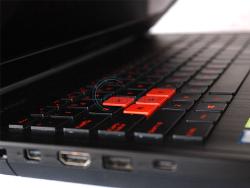 Touchpad: A big touchpad smooth for daily work, again we do not rely much on the actual keyboard and touchpad for gaming, our preference goes to pure gaming accessories to suit our comfort level. Touchpad is responsive enough when you are on web, or writing a document. With time you can also gain more control on video editing applications.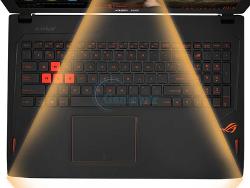 Speaker: STRIX GL502VS featured Icepower audio, that does not seems good on the internal speakers, but if you are having a great quality gaming headphone or a high end speakers the effects are visible. You can adjust the way you want to hear sound through ROG Gaming Center > ROG Audio Wizard. Preset modes include war room, battlefield, multimedia, etc a few set of pre-customized audio settings, if you want more click the tiny settings icon on the top left for pro level adjustments.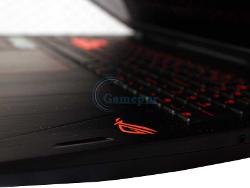 AsusSTRIXGL502VSConnectivity Ports:
STRIX GL502VS does not holds a Blu-Ray or Optical drive, the shortcoming is overcome by 2 USB 3.0 ports, a single 3.5mm audio port for headphone and mic both and a memory card reader on the left.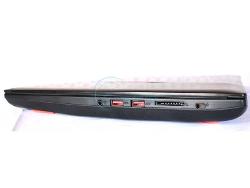 One Power connector, LAN port, Mini DisplayPort, HDMI Port, USB 3.0 and USB Type-C Port is on the right of laptop.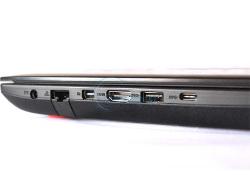 AsusSTRIXGL502VSHardware:
Core i7 turns out of be among the most standard processor for all high end gaming systems. GL502VShas as 6th generation CPU with good ram amount and video memory. Performance promised is delivered, we had played games on high settings, and did not felt any lag. But it does heat in the area above touchpad slightly towards right.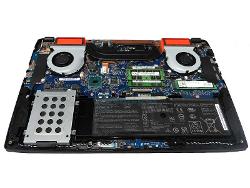 AsusSTRIXGL502VS Performance and Temperature on Gaming:
Intel Core i7 6700HQ is a 4 core cpu with 8 threads clocked at 2.60Ghz and ASUS ROG Gaming center can give a small boost for demanding games. 32GB RAM and 8GB GTX 1070 Video Memory is capable of delivering a decent gaming output at high settings. To handle internal heat, Asus has placed a Hyper Cool Duo-Cooper cooling system, it features dual fan with heat pipes that cools the processor and graphic memory separately. Our temperature test: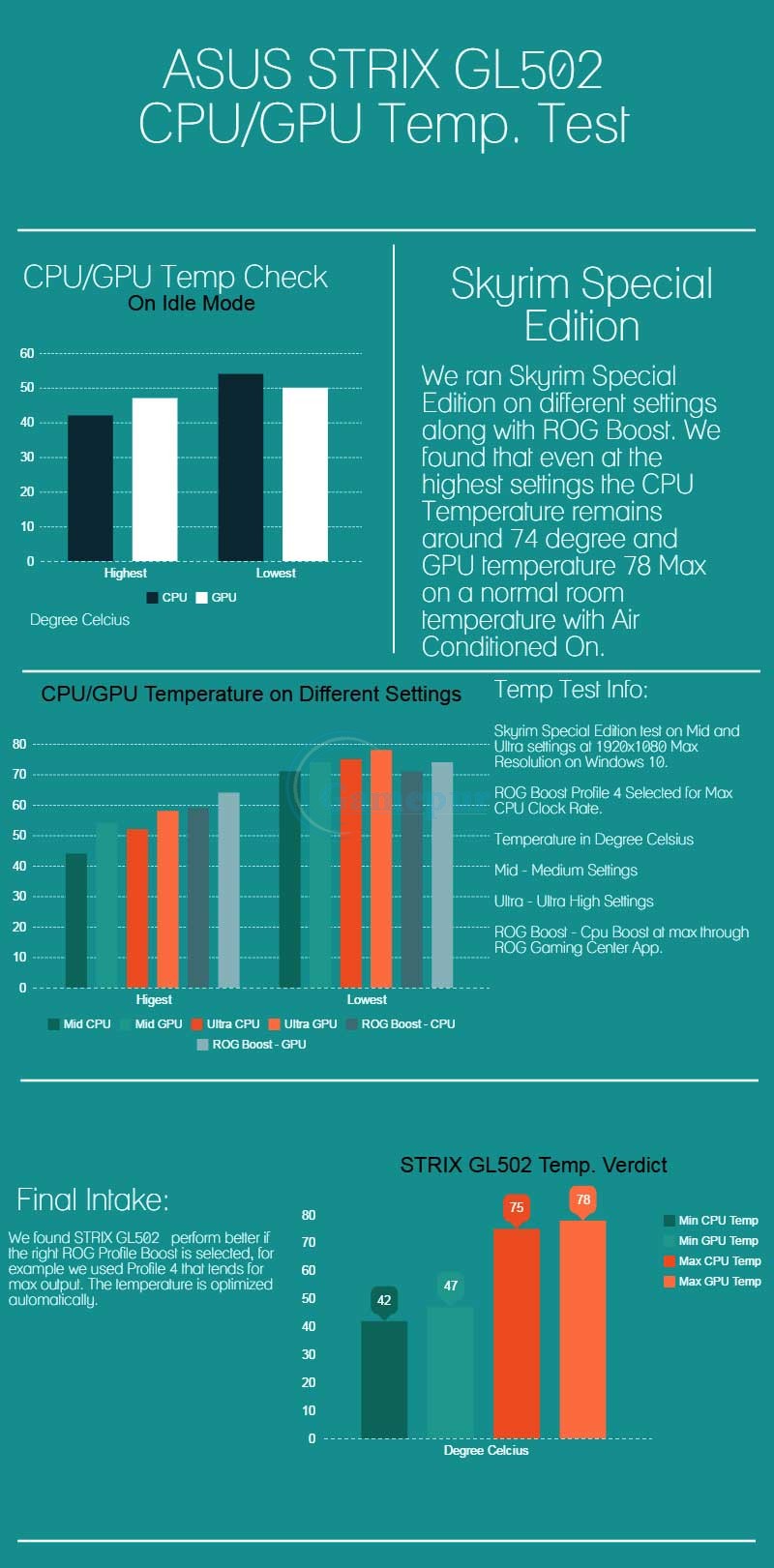 Temperature Test by HWMonitor on Windows 10:
Idle Mode – Common usage, web browsing and video playback.
CPU Temperature – Between 42 to 54
GPU Temperature - Between 47 to 50
Skyrim Special Edition Gameplay Temperature test on different settings:
Medium Settings – 1920x1080 resolution.
CPU Temperature – Between 44 to 71
GPU Temperature – 54 to 74
Ultra Settings – TAA Best Quality on 1920x1080 resolution.
CPU Temperature – Between 52 to 75
GPU Temperature – 58 to 78
ROG Profile 4 Max Boost – TAA Best Quality on 1920x1080 resolution.
CPU Temperature – Between 59 to 71
GPU Temperature – 64 to 74
AsusSTRIXGL502VSBenchmarking Reports Test:
Below are the benchmarking test results, that showcase STRIX GL502VS is a good performance model by Asus. 3D Mark scores 25947 on Sky Driver test and 4878 on Time Spy. Passmark Rates 4667.2 to the laptop, that is pretty awesome according to us. For hard drive read and write speed two drives performs separately, the first one is a SSD that holds the operating system delivers a 2Gbps of read and 1.2Gbps of write speed, compared to which the secondary hard drive delivers upto 140mbps of read and 135mbps of write speed. SSD plays a major role in overall performance of the laptop.
Verdict:
ASUS ROG STRIX GL502VS is a decent buy only if you are ready to acknowledge the inadequate battery. Apparently gaming laptops never have enough provision to hold long power. Our gaming test is satisfactory and we see this as a powerful hub not just restricted to gaming, but a platform to edit videos, and do thetask that demands processing power + graphic memory.
We had already spoken too much on the high points in the review, considering the low points, first is to know that ASUS ROG STRIX GL502VS falls in a premium product line series with a high price tag. Second a 512GB SSD is short for us, that's because we install too many games. Secondary 1TB drive is an additional support to store file, the OS SSD drive is the ground where everything performs. And it ends up really fast.
Our final words for the variant model we got conclude Strix GL502VS is good one with gaming performance you are looking for. Not 4K, but decent output enough to entertain you on dual monitor setup and of course the VR Ready cannot be ignored. Play games, and do remember to shift them to the secondary hard drive if you are done finishing, avoiding low drive space problem.
ASUS ROG STRIX GL502VS comes for Rs.1,81,990.00 in India.