ASUS ROG STRIX GL553V Review – GTX 1050Ti Powered 1080p Gaming Laptop
ASUS ROG GL553V is compact gaming laptop for 1080p gaming. It has embedded Nvidia 1050Ti 4 GB Graphic card which is the most cost efficient solution for decent 1080p Gaming. The laptop is a latest release in ROG Strix badge after GL502VS with GTX 1070 Powered Gaming Laptop which we reviewed last time. Like GL502, GL553V also has a 15.6-inch screen but it's slightly thicker. Like in our GL502 review we concluded that GTX 1070 is a bit over-killed in this size segment, which results in overheating and short battery life, so with GL553V I am expecting more battery life and better cooling results.
Unlike GL502VS, GL553V comes with 7th Generation of Intel Kaby Lake CPU, i.e. Intel Core i7 7700HQ clocked at 2.8Ghz with 4 cores and 8 threads. It has a 16GB of DDR4 RAM expandable up to 32GB, 256GB of primary SSD drive and 1TB of SATA storage. The full specifications are listed below:
ASUS ROG GL553V Specification:
Processor: Intel Core i7-7700HQ 2.8GHz (Turbo up to 3.8GHz)
Operating System: Windows 10 (64bit)
Memory: 16GB DDR4 2400MHz
Display: 15.6″ FHD (1920×1080), matte finish with wide 178 degree viewing angles
Graphic: NVIDIA GTX1050Ti 4GB GDDR5
Storage: "256GB SATA3 SSD 1TB (7200RPM)"

Card Reader: SD, MMC
Camera: HD Web Camera
Networking: Integrated 802.11ac, Built-in Bluetooth V4.0
Interface:

1x Headphone-out & Audio-in Combo Jack
1x RJ45 LAN Jack for LAN insert
1x HDMI
1x USB3.1-Type C(Gen1)
1x USB 2.0
2x USB 3.0

Audio: Built-in Speakers And Microphone, SonicMaster
Battery: 48WHrs, 4S1P, 4-cell Li-ion Battery Pack
Dimensions: 15.1″ x 10.0″ x 0.8″ ~ 1.2″
Weight: 5.5 lbs
Package Contents (Review unit):
Laptop Unit, Power brick, power cable, Quick Start manual and a User Guide.
Design: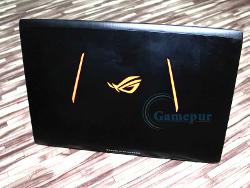 GL553V has a decent design with eye-catching RGB backlighting Keyboard. It has classic branding with Neon Orange, ROG logo on palm rest and at the back of display. GL553V features Matte Black plastic body and sophisticated placement of I/O ports, SD card slot, speakers and a DVD-RW drive.
It has a full key-set keyboard, touch-pad with LED indicators and an SD card slot at the front, below to the palm rest. The placement of SD card slot is very efficient in usage as well. The two Built-in Speakers are also placed at front corners aligned with the SD card slot.
On the right side of the keyboard, there is a DVD-RW drive, a Kensington lock with 1x USB 2.0 port, whereas the left side is stuffed with Power input, Audio-in-out Combo Jack, RJ45 LAN Jack, HDMI output, USB3.1-Type C(Gen1), USB 2.0 and 2x USB 3.0 ports.
Display: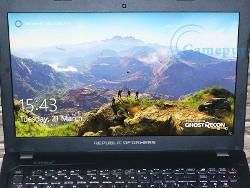 With the 15.6-inch, sharp 1080 FHD display with a matte finish, the ASUS ROG GL553V brings the vibrant set of colors to our eyes. It supports more than 100% of sRGB color gamut. I played various games with different color tones like Crysis 3 and Mafia 3 with darker color shares and the much color rich titles like The Witcher 3 and recently released Ghost Recon Wildlands. The color production was very much accurate and satisfactory. It has the wide-view angle of 178° but it really doesn't matter with the average-size 15.6-inch display. The HDMI output, on the other hand, is quite useful to overcome small screen size problems, but there is a noticeable amount of color accuracy difference between laptop display and HDMI output.
Keyboard: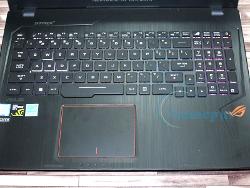 GL553V offers a gaming friendly keyboard which is comfortable to use because of 2mm travel distance for tactile, responsive keystrokes. During intense gaming sessions, I didn't encounter a moment where keyboard didn't respond to my any keystrokes. The full keyboard has the RGB backlighting which can be configured through pre-installed ASUS Aura app. The app offers All Keyboard and Multi-zone modes of color configurations.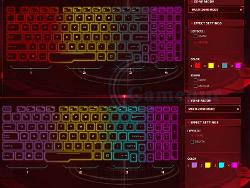 In All keyboard modes you can select a single backlit color for entire keyboard and in Multizone, you get four different zones of the keyboard to configure separately. It doesn't support macros, you can only configure backlighting. The size of num pad and arrow keys are small in comparison to other and for optimum usage, it takes a good amount of your attention, but overall it is one of the most comfortable keyboards I have used in a 15.6″ laptop.
Touchpad: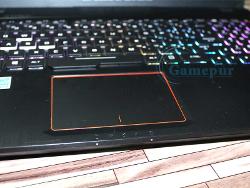 It has a regular touchpad with a dimension of 4.1 x 2-inch. It is good for performing Windows 10 gestures but not suited for Gaming or browsing. I really feel ASUS should ship Gaming Mouse with their gaming laptops, the review unit didn't have a Gaming mouse and I'm not sure if a retail package comes with any. Also, it wouldn't hurt to shift touchpad to palm rest position if they want Touchpad to be considered for Gaming usage, it's a Gaming laptop after all.
Speakers: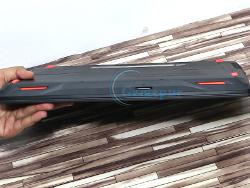 Built-in Speakers overall has a good quality sound, especially because of their placement at front corners, i.e. beneath the palm rest, but they are still slightly tilted towards the bottom. In a pre-installed utility ROG Audio Wizard, you can configure unique presets for audio output.
Pre-installed Software's:
GL553V features Windows 10 64bit operating system with a number of pre-installed ROG utilities, specifically to facilitate Gamers with everything they need from efficient cooling management to RGB theme for Recording and broadcasting their gaming sessions.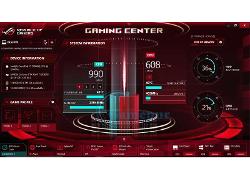 Utilities I found useful are ASUS Aura app for managing RGB backlighting on the keyboard, ROG Audio wizard for audio presets, Fan Boost for cooling of CPU temperature and Xplit Gamecaster for recording and broadcasting gaming solutions. ROG GameFirst IV provides pro level of control of your GL553V for better performance during gaming sessions like you can prioritize game packets and allocate more network bandwidth for games. It also features variously presets for typical usage scenarios.
Overheating solutions: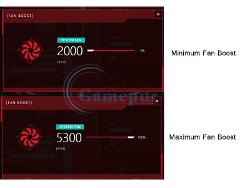 As tested, GL553V has quite impressive cooling management. Sadly we were not allowed to open the review unit and show you how Heat sinks, air vents, and fans all work together to keep the ASUS ROG GL553V surprisingly cool. According to our observation, the CPU and GPU get raise of 10% in temperature. It also has the ROG Cooling Overboost feature which lets you increase the speed of CPU fan from 2000RPM to 5400RPM, but it comes at cost of heavy noise. You can avoid the noise by wearing headphones during gaming then this feature comes in handy, obviously it also drains battery heavily so remembers to keep your laptop plugged in.
Battery Life:
For typical usage other than Gaming and other 3D/2D rendering applications, it supports Battery life of up to 4Hours, which is typically fair enough for Gaming. With decent HDMI output, the Desktop lovers can use GL553V as good Mini PC alternative, as it has an efficient cooling solution which allows longer hours of gameplay, however again you need to keep it plugged in for optimum performance.The new ROG Cooling Overboost lets you adjust fan speed and features an intelligent thermal design for maximum cooling efficiency to give ROG Strix GL553 the stability required for intense gaming marathons, or perhaps your lap is getting too warm for your liking.
Benchmark reports:
The performance of GL553V on Gaming Benchmarking software is very average. In 3Dmark the Time Spy test which is recommended for Gaming laptops gave GL553V a score of 2317. PC Mark Creative Accelerated 3.0 test gave GL553V score of 5147 also indicated that GL553V is not suitable for Heavy Video Editing. Cinebench R15 CPU test resulted in an overall score of 717cb with 128cb on a single core.
3Dmark Time-spy: 2317
PC Mark 8, Creative Accelerated 3.0: 5147
Cinebench R15 CPU test: 717cb
Cinebench R15 CPU test (Single core): 128cb
For SSD, HDD performance test we used CrystalDiskMark and results are as follows: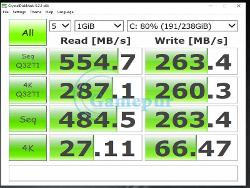 256GB SSD:
Sequential Read: 554 MB/s
Sequential Write: 263 MB/s
Random Read 4KiB: 287 MB/s
Random Write 4KiB: 260 MB/s
1TB HDD:
Sequential Read: 101 MB/s
Sequential Write: 102 MB/s
Random Read 4KiB: 1.3 MB/s
Random Write 4KiB: 1.4 MB/s
Write speed of SD card reader is about 10Mbps with a read speed of SD-to-SSD is about 1.7GBps and SD-to-HDD is 300Mpbs.
Gaming Performance:
I have played many latest to old titles including The Witcher 3, Crysis 3, The Division, Tom Clancy's Ghost Recon: Wildlands, Mass Effect Andromeda and Mafia 3 etc. Every title I played on Very high settings of preset and experience was lag-free gaming. It starts to heat a bit after about half an hour of a session but it doesn't heat to the moment where you feel to exit your gaming session and gives your laptop a rest. It doesn't shatter the FPS charts but gives you smooth enough experience. Overall on Very High settings of presets, the GL553V with Nvidia GTX 1050Ti 4GB GDDR5 graphics card targeting decent 1080p gaming manages to run on an about 30FPS. Few of the FRAPS results are below: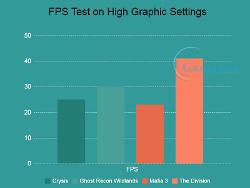 Crysis: 25 FPS
Tom Clancy's Ghost Recon: Wildlands: 30 FPS
Mafia 3: 23 FPS
Tom Clancy The Division: 41 FPS
Overall it manages to play well on Very High settings, it starts too feeble in Ultra/Max Settings.
Verdict:
In my opinion, GL553V is a decent candidate for Gamers who can content their needs of Ultra Quality Gaming Visuals, in simple words, GL553V runs at 1080p with good enough FPS for a smooth experience. It is priced at RS. 95000/- in India and at about 1,270 USD Globally, judging by its specs GL553V is bit overpriced and you can manage to built better Desktop Gaming build in such budget. But it's worth considering if you are looking for a compact Laptop with a decent cooling solution, signature design and a quality 1080p gaming.