How And Where To Get Sturm and Drang, How They Work [Perks]
The "Relic of the Golden Age" gives Destiny 2 players access to The Sturm, an Exotic Hand Cannon, and a side arm called Drang. They make a fabulous pair when clubbed together and used. Here's how both works - When you use a Energy weapon to kill, Strum reloads your Energy weapon, whereas Drang reloads the Strum. Not that you know the basics of everything, let's get started with the steps you need to follow to unlock or get The Sturm (Exotic Hand Cannon) and Drang (Side Arm).
How To unlock Sturm Exotic Hand Cannon
Step 1: First you will have to complete the Main Story campaign.
Step 2: Now you will have to get to Nesuss and start the Failsafe quest at the Exodus Black.
Step 3: Then you will have to have a word with Master Rahool at the Tower.
Step 4: Then Decrypt 5 Legendary Engrams. And along with that, you will even have to decrypt one Exotic Engram.
Step 5: Now you will have to kill 10 Fallen on Nessus Using Drang (This is the Sidearm that you have received on completing the Failsafe. Don't dismantle it will be useful ahead.)
Step 6: Again you will have to talk to Rahool. And then talk to Kyra Karn at the Farm.
Step 7: Then again you will have to kill 10 fallen on Nessus using Drang but without reloading.
Step 8: Now you will have to kill 10 Powerful Fallen on Nessus using Drang.
Step 9: Now complete Relic of the Golden Age quest by killing a servitor called Kendriks-7.
Step 10: Now finally talk to Tyra Karn again.
And there you have your Sturm Exotic Hand Cannon, now let's talk when Sturm and Drang are been paired.
Benefits Of Sturm And Drang.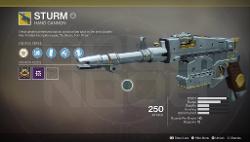 Sturm has got a very cool perk, where you will be able to automatically reload your energy weapon, so if you are carrying one with you and play very often, switch to Sturm and make a kill and then again get back to your Energy weapon and there you have full ammo. And when you even have Drang with you it perks is also special that, when you will kill an enemy with it the Sturm will be reloaded on its own. So Just think how deadly this combination can be.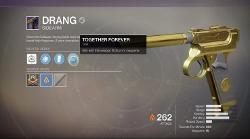 By any means (by mistake) if you have Dismantled Drang during the Relic of the Golden age, then you can buy another one from the Tyra Karn at the farm, Tyra Karn sells it for 10 marks.
Perks For Sturm and Drang
​STURM: Kinetic Damage Hand Cannon
Accomplice: This helps to reload the ammo of the Energy Weapon equipped.
Storm and Stress: The kills made with Drang, helps in giving bonus damage, until the next Reload.
Extended Barrel: This helps in increasing the Range but affects the Handling.
Extended Mag: This helps in increasing the size of the Magazine but reduces the speed of reload time.
Combat Grip: Helps in decreasing the vertical recoil by a small amount.
DRANG: Energy Side Arm
Adaptive Frame: It makes the frame more sturdy and reliable.
Smallbore: It makes a dual strength Barrel.
Extended Mag: It helps in increasing the Magazine Size but affects the Reload time.
Sturm Lore
"Please! You don't understand. I'm supposed to be on that ship."
The guard smiled at Sigrun with gentle condescension. "That's not possible, ma'am."
She understood why he would believe that; all of the colonists had entered cryo two weeks ago, but she could see the crew waving for pictures. They were awake! She could be awake, too. "I'm supposed to be on that ship," she insisted, leaning around the guard. There was still time. She could find whatever horrible cryo-coffin they'd loaded Victor into; she could kneel before it and beg him to forgive her. He wouldn't hear her but he wasn't gone yet—
"I need you to take a step back, ma'am."
"Captain Jacobson!" Sigrun darted past the guard. "I'm a colonist! You can't leave without me!"
There you go with your Exotic Sturm Hand Cannon. And feel free to read our Destiny 2 Wiki Guide for full walkthrough and more tips on the game.