Far Cry 5 Perks Guide - 5 Best Perks To Unlock At The Start
Far Cry 5 has many perks that you can start with, but there are some very important that will help you a lot in the game. In this guide you will get the best perks to get as soon as possible, this will directly affect your survival, competency to complete tough missions and activities like hunting or fishing. In this guide you will see two sections, one is the list of best perk points you must unlock as soon as possible, and second is perks sorted on the basis of different requirements like best perks for stealth, best one for vehicles, hunting, blowing up things, assault, etc.
5 Best Perks To Unlock First In Far Cry 5
There are around 50 perks in Far Cry 5, but not all are important ones. There are certain that you will need at the very early stage of the game because as you keep progressing things are going to be tougher. There will be more ambush, wild animals, air assaults, etc. Death can come from anywhere, so these perks are like a boon for a beginner. Each perk cost some Perk Points, you get them by finishing missions, and other objectives in the game.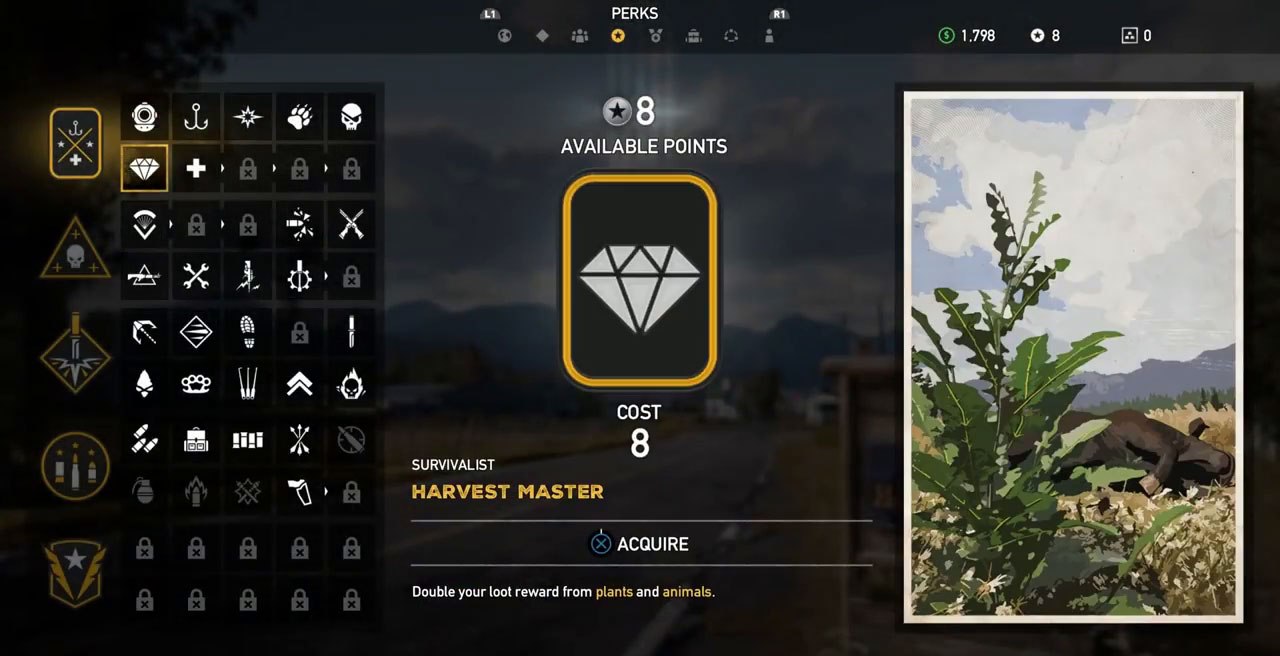 Harvest Master
Falls under the category of survivalist it cost 8 perk points, and it will double your reward from plants and animals. Hunting animals will be your primary source of income, by selling out skins you can gather cash and later you can use them for upgrades. So having this one at the beginning will help you a lot. This perk simply means you double your chance of making money in the game.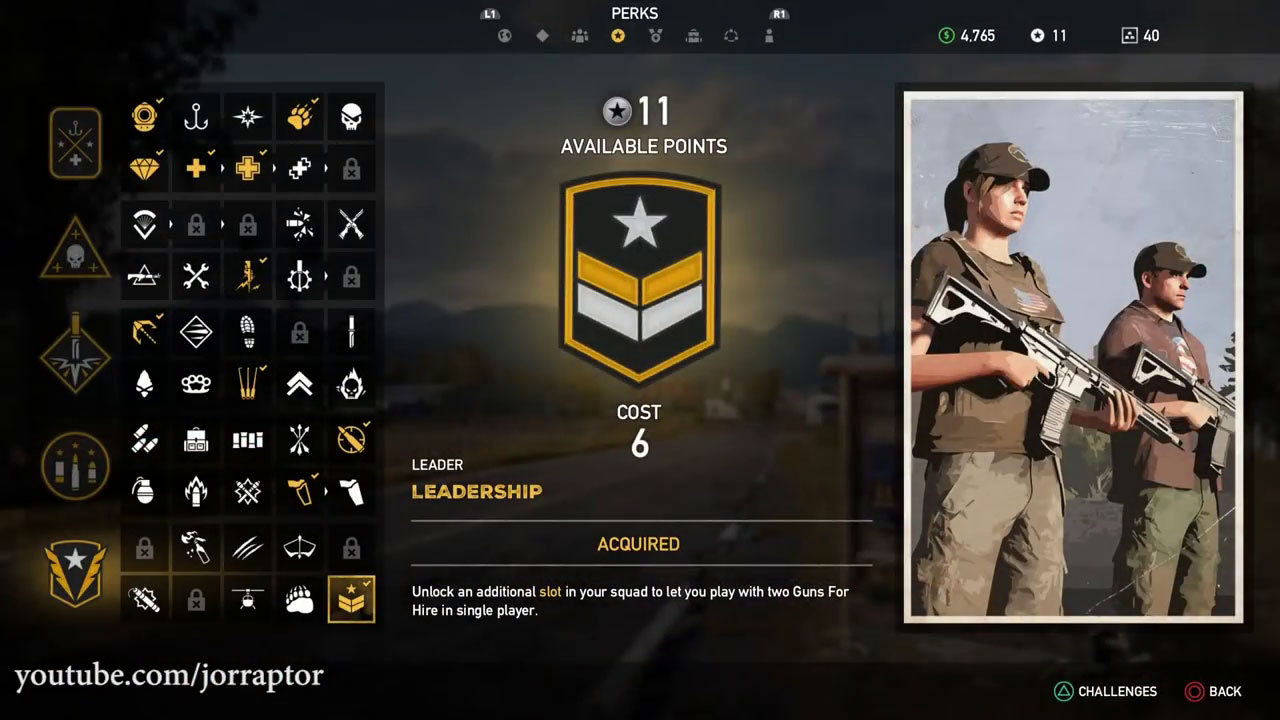 Leadership Perk
This one falls in the Leader section and costs 6 perk points. It is very important because it will unlock an additional slot in the Guns for Hire section. That means you can carry two allies with you in a fight and that will be amazing. You can keep an animal or a specialist with you and get additional support. The allies can also revive you when you are down for in a fight. Sometimes if you are down, your allies will complete the mission for you.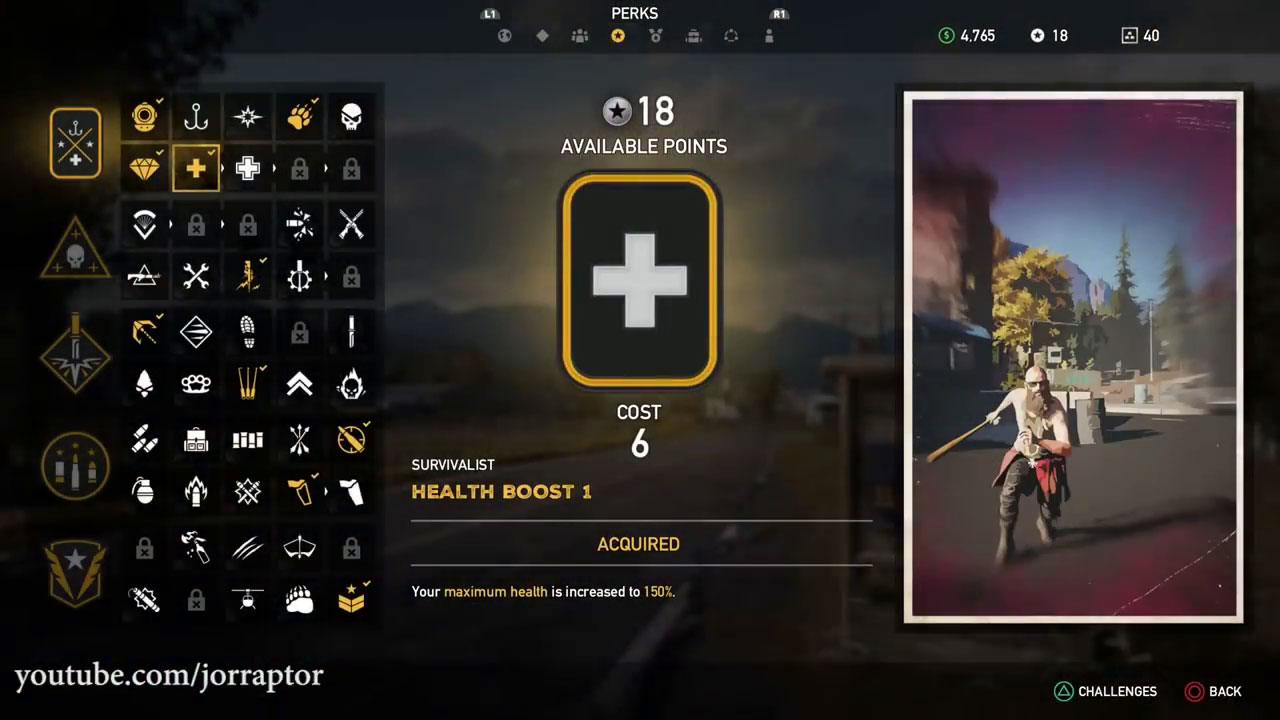 Health Boost
This perk falls under survivalist category and there are two boosts. Health Boost 1 cost 6 perk points and increase your maximum health to 150%, and then Health Boost 2 that cost 7 perk points which further boost your health meter to 200%. This means you won't die soon in the game, you have enough health left to use a med-kit. With these two perks, you can play tougher missions with keep on dying and play from start. There are two more levels Health Boost 3 and 4 that offer you a max health meter of 300%.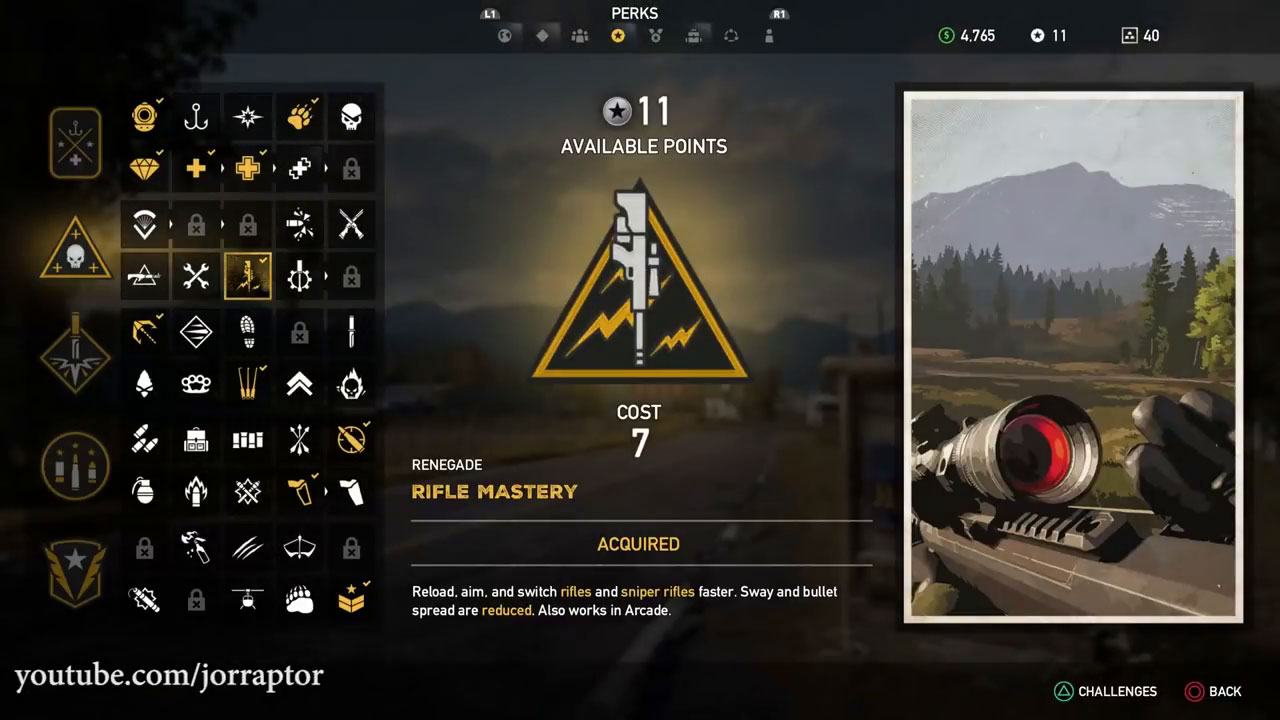 Rifle Mastery
There are ample of perks for making your combat better but if you are not having enough perk points then start with Rifle Mastery. This one cost 7 perk points, and it will increase the speed of reload, aim and weapon switching. Sway and bullet spread is also reduced. You can use the perk in arcade also. So this perk is pretty helpful and grants necessary speed when you are using a rifle. If you are using an SMG or a shotgun then you need Weapon Pro that cost 6  points. For bows and slingshots, Primal Mastery perk is available for 6 points. For melee weapons and close combat, you can try out Close Combat Mastery that cost 6 points.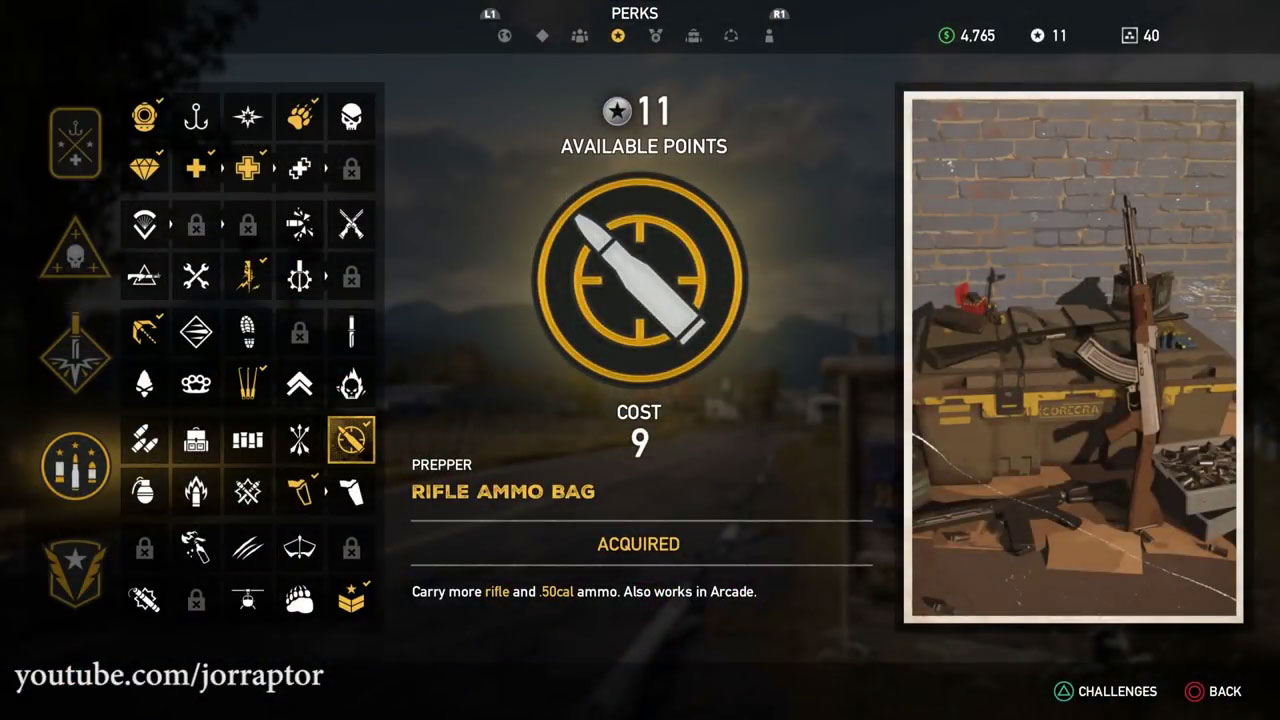 Rifle Ammo Bag
This will increase the amount of ammo for rifles, it cost 9 points. So that you don't have to reload all the time. For arrows go for Quicker that cost 8 points. For SMG and Shotgun, you can go for Tactical Ammo Bag for 8 points. To boost your weapons go for Additional Holster perk that cost 8 points, it will add the 3rd weapon in your weapon wheel.
Other than above one does buy Grapple Perk that cost just 1 point, it is essential for climbing up on the mountains. The second perk to add in your list is Locksmith perk that cost 6 points, this one will help you to unlock safes and doors that does not require a key card.
For more tips and updates on the game, you can read our Far Cry 5 Wiki guide.