All traits in Set 8 of Teamfight Tactics (TFT)
Become your own superhero (or villain) in Set 8.
As we head into Set 8 of Teamfight Tactics, players are thrilled to learn what Monsters Attack will entail. A set filled with heroes and monsters, you'll enjoy creating a super-powered team. From classic Star Guardians and Brawlers to new, frightening Threats, this TFT set will have the most Kaiju v. Sailor Moon-like thrills yet. So, if you want to learn about all the known traits so far, here's a comprehensive collection.
Ace
This trait only activates if you have exactly one of four Ace units. One unit executes enemies under 15% health, while all four execute enemies under 30%.
Ace champions
Draven
Miss Fortune
Mordekaiser
Samira
A.D.M.I.N.
This is the trait for developers because you create this trait's cause-and-effect scenarios yourself. For example, you can choose to customize the trait to activate at the end of combat (cause). Then, you can choose to make the trait give you gold at the end of the round (effect), turning it into an econ-friendly trait. For variety, there are seven causes and seven effects to choose from.
Admin champions
Aegis
A defensive trait, Aegis means that all allies gain bonus Magic Resist. Aegis units gain double that.
Aegis champions
Anima Squad
As the showboating heroes of the set, Anima Squad wants to dazzle fans while they fight. When they first takedown a unit, they pause their attacks to strike a pose. This gives them a stack of fame. Each stack of fame gives the Anima Squad units more Ability Power and Attack Damage.
Anima Squad champions
Jinx
Miss Fortune
Nasus
Riven
Sylas
Vayne
Brawler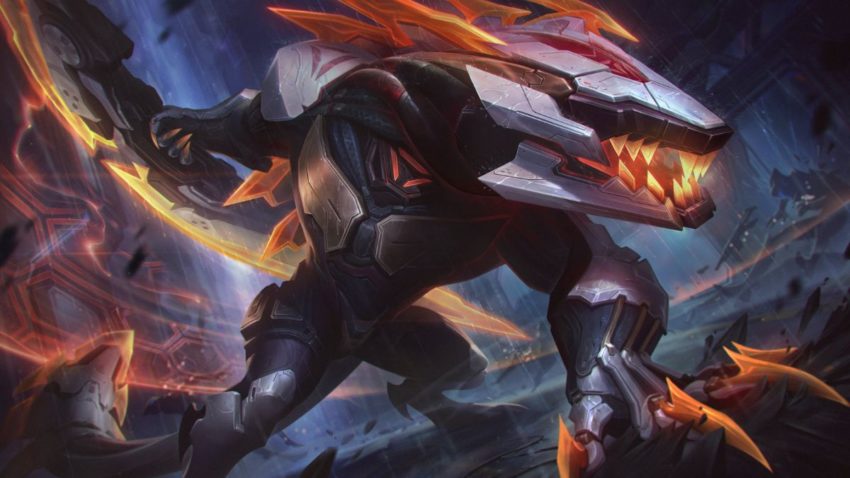 This old classic of a trait comes back to build our favorite beefy front-liners. Brawlers gain an additional max Health boost.
Brawler champions
Blitzcrank
Jax
Lee Sin
Renekton
Riven
Sejuani
Vi
Civilian
If a Civilian is alive on the board, all other units are inspired to help them. This means a boost that helps allies gain bonus mana every two seconds.
Civilian Champions
Defender
Shortly after combat begins, Defenders taunt all nearby enemies and gain bonus armor. Meanwhile, allies gain half that armor. These units could be very helpful in countering the Assassin-like Hacker units.
Defender champions
Duelist
For Duelists, their basic attacks grant them bonus attack speed, up to ten stacks.
Duelist Champions
Fiora
Gangplank
Kayle
Nilah
Vayne
Yasuo
Zed
Gadgeteen
Every round, Gadgeteens construct a weapon that can be equipped by ally units. These weapons are powerful but not durable. They break after two rounds of use.
Gadgeteen Champions
Annie
Lulu
Nunu and Willump
Poppy
Zoe
Hacker
Hackers gain Omnivamp. They also mount a Hacker creature that takes them to the enemy backline. The Hacker is untargetable for the first few seconds of combat. This is a hybrid between the Assassin and Cavalier traits.
Hacker champions
Heart
Whenever a Heart unit casts their ability, their allies gain stacking AP for the rest of combat.
Heart Champions
Lee Sin
Lulu
Sona
Soraka
Syndra
Yuumi
Laser Corps
All Laser Corps units have a drone. When attacking or being attacked, the drone has a 50% chance of doing damage to the enemy target (with a 0.5 second cooldown). When a Laser Corps agent dies, their drone is re-assigned to the closest unit.
Laser Corps champions
Ashe
Mordekaiser
Renekton
Sejuani
Senna
Yasuo
Zed
Mascot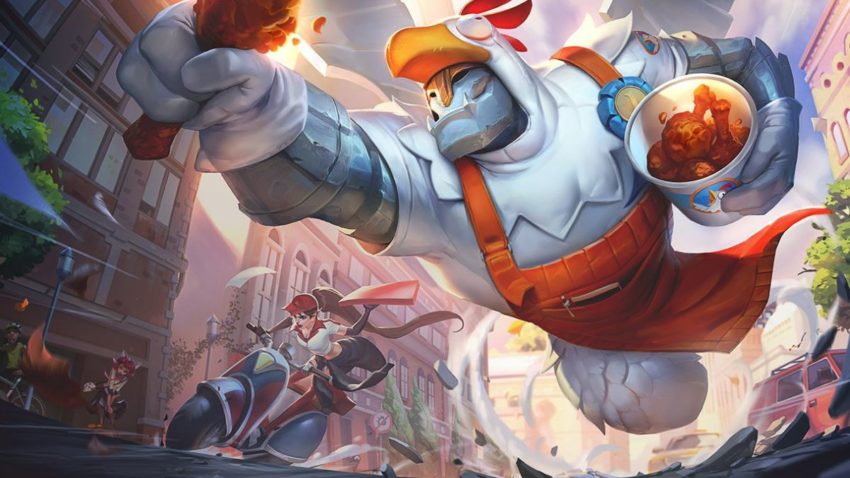 When a Mascot unit dies, they run to the sidelines to cheer on their team, giving your remaining champions a boost. All allies then regenerate a percentage of their health every three seconds, increased by 1% for each cheering Mascot on the sidelines. Mascots regenerate double health, though.
Mascot champions
Alistar
Galio
Malphite
Nasus
Nunu & Willump
Yuumi
Mecha: PRIME
Use the PRIME selector to designate a PRIME Mecha unit (similar to choosing a Dragonmancer hero). At the start of combat, the PRIME combines with the two closest Mecha units. This absorbs a portion of their base health and Attack Damage.
Mecha: PRIME champions
Ox Force
The more health they lose, the more Attack Speed that Ox Force units have. The first time an Ox Force unit would die in combat, they go invulnerable for 1.5 seconds.
Known Ox Force champions
Alistar
Annie
Aphelios
Fiora
Talon
Viego
Prankster
The first time Prankster units would fall below 50% health, they spawn a Target Dummy in their place and move to a safe location.
Prankster champions
Recon
Recon units gain attack range and the ability to dash to ally units before they cast an ability. They also gain bonus Critical Strike Chance.
Recon champions
Renegade
All Renegades deal bonus damage, but the last Renegade standing in a fight does even more.
Renegade champions
Camille
Leona
Sylas
Talon
Viego
Spellslinger
Every 6 seconds, Spellslingers replace their basic attack with a magic orb that slingshots at a random target. This orb does 75% of the Ability Power as damage. Spellslingers also have boosted AP.
Spellslinger champions
Annie
LeBlanc
Lux
Sona
Taliyah
Star Guardian
A classic trait from Set 3, the Star Guardians trait generates bonus mana.
Known Star Guardian champions
Ekko
Kai'Sa
Lux
Nilah
Rell
Syndra
Taliyah
Yuumi
Supers
Performers just like the members of Anima Squad, Supers strike pose at the beginning of combat, granting allies 30% bonus damage. For each three-star unit on your board, this damage increases by 5%.
Supers champions
SureShot
Sureshots gain bonus Attack Damage every five seconds. This damage boost lasts until the end of combat.
SureShot champions
Threat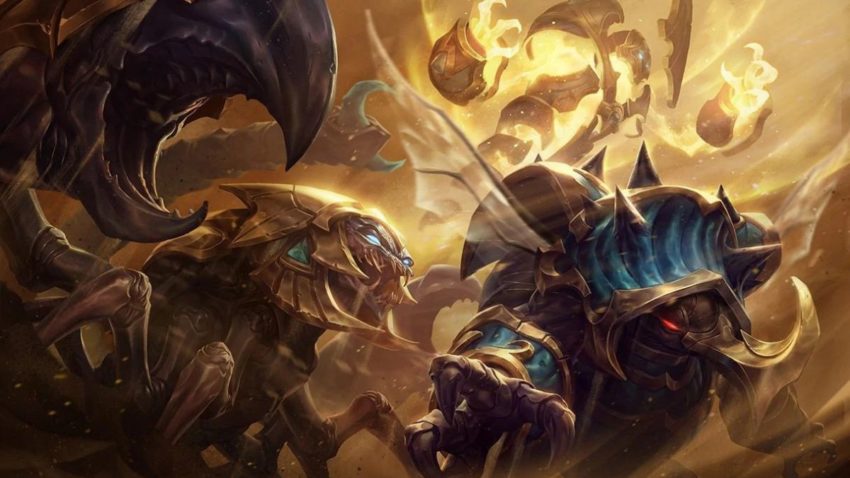 There are absolutely no units in this set that take up two spots on your board. However, there are still big, powerful champions. In Set 8, the strongest goliaths are the Threat units. They don't have bonus Threat buffs and therefore lack synergy, but they are more powerful than baseline champions. So, they can be very situationally useful like when transitioning builds.
Known Threat champions
Bel'Veth
Cho'Gath
Fiddlesticks
Rammus
Urgot
Vel'Koz
Zac
Underground
With some inspiration from Pirate or Mercenary builds, Underground champions are working towards completing certain heists. Reaching seven points towards your heist means that you and your team receive rewards. You can accept early rewards or wait for rarer rewards.
Known Underground champions
Specialty Traits
Arsenal
This is Aphelios' special trait. When placed on the board, that's when Arsenal units choose their weapon. This changes their ability spell's effects.
Corrupted
This is Fiddlesticks' special trait. He starts combat dormant. During this time, Fiddlesticks sits on the board and drains bonus stats from dead ally units. When he reaches below 40% health, though, he comes alive.
Forecaster
This is Janna's special trait. The weather changes each game. Depending on what weather that is, she will buff all adjacent allies with a special boost.