God Of War NG+ Rewards In Highest Difficulty Setting – Best Shield Skin & Axe Pommel Upgrade
Barrier Of The Fjord Shield is available only if you pick the new game plus mode that puts you in front of enemies with starting Power Level 7. The new game plus mode once started cannot be switched back to regular, you will lose whatever played before you choose to pick another mode. There are shields, upgraded weapons and items that will be rewarded in the toughest levels and in this guide we will give had tried to highlight the BEST REWARDS one we found, otherwise there are many upgraded things added in the new Game Plus mode.
Once you begin the New Game Plus mode with the right gear you can easily tackle tough enemies. You get a lot of things unlocked from the Normal mode, for example, the blades. You have to arrange the right gears and you will already be a few levels up against the enemies you will face in New Game+.
New Game Plus Mode Rewards List
There are new shield skin and a weapon upgrade. You can only get this item if you are playing Give Me God Of War difficulty in New Game Plus mode.
Shield Skins:
Once you start the New Game+ mode you will get a free skin Aegis of Reconciliation. And once you complete you will earn Barrier of the Fjord Shield Skin. These are only skins they won't put much impact on the gameplay.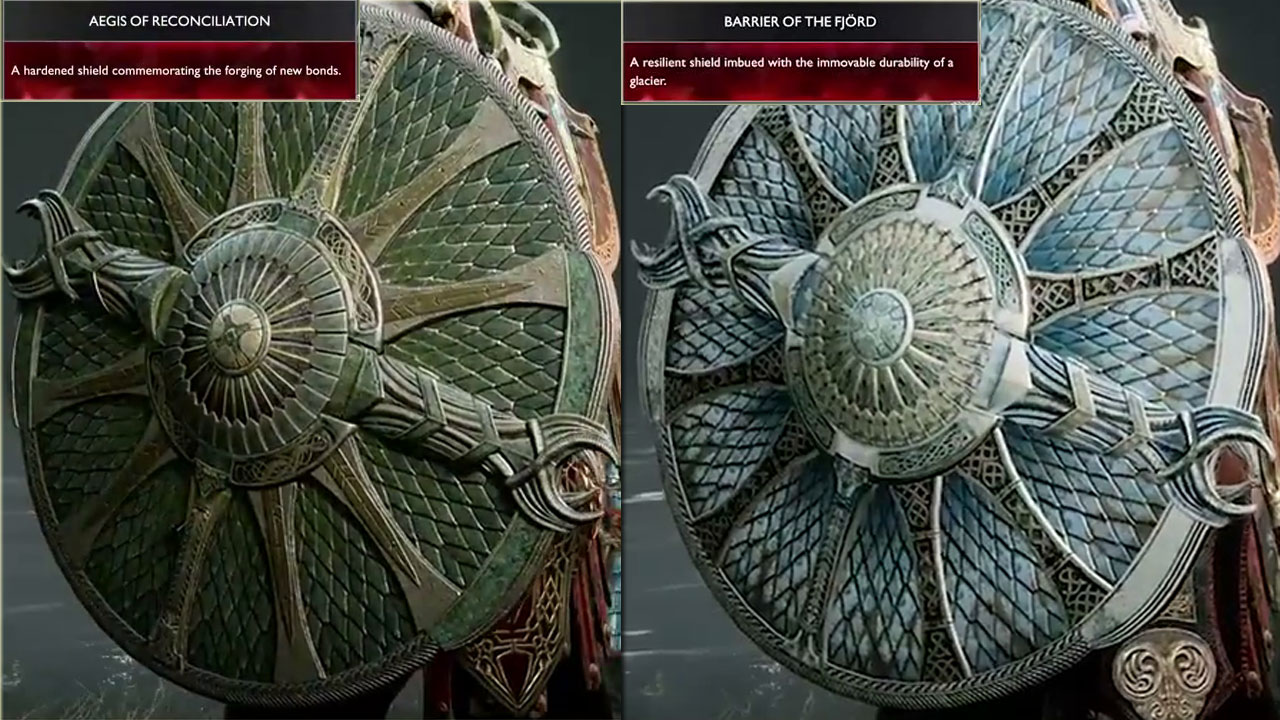 Aegis Of Reconciliation: A hardened shield commemorating the forging of new bonds.
Barrier Of The Fjord Shield: A resilient shield imbued with the immovable durability of a glacier.
Axe Pommel Upgrade:
A lot of items has been upgraded in New Game Plus which are pretty useful with your overall gears. For example Forbidden Grip Of The Ages+. This item is set to Level 7 from Level 3 from normal mode.
Forbidden Grip Of The Ages+ Stats: An ancient relic that increases all of Krato's Stats. Adds a concussive wave to the end of the R1 combo. This item starts with Level 7 and it can be upgraded to Level 9.
Strength – 14
Runic – 14
Defense – 14
Vitality – 14
Luck – 14
Cooldown – 14
You can read our guide How To Get Forbidden Grip of the Ages to find the exact location of this item, plus the solution of the puzzle to summon it.
These are some of the best rewards you can find in New Game Plus mode of God Of War. For info on armor, you can go through our All Armor List & Their Stats guide. Do check our God of War Wiki guide for more tips and tricks.