The best Bruen MK9 Loadout in Call of Duty: Warzone
Become unstoppable with this LMG.
The Bruen MK9 is a light machine gun available in both Call of Duty: Modern Warfare and Warzone. In the standard multiplayer, it won't be readily available to you, as you need to unlock it. However, in Warzone, the weapon is yours to use as you wish.
A powerful LMG, the Bruen MK9, is a popular choice for players that don't like to push engagements or maybe want another gun that isn't an assault rifle. Packing a serious punch, the Bruen can be quite effective if used correctly. Of course, you'll need the right attachments to maximize your effectiveness.
Full Bruen MK9 Loadout
Like with many other weapons in Warzone, how you play with the Bruen MK9 largely depends on the attachments you choose to equip. You can go for a more rush-style approach and use attachments that boost your Aim Down Sight speed. On the other hand, you can equip some long-range attachments, like a thermal scope, and pick people off from a distance.
However, the best way to use Bruen MK9 is to combine all of these aspects. Here is our pick for the best Bruen MK9 Loadout you can use in Call of Duty: Warzone.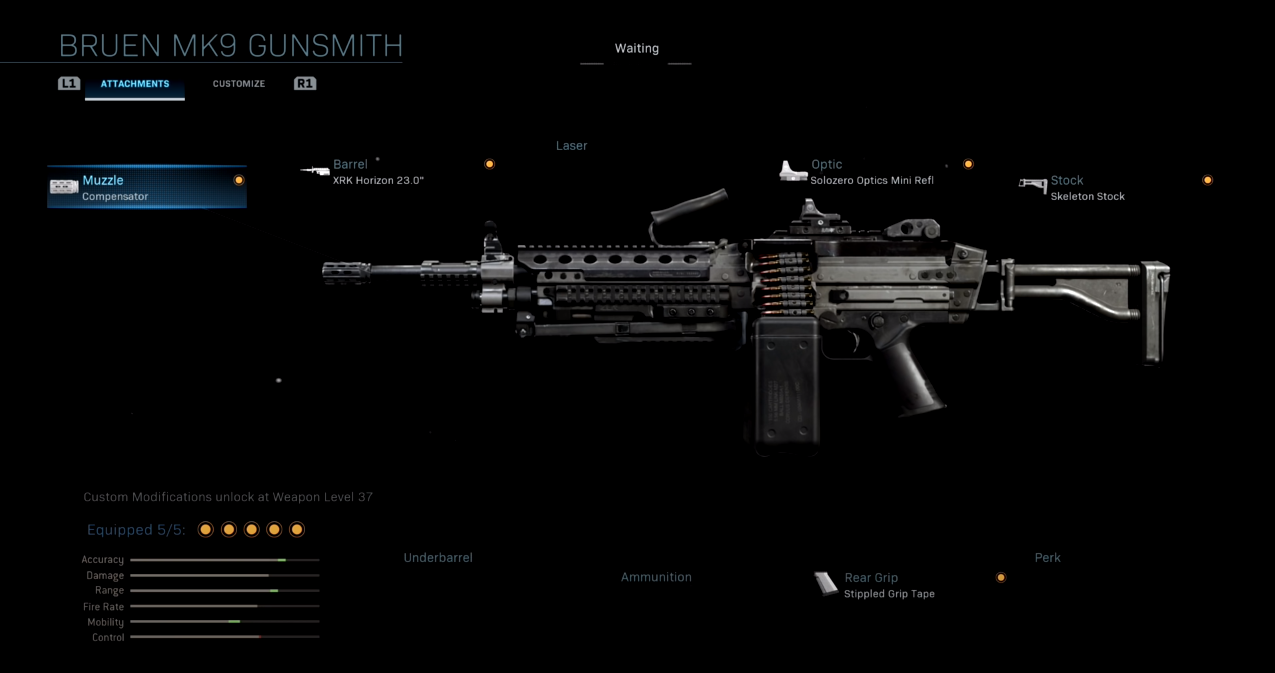 Attachments
Muzzle: Compensator
Barrel: XRK Horizon 23.0″
Optic: Solozero Optics Mini Reflex
Stock: Skeleton Stock
Rear Grip: Stippled Grip Tape
Extras
Secondary: MP5
Perks: Double Time, Overkill, Tracker
Equipment: Frag Grenade, Heartbeat Sensor
With this Loadout, you maximize the Bruen's strengths without sacrificing too much at the same time. For example, with the XRK Horizon 23.0″ Barrel, you receive a 20% damage increase but also lose some ADS speed. However, this is made up for with the Stippled Grip Tape.
The attachments on this loadout can be modified slightly to fit a more preferred playstyle. If you want to play at a longer range, swap the Mini Reflex sight for a higher resolution scope. If you want to reign down fire with more bullets, swap out the Compensator with a 200 Round Belt under the Ammunition category.
For the rest of the Loadout, we go with an MP5 for those true up close and personal gunfights. Sometimes an LMG won't get the job done at that range. Double Time is the most important choice in the Perks category as it allows you to run faster while carrying the LMG.