ESRB Gives God of War (PS4) M For Mature Rating – Spoilers Alert
ESRB has rated PS4 exclusive God Of War 2018 as M rate game. According to this Mature 17+ years and above can only play the game, the Content Descriptors of rating category define the game with Blood and Gore, Intense Violence & Strong Language tags. Under the Rating Summary, you will find a detailed description of the game along with certain SPOILERS.
In the picture below you can see the details of games according to ESRB page. As per the summary below Kratos a demigod who fights with supernatural forces for his son Atreus. The summary also tells players will be using different weapons to slash enemies, along with punching and kicking. This new world is a land of Norse Gods and monsters. Kratos not only fight with here but also teaches his son important lessons to survive.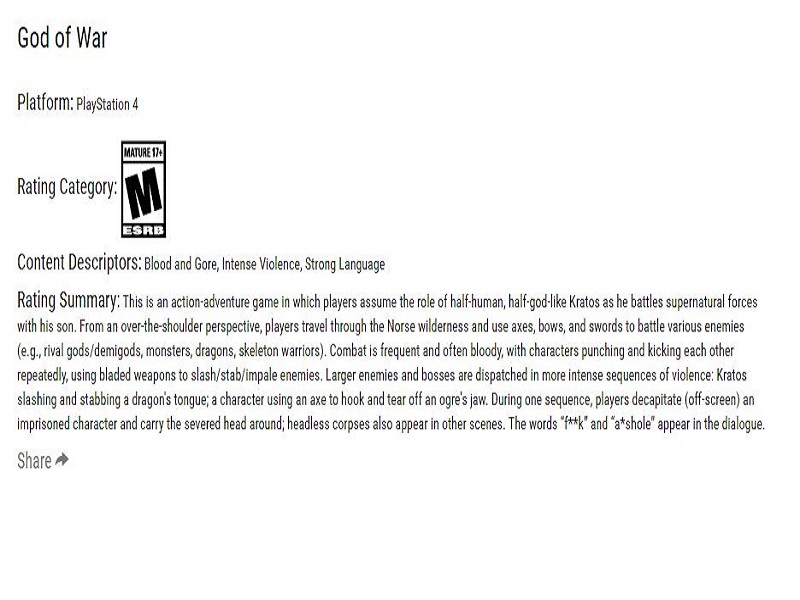 The above is newly updated ratings where ESRB has specified the weapons and brutal action to fight with enemies. God of War is built in Norse era before this many of its predecessors were based on Greek mythology. It is also possible that players will be able to wander between Egyptian or Mayan era. The game is releasing officially on 4th April 2018 for PS4.
Source: ESRB