My Time at Sandrock Review: Solid Foundations, But Not Quite Ready for Handover
My Time at Sandrock is a game about building with a few loose screws.
My Time at Sandrock is a life simulation game in an alternative Wild West with robots, attractive outlaws, and camels who communicate through a loudspeaker. I don't know whose life we're trying to simulate exactly, but I'm down to play it.
The eagerly awaited sequel to My Time at Portia has finally arrived. After almost two years in early access, it's ready to immerse you in its charming post-apocalyptic world.
Over the past year, Sandrock has enthralled a dedicated fanbase. During this time, they have been treated to a three-arc story and many — oh, so many — building blueprints. The buzz surrounding this 3D building simulator is impossible to escape. In My Time at Sandrock's early access era, I, too, walked my fair share of steps among the sandy but bustling with life buildings of Sandrock. I was commissioned to build a couple of them, too.
While this cozy building game has been accessible on PC, it's been conspicuously absent from PlayStation, Xbox, and the ultimate home for cozy games — the Nintendo Switch. Has Pathea nailed the relaxing construction dream on our beloved handheld haven, or did they stumble on their early access blueprint's path to success?
Key Details:
Developer – Pathea
Platforms – Nintendo Switch, PlayStation 5, PlayStation 4, PC, Xbox Series X|S, Xbox One
Release Date – November 2, 2023
Price – $39.99/€39.99
Related: My Time at Sandrock Multiplayer Exclusive Preview – Exploration at its Best
The Builder Business Thrives in A Post-Apocalyptic Setting
My Time at Sandrock transports players to a world ravaged by a cataclysmic event called "The Day of Calamity." It's set 300 years in the future. Despite the grim backdrop, the game's aesthetics and colors give off a vibrant and lively vibe. The shops are cleverly named, too. Pathea shows its creativity and sets the tone for Sandrock with names like Hammer Time for a refined materials shop or Construction Junction for a store that sells construction materials.
Sandrock, a desert town, becomes your new home, where you'll embark on a journey as a builder. Your companion, Mi-an, also serves as your main competitor, creating an intriguing dynamic reminiscent of rivalries in games like Pokemon. For some reason, Mi-an was always one step ahead of me. I was told in my first work month that she was "well on her way to becoming my boss." I put down the game for a day — my own version of quiet-quitting.
Alas, I was back to my Nintendo the next afternoon, like a dedicated employee, craving one more taste of those bustling streets teeming with attractive individuals.
Real Characters Whose Liveliness is Palpable Through the Screen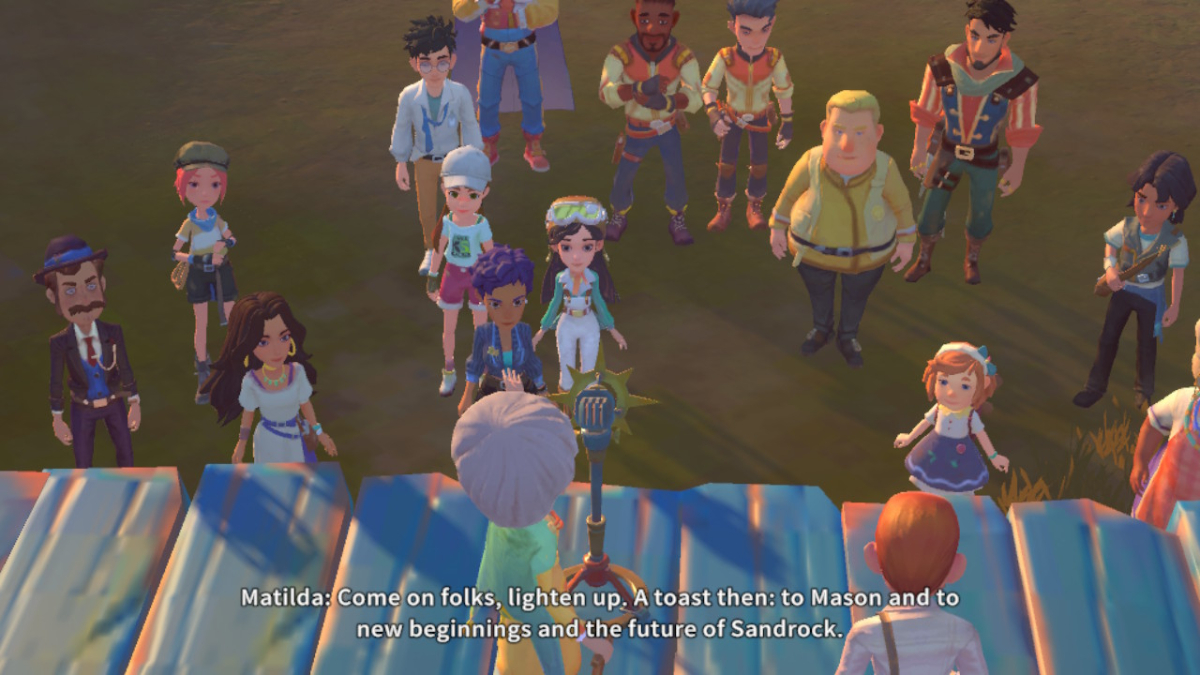 If there is one thing Sandrock excels at, it's characterizing residents in My Time at Sandrock. Unlike in most games in its genre, most lines of dialogue are voiced, including random encounters in the middle of the street and plot-related quests. It hits harder when you hear a love interest say, "Well, it's the thought that counts." after a failed attempt to earn their affection through gifting.
These dialogues make the residents seem much more lively and, in some cases, and I'm not about to name names, much more appealing to date. Despite the internet being dominated by the Logan romance ark, there are many romanceable characters in My Time at Sandrock. A friendly, charming bartender, an artistic, clumsy potter, a cocky reporter, and a super-hero-like entity who calls himself the "Protector of Sandrock"… honestly, the game has a romanceable character for everybody. It even has romanceable characters; I'm not sure who they're meant for.
You have your chance to make a hot character, too. Sandrock has a fantastic character creation, with a bunch of options to choose from when it comes to skin color, hairstyles, face attributes, and so on. It's one of the most comprehensive character-creation systems I've seen in the genre. If you're into making cute characters, you'll be pleased with how you look in the first cutscene. Braze yourselves, Sandrock folk; there's a new hottie in town.
That's until you stand next to your love interest and realize that she could very well be your mother.
No matter how hard you try, the result always looks like a skinny teenager. Unfortunately, there is a substantial difference between our appearance and handcrafted NPCs, which renders some characters undateable due to the apparent massive age gap between you and them.
The Gameplay Is So Grindy I Forgot About the Plot
The narrative centers on a mysterious character named Logan, a former Sandrock resident who inexplicably turned against his people. I remember this part of the plot because I was quizzed about Logan's identity by several townsfolk.
As for the rest of the plot, I couldn't tell you. Honestly, I completely lost sight of the main storyline amidst a 7-hour marathon of grinding for wood scrap. All that to feed the insatiable Recycler, praying for a mere 60% chance to snatch a wood stick, which I needed to build a monumental Stage Backdrop required to advance in the main quest.
Building is the core mechanic in My Time at Sandrock. You'll find yourself constructing for main quests, side quests, and commissions. For a mechanic that should be extra polished, building can be highly confusing and overwhelming.
A Day in the Life of a My Time at Sandrock Builder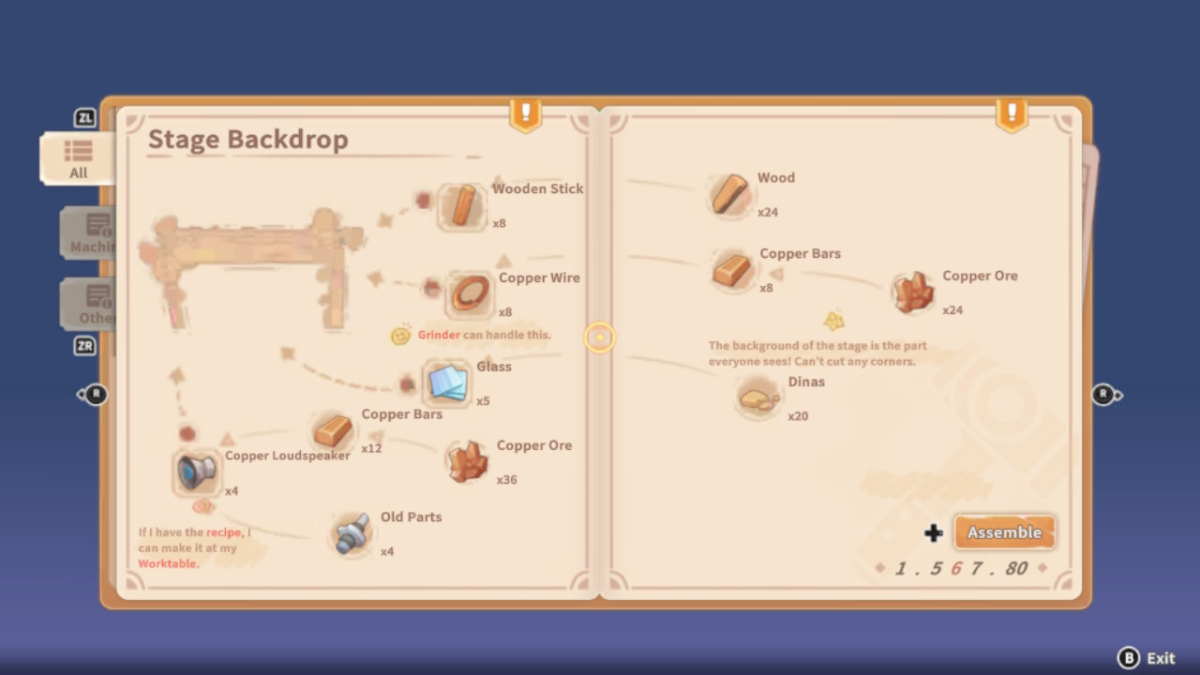 To build something in My Time at Sandrock, you use an Assembly Station. You'll crack open an 80-page manual with three revealed blueprints and a whopping 79 pages of mysteries represented by "?" symbols. At this point, you realize you have a long way to go.
When you choose a blueprint, you're greeted with a weathered, sepia-toned sketch of your desired item. From this, a multitude of arrows burst forth, pointing to various components. These components, in turn, sprout even more arrows, connecting to an ever-expanding array of items. Sometimes, there'll be even more arrows. Sandrock's made me develop an irrational fear of those pointy shapes.
For newcomers, it's seriously daunting. I get what Pathea's aiming for: easy access to info. They want the recipe to be readily available at every moment. However, the UI becomes so cluttered that the information becomes hard to process. It's like an overbearing mother who wants to hold your hand through every single step, a set of training wheels that just won't let you bike on your own.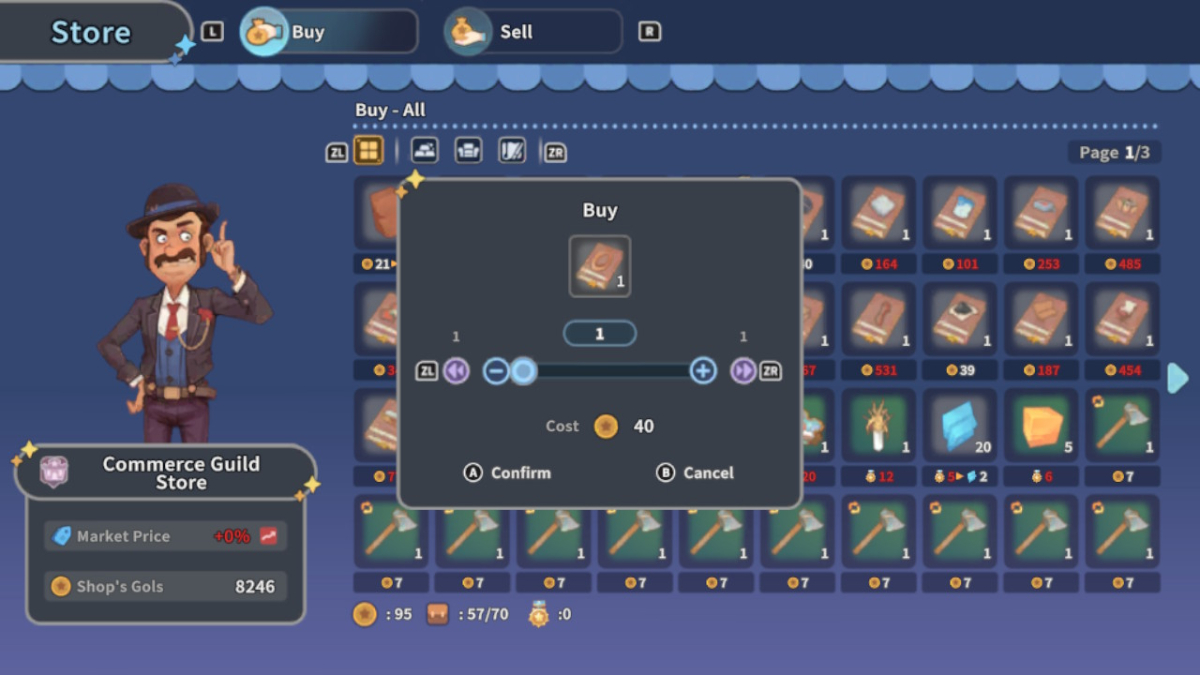 And then there are these other menus, still all jumbled up but strangely missing the vital information. The store that sells blueprints for your Assembly Machine doesn't display the necessary details. All you see are a bunch of brown books with a teeny-tiny picture of the machine in the middle. So, you're taking a leap of faith, buying a blueprint for something that might be entirely different from what you had in mind, all based on a minuscule icon in a book.
Once you've cracked the game's code and can decode the symbols, the fun kicks in. My Time at Sandrock's endless grind could be smoothed out with better guidance on the game's mechanics.
A Life Sim That Goes Heavy on the RPG and Exploration Mechanics
When the building mechanics were just too much to handle, I took a little break to engage in desert exploration and combat.
In My Time at Sandrock, they've spiced up with a "semi" open-world setup. You've got the freedom to roam, but some spots are off-limits until you make headway. Venturing into the Old World ruins dishes out minerals and relics you can spruce up and donate to the museum — it spices up the gameplay. Plus, The Breach, a battered shopping center, adds a dose of combat action to snag some sweet loot — a nice new twist.
Similar to My Time at Portia, the foes and big bads are a blast to take on. But the real thrill? Snagging the cool loot, they drop after the tussle. Some of the stuff they were toting was downright hilarious. There's a cool break gauge system and many weapons to choose from, a rarity in this genre.
The Nintendo Switch Gets The Hiccups Every Now and Then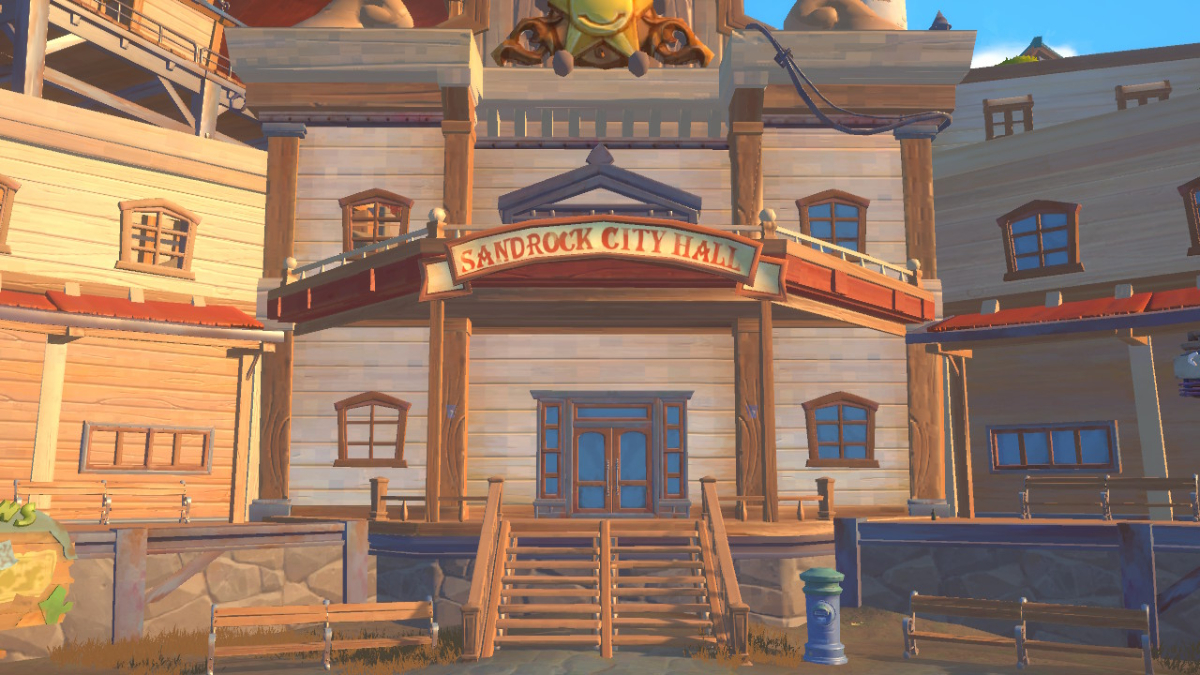 Despite the game's promising enhancements, My Time at Sandrock falters in performance on the Nintendo Switch. As much as I love playing games from the comfort of my couch, you're better off playing it on a proper PC or even giving the Steam Deck a try.
I encountered severe stuttering when combatting multiple enemies, which can be distracting and frustrating. There are also the eternal loading screens and parts of the map struggling to load whenever you approach them, especially in the town center.
My Time at Sandrock will have a patch on the release day, so most of these performance issues could be fixed.
Verdict
My Time at Sandrock is like a meticulously constructed building. It's expertly crafted upon the solid foundation of its predecessor. The post-apocalyptic setting is an architectural marvel that balances vibrant hues with pockets of profound depth and emotion. However, like any construction project, this game has its quirks. The frequent stutters and eternal loading screens make this building creak in the wind. The User Interface, too, could use a touch of redesign.
Nonetheless, it's undeniable that My Time at Sandrock has a rock-solid foundation. Ultimately, the game's core stands firm, but a fresh coat of polish might have been the final flourish required for it to truly sparkle.
| | |
| --- | --- |
| + Three-dimensional characters in every sense of the word. | |
| + Unique setting and gameplay mechanics. | |
| + Fun combat, bosses, and exploration. | |
| – Not the best performance on the Switch. | |
| – Cluttered AI that could easily be streamlined to understand building processes. | |