The best keybinds for Season 4 of Apex Legends on PC
Apex Legends is a game with a ton of inputs when it comes to keybinds, and there are definitely some that combinations you should take advantage of.
Apex Legends features more keybind inputs than most other battle royale/multiplayer titles. With the revolutionary pinging system, along with the basic keybinds, there's a lot for PC players to customize on their mouse and keyboard. While players should use whatever makes them comfortable, there are some keybind strategies and combinations that are more popular than others. So, today, we'll be taking a look at which keybind combinations you should be using for Apex Legends on PC.
The basic keybinds
As with any multiplayer game, there are basic keybinds that most everyone should follow. The movement, firing, aiming, and sprinting keys all fall into this category, so let's quickly go over these basic inputs.
Move Forward: W
Move Back: S
Move Left: A
Move Right: D
Sprint: Left Shift
Jump: Space
Crouch (Toggle): Left Control
Crouch (Hold): C

The only real wiggle room with these keybinds is in the crouching inputs. While it's recommended players use a combination of C and Left Control, you can easily flip-flop the two of these keybinds.
The gameplay keybinds
Next, we have the keybinds that you'll use for gunfights as well as navigating the World's Edge map in Apex Legends. One thing to note: these specific keybinds are widely used across the community, which includes professional players.
Tactical Ability: Q
Ultimate Ability: X
Interact/Pick-Up: E
Inventory: TAB
Map: M
Attack: Left Mouse
Toggle Fire Mode: B
Aim Down Sight (Hold): Right Mouse
Melee: F
Reload: R
Cycle Weapon: Scroll Wheel
Equip Weapon 1: 1
Equip Weapon 2: 2
Holster Weapons: 3
Equip Grenade: G
Use Health Item: 4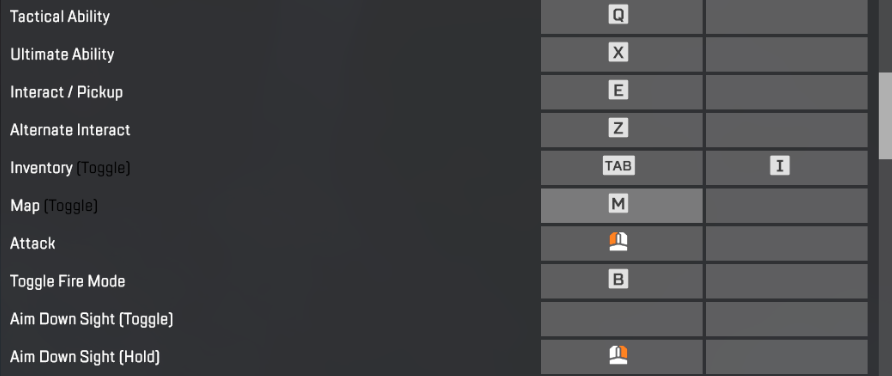 As there are many more keybinds in this section, there's more room for differences. For example, some players have "Melee" as V or Left Alt. This is a solid set of guidelines, but with something like "Toggle Fire Mode," you can use whatever you feel comfortable with.
The pinging keybinds
Finally, there are the keybinds that are mainly specific to Apex Legends. As with the other sections on this list, certain combinations work best for pinging. However, merely choosing an input that's somewhat close to your hands is vital since you'll be pinging quite a bit in any given match. 
Open Quip Wheel/ Thank You: V
Ping: Mouse Button 5
Ping (Enemy Here): Middle Mouse Button
Ping (Watching/Defending Here): Mouse Button 4
Though there are more than just three pinging keybinds, we feel that only these three are necessary for a keybind. If you hold the main ping keybind, a menu with all of the other pinging options comes up. So, while you can customize each keybind, it's not necessary.