The 10 best free multiplayer PC games (2020)
Want to play some cool PC games with other players without needing to spend a dollar? We've got you covered.
Games are expensive, and those costs add up over time. Sometimes the price can be daunting, especially on a new game that you just want to try out. Other times, friends want to play a game together but can't find one they're both willing to buy or within their budgets. Perhaps it's quarantine pushing new gamers into new fields. Free to play games appeal to all audiences for their easily accessible base game.
Free to play games get a bad reputation for their quality, lack thereof, and pay to win mechanics. Free to play games make their money through battle passes. Items cost money, but the base game itself is free to play.
We have the ten best free to play multiplayer games on PC. The free-to-play field is dominated by battle royale style games, namely Fortnite, but there are many others of various types.
Fortnite
We would be remiss if we didn't mention Fortnite. A hugely popular battle royale style game with building mechanics. Fortnite's battle royale game mode is free-to-play, but there are other, less popular, versions that cost money. Fortnite also relies on a battle pass mechanic. If you want some of those nice cosmetics, you'll need to pay for them.
Apex Legends
Apex Legends is another popular battle royale game. Unlike Fortnite, Apex Legends creates characters like Overwatch, with detailed backgrounds, personalities, and unique abilities. There's a story to explore and characters to love in Apex Legends.
Valorant
A newcomer in the free-to-play battle royale scene, Valorant is available after a long, closed beta. It resembles Apex Legends and CS:GO more than Fortnite. It is a punishing and challenging game with unique and creative characters. Valorant also features some very creative weapons, but those cost extra.
Call of Duty: Warzone
The last of the free-to-play battle royale games is Call of Duty: Warzone. Warzone players don't need to purchase Modern Warfare to have access to the game. It is a cross-platform that may bother some PC players who don't want to compete against console players. For others, it lets PC players interact directly with their console buddies in a free-to-play environment.
Hearthstone
Now that we're out of the battle royale games, Hearthstone is a free-to-play, digital collectible card game. Gameplay revolves around defeating enemies with your deck and a little luck with the cards. It may feel like it's pay to win in some places because card packs cost money, so if you're hoping to expand your deck, you'll need to pay to do so.
Team Fortress 2
If you want to play Overwatch but don't want to pay for it, Team Fortress 2 is a free alternative. It's older than Overwatch and, depending on who you ask, the inspiration for the game. Team Fortress 2 has player-created levels that can range from pure delight to chaos. But that's part of the fun.
Paladins
Paladins is another Overwatch alternative. It leans more towards the fantasy genre than Overwatch's science fiction feel. With magic, animal characters, and more, the characters have more variety. The objectives are the same, depending on the maps.
League of Legends
League of Legends is a hugely popular MOBA game from Riot Games. Players can earn in-game currency and purchase champions, upgrades, and cosmetic items without paying real money for it. It is faster and easier to buy it with cash, however. League of Legends is competitive and known for some toxicity, but for the gamer looking to explore and play with friends, it's a good opportunity.
Dota 2
Dota 2 is Valve's version of League of Legends. It is another MOBA game with 119 fantasy themed heroes to pick from. All heroes are free to play, and it utilizes the Steam workshop for those that like to get creative with their games.
Dauntless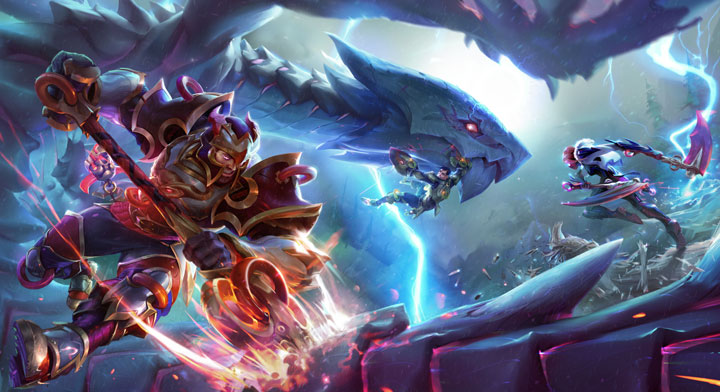 Dauntless is a free game similar to Monster Hunter. The Monster Hunter games have an exclusivity contract with Sony, PlayStation 4 players get the game and updates months before they hit Steam. If players want to play something similar without the big price tag and the lengthy wait, Dauntless is a similar alternative.
There are many other free to play multiplayer games available on PC. The ones listed here made names for themselves and have a reliable and consistent player base, which is an important feature in a multiplayer game.
The original article was written by Rebekah McPhearson. The update is written by Adelaide Weiss.