Monopoly Go! Tips & Tricks (Full Strategy Guide)
Monopoly Go! is fun to play with friends or alone, with its fast mechanics, exciting prizes, and many stages. Here are tips, tricks, and breakdown on how to master it.
Monopoly Go! is surprisingly fun despite trying to port a classic family board game to the mobile gaming space. There are plenty of underlying mechanics in play, so I've decided to breakdown some tips and tricks for the full game that will hopefully help anyone confused on what to do.
Even though Monopoly Go! is a mobile game, the level of complexity and fun it offers surprised me when I first played it. I remember playing it as a kid, but this version turned everything on its head by making every square behave like an RPG system (more on that later) and having cash be easily earnable despite having an aggressive cash shop. If you've also played Monopoly in the past, this full Monopoly Go! strategy guide will seem very familiar in terms of terminology, while the systems may seem confusing initially. Don't worry; I'll cover all bases and all the tips and tricks you'll need to conquer the boards.
Related: Does Monopoly Plus have cross-platform play? Answered
What is Monopoly Go!
Monopoly Go! is a mobile rework of the famous and timeless board game Monopoly, developed by Scopely for iOS and Android. The game was initially released globally in April 2023, and since then, it has grown to include millions of players around the globe and counting. Even though I started recently, I have seen plenty of new players around my level joining regularly.
How To Play Monopoly Go!
The rules of Monopoly Go! are straightforward. When we load into your board, we first want to select a token (props that represent our spot on the board) and gather as much cash as possible. I did this by setting my dice multiplier to the highest number, in my case, five, which allowed me to get five times the amount of money per dice roll. This number can increase based on half the number of dice we're carrying, with a normal cap of one hundred dice.
Once we've gathered enough cash, we can buy and upgrade properties, which change visually as we pour more resources into them. There are five properties we can purchase and upgrade on each board, and once we've upgraded them all, we'll proceed to the next board. I'm on board sixty-three, and there seems to be no end in sight. Another tip for newcomers is to save your money until you can buy and upgrade all five properties, as friends and other players can wreck your properties and force you to spend more to fix them.
I didn't see a multiplier higher than five when I first started playing, but after completing the first couple of boards, the number gradually rose as I earned more dice. As a side note, everything is purchasable with real money, from dice to cash, so there is a small pay-to-progress factor in Monopoly Go, but it doesn't do much of anything, and I was able to place in the top three in multiple tournaments just by playing casually. Keep that in mind if you feel the game is progressing too slowly in the early stages.
How do Squares Work In Monopoly Go!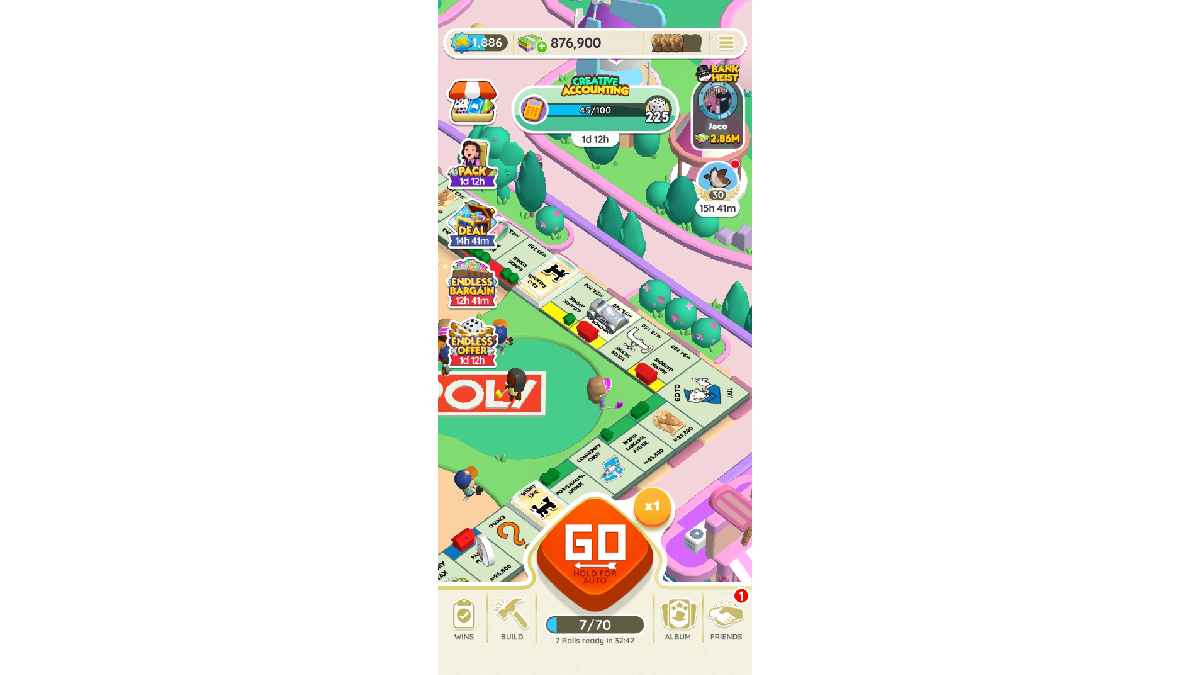 As I briefly covered in the beginning, each square has an RPG-like leveling system in the form of monetary value that changes as you move up the boards. One trick is that the amount can be increased using the multiplier by multiples of that number, and if you roll a double, you'll get a bonus amount of cash as well. There are special squares that'll be familiar to veteran Monopoly players, such as Chance, Railroad, Community Chest, Free Parking, Go to Jail, Income Tax, and Luxury Tax. The trick to knowing how to get rich in Monopoly Go! is understanding how each square works and taking advantage of their special effects, which include:
| Square | Square Effect |
| --- | --- |
| Chance | Has multiple effects that change at random depending on which card you draw. This can be anything from a money grab, which tasks the player to tap the cash on screen for more money, to taking a trip to the nearest railroad square. |
| Railroad | Landing on this square offers us two minigames, which can reward us with a bunch of cash. The first of those being Bank Heist, which tasks us to match up three items from diamond rings, coins, and money stacks. The second minigame is Shutdown, where we can visit other boards to wreck other players' properties and steal their cash. |
| Community Chest | The community chest square is used to gather money every time you land on it. Once it reaches a certain amount of cash from multiple players on our board, we will have the opportunity to open it and earn cool prizes like cash, stickers, and more dice! |
| Free Parking | Free parking usually does nothing, but every once in a while, the game will activate a special event that allows the free parking square to gather cash when we land on a specific square similar to the community chest. When this happens, the player will earn all the saved-up cash when landing on the Free Parking Square. |
| Go To Jail | Unlike the board game, in Monopoly Go!, we have the chance to skip jail entirely if we roll a double in three tries. If we fail to roll a double in three tries, we'll just have to pay a fee to exit jail; no waiting is required. |
| Income Tax/ Luxury Tax | Both of these squares are bad and should be avoided. If they land, both will take a percentage of the cash you're holding at the time. |
How Do Events Work In Monopoly Go!
In Monopoly Go!, events are random, scheduled, and plentiful! The main event you'll come across will run for two days and involve a competitive ladder that we'll advance on every time we land on any of the event squares listed above. The prizes are usually in the form of more cash and dice, a lot more cash and dice, so a lot of them are worth doing as they pop up. A quick tip: be sure to participate in the animated events when they appear. I recently participated in the Egyptian-themed Treasures event, where I had to dig up treasures for useful rewards like dice, cash, stickers, and unique tokens.
What Are Stickers In Monopoly Go!
In Monopoly Go! Stickers are collectibles that are sorted into various themed decks and can offer rewards once the set is complete. There are special golden cards that are rare and only earnable in certain packs. As a tip, be sure to hold off from trading any stickers until your chest has a 3 next to it. Once you see that, trade them in for a huge prize.