Sodom? Back to Gomorrah Walkthrough | Red Dead Redemption 2
In the previous mission Magicians for Sport Walkthrough, you had gone on a mission to locate one of your gang member Trelawney. For Sodom? Back to Gomorrah mission, return back to the camp and talk to Bill and Karen. They will talk about a bank robbery.
Sodom? Back to Gomorrah Walkthrough
For gold you will need to loot all the safes and shoot 5 Lawmen on head while escaping. Other than these two requirements you will need to reach Downes Ranch within 1 minutes and 55 seconds with around 70% accuracy. And as usual avoid taking Health Items.
Talk To Bill | Sodom? Back to Gomorrah
You can find Bill on a wagon, look for women in white and purple dress. Bill and Karen will talk about a bank robbery and ask Arthur to join them. The bank is in Valentine. Once all get agreed for the job Strauss will approach you and tell you about a debtor Thomas Downes is die and you will have to threaten his wife and children for recovering the money. But first you will go for the bank robbery.
Follow Bill to Valentine | Sodom? Back to Gomorrah Walkthrough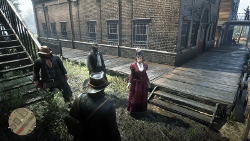 Follow Bill, the gang will discuss the plan on their way. The gang will slow down as they reach the town. Keep following Karen, after you un-mount your horse you have to pick one from two Karen's distraction routine. Harlot or Lost Little girl, in the first choice Harlot she will create a distraction and she will be able to surprise the bank workers.
Open the Teller's door | Sodom? Back to Gomorrah Walkthrough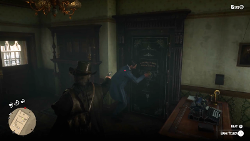 Karen will unlock the door, go to the door on the right of Karen. Go inside and you will find the teller. You will have to threaten him to open the vault. Hit him thrice to force him to open the safe fast. After opening the vault you will have two choices to open the safe, you can either crack them or you can blow them using dynamite. By using the first choice cracking, you can open all the safes that are one of the requirements for gold. The process is slow it won't draw unnecessary attention.
Crack open the safes | Sodom? Back to Gomorrah Walkthrough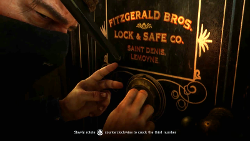 Go near the safe and rotate the dial, you will hear a click sound as you rotate it. You will have to rotate it left and right. You will see the screen prompts where you have to rotate the dial left or right. Keep repeating the process for all safe, you will get enough time. There will be around total fives safes, three in a line and two on the corner walls. The overall amount you will earn by robbing these safes will be around $20,000. Once you are done you will see Lawmen are outside waiting for your crew.
Escape With Bill, Karen and Lenny | Sodom? Back to Gomorrah Walkthrough
Karen will go outside for a distraction and she will start shooting. Once all your crew goes down activate dead eye and lock the Lawmen. There will be four in front of you. There will be more on the right. Use Dead Eye to kill multiple and try getting 5 headshots. This is requirement for gold medal. Once you reach your horse mount and try to escape, but don't leave our friends. Avoid the red dots, they are the lawman on your way. Your fight will be over once you cross the passing train. Arthur will distribute the loot among his friend and tell everyone to return to camp.
Ride To Downes Ranch | Sodom? Back to Gomorrah Walkthrough
You will be going to Downes Ranch to meet the family of died Debtor. You have to reach the ranch within 1 minutes and 55 seconds for Gold Medal. The best is to use the roads, once you arrive the location there will be a cutscene. Mrs. Downes will give you the money and you will return to the camp.
You will earn around $2500 in the objective. The next main mission you can go with is Blessed are the Peacemakers. To start this mission talks to Micah at the camp. For similar guides, tips and updates on the game do have look on our Red Dead Redemption 2 Wiki guide.