Magicians for Sport Walkthrough | Red Dead Redemption 2
In the previous mission Preaching Forgiveness As He Went, Lenny and Arthur carried out a successful heist and robbed a wagon filled with weapons, and returned to the camp. For the next main mission Magicians for Sport talk to Dutch at the camp. He will tell you to talk to Trelawney. The mission starts form here.
​
Magicians for Sport Walkthrough
For Gold you will have to find everything in Trelawney's Caravan. You have to stay around 30 feet away from Trelawney's trail and kill 2 bounty hunters within 1 minute in the cornfields. Also avoid taking any health items till the end of this mission.
Find Trelawney & Search Caravan | Preaching Forgiveness As He Went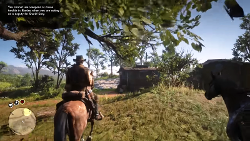 Talk to Dutch and he will tell you to look into some bounty hunters. Talk to Charles and he will join you in this quest. You will be riding to Rhodes to find Trelawney.  On the north of Rhodes there is a small caravan not far from the town's fences. You will need to search the Caravan for clues. You will find there was already someone before you who ransacked the place. Use Eagle eye to scan down the area well and look for clues. Below are the things you can check:
Check the drawer on the first table as you enter on your left side.
Food on the table on your left near the window. 
A certificate kept on the same table near the plant.
Follow The Tracks | Preaching Forgiveness As He Went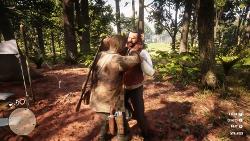 Use Eagle Eye to start tracking the trails and Charles will follow you. The trails will lead you to a small tent where you will find a two men, one is sitting on a chair. Talk to him, and he will deny that he has not seen Trelawney. Arthur will identify Trelawney's cane and this will trigger a fist fight.
Interrogate the Bounty Hunter | Preaching Forgiveness As He Went
Interrogate the bounty hunter you can beat him a few times and he will start talking. He will tell give you a location of a cabin in the cornfield. You can choose to Choke him or Release him. After getting the info follow Charles and two of you will discuss why saving Trelawney is important. Once you reach the cabin you will see two men dragging and beating Trelawney. They will drop him and run away, your next objective is to find them, assuming they might have drawn out some important info by torturing your friend.
Find & Eliminate The Bounty Hunters In The Field | Preaching Forgiveness As He Went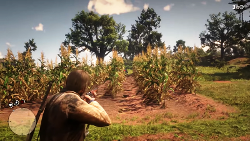 Run into the cornfield, you can spot them running in front you. Charles will be on this way, keep running and they will try to hide in the field. You will be able to spot them easily, just run around the field if you find hard in locating the bounty hunters use Eagle Eye. They will be probably hide in the corn field so you will need to scan the region well, which can take a bit time. Try to search around the scarecrow.  Another way to spot them is the look for birds flying away.
For the last one find Charles he will tell the bounty hunter has dropped his pack. The mini-map will turn yellow and you have to search inside the field. Go bit left and you will see Arthur was taken as a hostage by the bounty hunter. He will warn Charles to leave Arthur, but he will rescue you.
Kill The Remaining Bounty Hunters | Preaching Forgiveness As He Went
You will hear some gun shots, follow Charles and kill the remaining bounty hunters. Go inside the barn and shoot the reaming one inside. Don't forget to loot them, you will earn a good amount of cash.
Return to Trelawney, he will say that he has not given much information but Charles and Arthur will not believe him. Charles will take Trelawney to the camp which is the end of this mission. The next one you can play is Sodom? Back to Gomorrah.  To trigger this mission find Bill at the camp. He is standing at the back of the Wagon with Karen.
For similar guides, tips and updates on the game do have look on our Red Dead Redemption 2 Wiki guide.