Remnant 2: Best Ways To Farm Corrupted Lumenite Crystals
Fill your pockets with unlimited Lumenite Crystals in Remnant 2 with the best farming methods.
Lumenite Crystals in Remnant 2 are excellent for unlocking end-game content, like special weapons and mutators. Though you can amass a few during your playthrough, I pretty much spent them all in upgrades as soon as I got them.
Remnant 2 embraced the hoarder in me by letting my inventory gobble up as many weapons as I wanted. In this game, you'll be crafting weapons rather than buying them, which means there is a lot of room for improvement. When your shots are no longer getting the job quickly enough, a trip to Ward 13 is in order. As you upgrade and mod your weapons, you'll find your supply of Lumenite Crystals starting to dwindle. So, in this guide, we'll go over the two best Lumenite Farming Methods in Remnant 2, both for the early and late game.
Related: How to Get the Zealot Armor in Remnant 2
Remnant 2: Lumenite Crystals Farm Method in the Early Game
In the early game, you must have reached the Labyrinth map to farm Lumenite Crystals. Head to the Fractured Ingress checkpoint in the Labrytnh and stick to the left to uncover a new checkpoint before a portal. Use it to keep a closer respawning checkpoint to the Lumenite Farming area in Remnant 2.
A stone path will form to the portal's left, letting you cross to the area in front of you. Check the map if you're unsure if the spot's right. Don't jump into the void and make a fool of yourself in front of your party like I did.
After jumping up, a circular path will let you reach the area across. Here, an Elite Golem will spawn, which drops 5 Lumenite Crystals when killed. You can then jump into the void (on purpose), exit the game's main menu, and continue from your last checkpoint. Rinse and repeat.
Remnant 2: Lumenite Crystals Farm Method in the Late Game
To farm Lumenite Crystals in Remnant 2's late game, you'll need the Dreamcatcher melee weapon and a Walker's Dream consumable.
Get the Dreamcatcher melee weapon by collecting all three stone dolls in Lossom's Asylum. This complex puzzle will take you to Nimue's Retreat and back to Lossom, but you can't miss the blue portal in the center of the Asylum's basement. That's where the Dreamcatcher will be.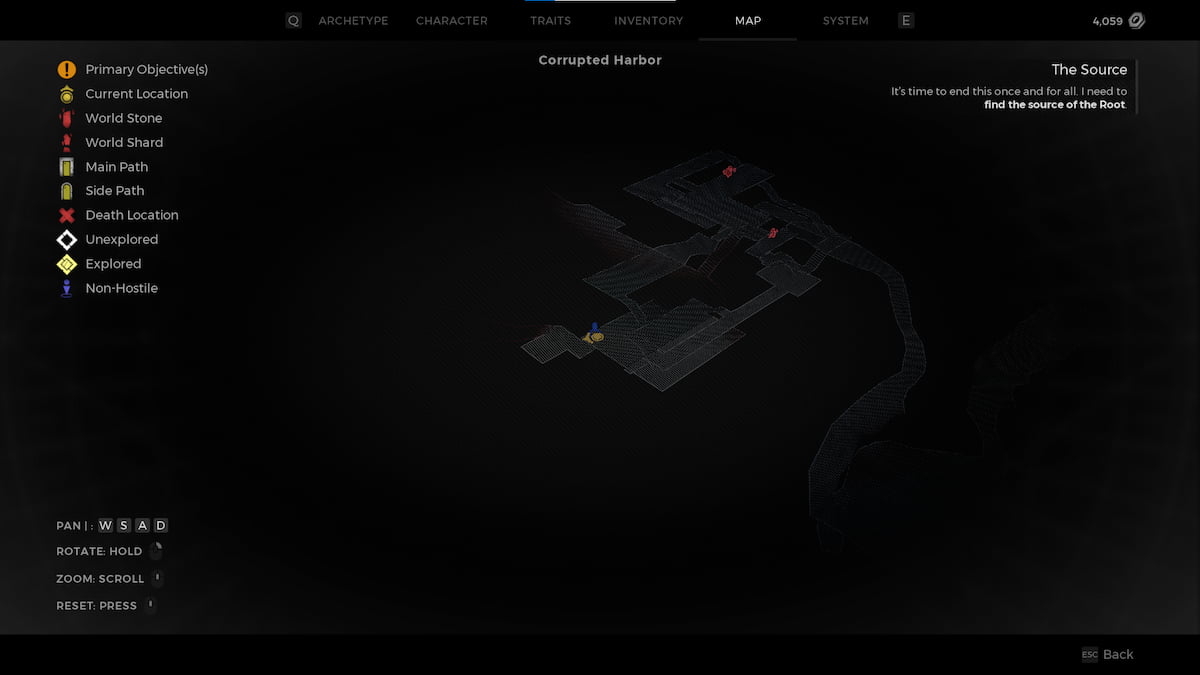 Farm the consumable Walker's Dream in the Corrupted Harbor, which can be accessed after unlocking Root Earth, the final location of the main campaign.
Consume the Walker's Dream to enter the Twilight Vale. Once inside, you'll have to face Bane to get 6 Lumenite Crystals in Remnant 2.
From there, you can drink Liquid Death and repeat the process. Get more Walker's Dream, enter the Twilight Vale, and kill Bane.