What's in the August 2020 Gold Pass in Clash of Clans?
Get ready to rock those rewards.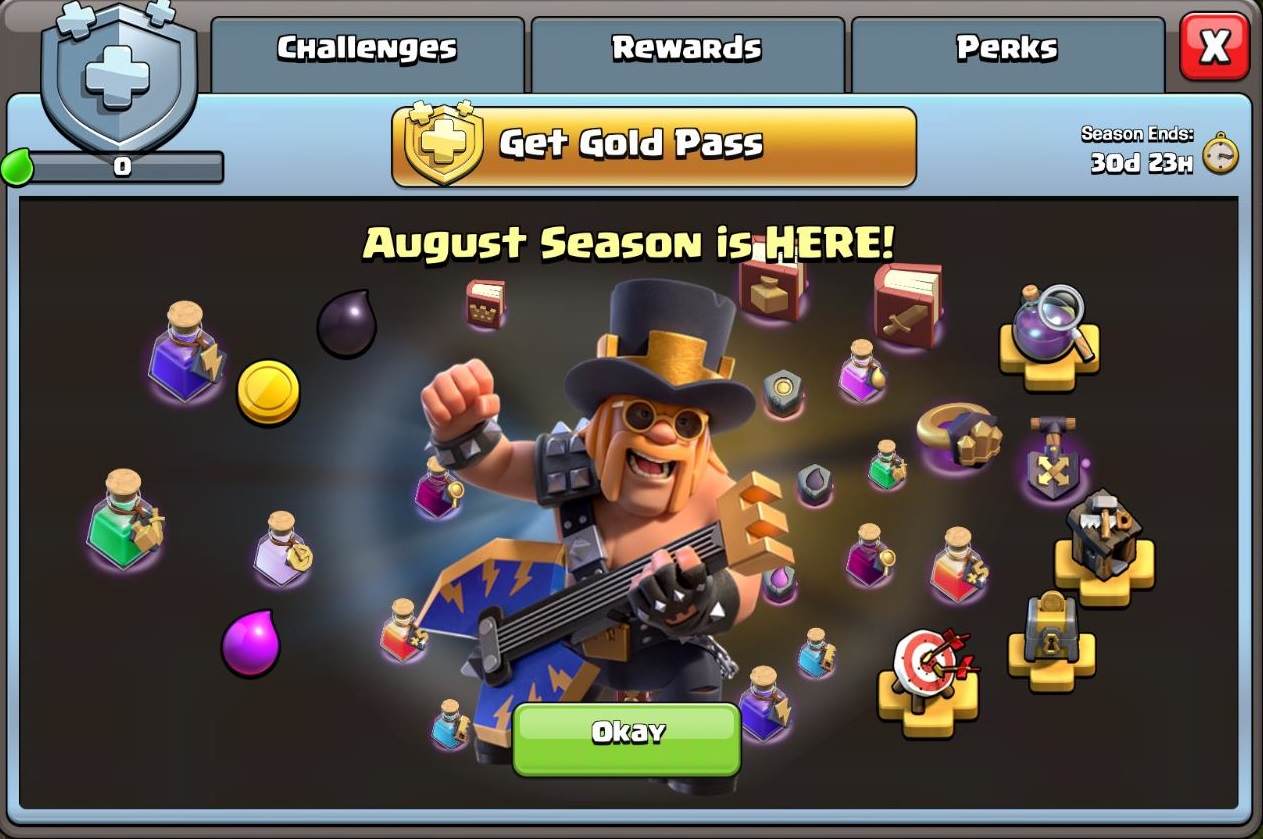 August is here, which means that Clash of Clans is back with a brand new Gold Pass for this month. Gold, Elixir, Dark Elixir, and potions await as those wanting to get the most out of the game can get this extremely good value for money season pass. 
With the purchase of a Gold Pass, you can get up to a massive 20% off all time and money required for the building and upgrading of your villages, training and queuing troops to send into battle, and research for your army. This is rounded off with the one gem donations, meaning that handling out Electro Dragons and top troop donations will cost you fewer resources than it takes to chop down a pesky tree.
It's only $4.99, but the free pass that will provide free Gold, Elixir, and Dark Elixir over both of your villages and the occasional potion, is still there too.
For completing the Gold Pass this month, you will receive an award fit for a King as you will receive the Party Barbarian King skin, complete with an electric guitar ax and rockstar glasses. Pretty cool, huh? There's also a new statue for the first tier of the free pass, which shows a giant with some cake to continue festivities for Supercell's 10th Birthday.
Here's what's in the Gold Pass for August 2020 in Clash of Clans.
| | | |
| --- | --- | --- |
| Challenge Points | Free Pass | Gold Pass |
| 40 | – | 1 Gem Donations |
| 80 | "A Piece of Birthday Cake" Statue | 10% Research Boost (reduces cost and Laboratory research time by 10%) |
| 120 | – | 10% Builder Boost (reduces building upgrade time and cost by 10%) |
| 160 | Training Potion | 10% Training Boost (reduces cost training time by 10%) |
| 200 | – | Bigger Season Bank (increases to 10m Gold & Elixir, 100k Dark Elixir) |
| 260 | Power Potion | Book of Fighting |
| 320 | – | Book of Spells |
| 380 | 500,000 Gold | Shovel of Obstacles |
| 440 | – | 6x Wall Ring |
| 500 | 500,000 Elixir | Power Potion |
| 580 | – | Hero Potion |
| 660 | 5,000 Dark Elixir | Research Potion |
| 740 | – | Resource Potion |
| 820 | Clock Tower Potion | Training Potion |
| 900 | – | Bigger Season Bank (increases to 15m Gold & Elixir, 150k Dark Elixir) |
| 980 | Research Potion | 15% Research Boost (increased from 10%) |
| 1060 | – | 15% Training Boost (increased from 10%) |
| 1140 | Hero Potion | 15% Builder Boost (increased from 10%) |
| 1220 | – | 6x Wall Ring |
| 1300 | 1,000,000 Gold | Bigger Season Bank (increases to 20m Gold & Elixir, 200k Dark Elixir) |
| 1400 | – | Builder Potion |
| 1500 | 1,000,000 Elixir | 20% Research Boost (increased from 15%) |
| 1600 | – | 20% Training Boost (increased from 15%) |
| 1700 | 10,000 Dark Elixir | 20% Builder Boost (increased from 15%) |
| 1850 | – | Bigger Season Bank (increases to 25m Gold & Elixir, 250k Dark Elixir) |
| 2000 | Builder Potion | Rune of Gold |
| 2150 | – | Rune of Elixir |
| 2300 | 15,000 Dark Elixir | Rune of Dark Elixir |
| 2450 | – | Book of Everything |
| 2600 | Book of Heroes | Unlocks the Party King Skin |