Wizard with a Gun: Glamour & Cosmetic Unlocks Guide
After you finish customizing your arcane gunslinger in Wizard with a Gun, you might end up wishing you had chosen some other hat or amulet.
Early on in Wizard with a Gun, you'll be introduced to all sorts of different Stations, such as the Loading Bench, Furnace, and even the Sewing Mechana. Each of these unique craftables that your gun-touting Wizard creates using the Worldbuilder serves a different purpose.
The Sewing Mechana is where you'll go if you want to change some of the cosmetics of your create-a-character as well as add powerful Enhancements to each of your six gear slots. Here's how to acquire the Sewing Mechana in Wizard with a Gun, use it, and a list of all the possible Glamour options you can obtain.
Glamour & Cosmetic Unlocks in Wizard with a Gun
Related: Wizard With a Gun Official Gunmancer's Diary: Exploring the Shatter Trailer Hypes Gameplay
How To Build A Sewing Mechana in Wizard with a Gun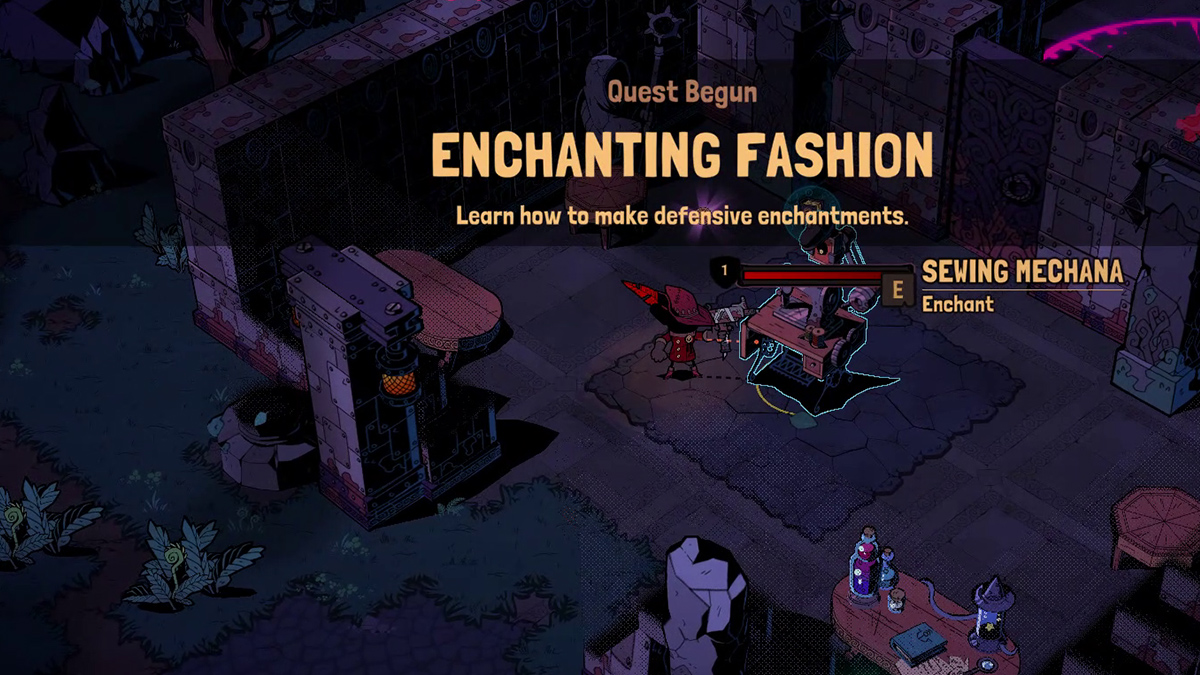 As is the case with the vast majority of craftable items in Wizard with a Gun, all you need to do to learn how to make it yourself is take out the First Edition (AKA the Book) and scan it. Now technically you might be able to find a Sewing Mechana all on your own, but I was able to find and scan it after getting the first 4-6 Gears in the Imperium. I stumbled across the Cryptomancer near this hammer and wrench icon on the map (as well as a Gear icon).
Finding and speaking with the Cryptomancer will automatically start the quest called Enchanting Fashion, which will ask you to:
Scan the Sewing Mechana sitting in the building just above the Cryptomancer.
(Optional) Use this Sewing Mechana to Enchant any piece of gear with any Enchantment.
Fight the Chaos Monster in the locked room just above the Sewing Mechana.
Make a Sewing Mechana of your own in The Tower.
Enchant a piece of Gear to fully complete the quest.
Once the Sewing Mechana had been Scanned at the start of this quest, I had both the ability to Enchant and the ability to Glamour permanently unlocked for my Save File.
Glamour & Enchanting Costs in Wizard with a Gun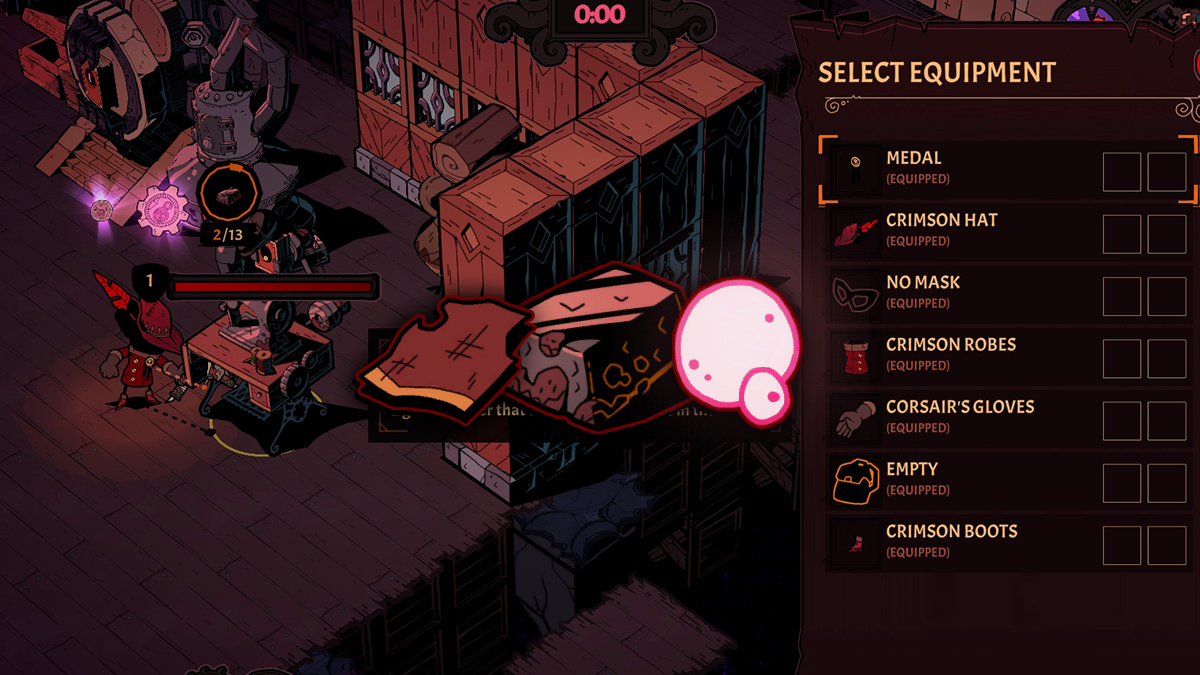 Neither option at the Sewing Mechana is free, but both of them are dependent on different resources. To Glamour any one item, it'll cost 10 Arcana each time, but to Enchant gear, the costs will vary slightly depending on the type of Enchantment and the 'level' of the Enchantment. 
At the start, you'll only need some Imperial Linen and Iron Ingots, but as you begin to learn tricks and unlock more advanced Enchantments, such as the Backpack Inventory Enhancements, you'll start needing rarer resources such as Soiled Cloth and Lead Ingots. Additionally, any Enchantments related to Health Regeneration or a particular Element will usually require some unique resources as well such as Healing Potions, Tea, Ice Chunks, or a variety of other materials. 
Related: Wizard with a Gun: Alchemist Archetype Bullet Guide
Unlocking More Glamour Options & Enchantments in Wizard with a Gun
Thankfully, unlocking more Enchantments or Glamour options is incredibly easy. Wizard with a Gun is a game that already has you pulling out that First Edition to scan everything, all the time. And, it turns out that a lot of that early-game scanning you were doing to advance certain questlines and so on also unlocked different Glamour and Enchantment options.
You can hover over any scanned individual (or silhouette if they're not scanned yet) of the 'Enemies' tab in the First Edition to see exactly what Scanning them will unlock. While not always following this pattern, both the Glamour options and Enchantment effects usually tend to require scanning people or enemies that would link to that particular Enchantment/Glamour. For example, scanning a Snow Vulf for the Vulf Fur Hat or scanning a Poisonous Frog to get a Poison Resistance Enchantment. 
| Allies | The Imperium | The Fell | The Frozen Wastes | The Barren Sea | The Riders & Chaos Creatures |
| --- | --- | --- | --- | --- | --- |
| Calamity Robes | Iron Cone | Phibb Skin Cap | Vulf Fur Hat | Magehunter's Robes | Cryptomancer's Robes |
| Bonnet | Chullo Hat | Farmhand's Robes | Blue Wizard's Robes | N/A | Engineer's Robes |
| Well-Worn Robes | Necromancer's Robes | Shako Hat | Alchemist's Robes | N/A | Plague Robes |
| Witch's Robes | N/A | N/A | N/A | N/A | Occultist Robes |
| Corsair's Robes | N/A | N/A | N/A | N/A | Desperado's Robes |
Essentially, the way these unlocks are spaced out in regards to Wizard with a Gun's content, you're not going to have access to all of the Glamours options until about the end of the game, so keep that in mind.