Fallout 4 Explorable Map Size Finally Detailed, 3.82 Square Miles, Have A Look At All The Settlements
We know Fallout 4 is a big game, but how big it is it's still up in the air. Now, thanks to a Reddit topic made by hardcore fans, we have this not so little detail finally covered and a working map based on the game location, including all of the settlements as well. Take a look below for it.
Looking at the details, the explorable Fallout 4 map is 3.82 square miles or 9.90 square km. While it doesn't look so big, the map can count on 28 settlements which do not include the cities and places like the Diamond City marketplace, that are central in the economy of the title.
It takes 11 minutes to traverse the game sprinting from one corner to another of the world map and, just to offer some comparisons that can make up your mind about this, Fallout 4 is actually almost 2-3 times bigger than Fallout 3 and bigger by a good distance than Skyrim, the latest The Elder Scrolls title which was already a huge one.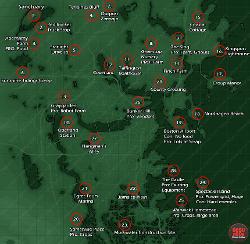 Fallout 4 has been released for PC, PS4 and Xbox One on November 10, 2015 and competed as one of the most beautiful role playing games last year, only beaten by The Witcher 3: Wild Hunt according to Gamepur readers.