Monster Hunter World PS4 File Size Is Just 16 GB
According to the Japanese box art of Monster Hunter World for the PS4 version, the game file size is only 16 GB. And that is low for a game of this scale and graphics.
Monster Hunter series is said to be one of the biggest games of all times. And it has pretty good graphics too, so considering these two facts, the game size is too small, which means we should be expecting launch day update for the game and more content add-ons as time goes on. Moreover, it might also be the case that, only a part of the game is on the disk and the rest is download.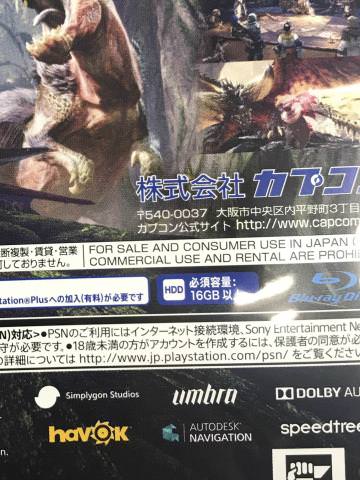 Anyway, the game is due to launch for PS4, Xbox One and PC on 26th January. And there will also be an open beta from 18th-22nd January, which is a PS4 exclusive. According to Capcom, the campaign duration of Monster Hunter World is 40+ hours.