Chapter 5: GCPD Walkthrough – Batman: The Enemy Within Episode 1 The Enigma
In the previous chapter, Divinity Church Bruce had a conversation with Tiffany regarding Lucius and his Death. And had a conversation with John and got a lead for Riddler. In this chapter Bruce meets Gordon at the roof top of GCPD and has a conversation regarding Riddler's location. So without wasting much of the time let's make a Bat call.
Chapter 5 – GCPD: Conversation with Gordon: Locate Riddler's Hideout at 44th street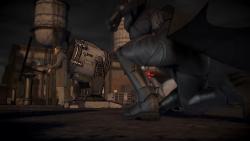 The cut scene enters from Gordon smoking (Don't smoke, smoking is injurious) on the rooftop and Batman enters and Gordon starts conversations, regarding Wayne Tower incident. To which Batman has options top reply as.
The dead deserve our sympathy.
Wayne can handle it.
He's had it rough.
We went with the first option and as the conversation continued on the lead for Riddler at the East end and then as Batman gets on his hologram device get to the top middle block to select the 44th street and there you might find Riddler. As the conversation moves on Gordon is been told to keep informing about Riddlers activity to Waller to which Batman replies as.
You've got a good heart.
We all need limits.
Works for me.
We took the First option and then again there was a question.
Inform Waller
Keep her in the dark.
As we are being good we would like to inform Waller about it and then Batman leaves and so does Gordon and then there is a Cut scene.
That's all for chapter 5, I know it was small but that's it. You can read our next walkthrough on Chapter 6 East End or check our Batman: The Enemy Within Wiki Guide for more tips and tricks on this game.