How To Get The Jotunn In Destiny 2 | Jotunn Fusion Rifle Perks & Stats
Destiny 2 players, in the last few days, have sweated a lot, trying to solve a challenging puzzle that would have let them unlock the fourth and previous Forge (it would have been enough if just one group of players had completed the challenge).
Unfortunately, no one succeeded and Bungie – after 27 hours – gave up, unlocking the forge to let players craft the last two exotic weapons of the Black Armory: Izanagi's Burden Sniper and Jotunn Fusion Rifle. In this Destiny 2 guide, we will focus on how to get the Jotunn Fusion Rifle, primary and hidden stats, perks and what they do.
How And Where To Get The Jotunn In Destiny 2
Getting this exotic weapon is pretty easy, once you know what to do. You have to understand that Jotunn may drop when you forge dominant weapon frames at the Bergusia. It is quite the same as when Le Monarque did in the other three forges so that Jotunn may appear at the end of the round.
The difference is that, while the other forges were level 625, this one is 650 (so we can tell without any doubt that obtaining this is harder than that). You have to prepare yourself to farm this: even if the drop rate is quite high, you can do twice for any character you try with.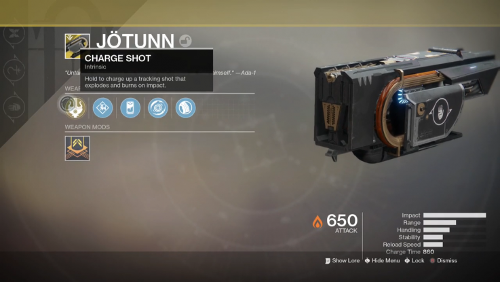 Jotunn Primary Stats
Charge Time: 820
Impact: 95
Range: 52
Stability: 31
Reload Speed: 31
Handling: 33
Magazine: 5
Jotunn Hidden Stats
Zoom: 15
Inventory Size: 26
Aim Assistance: 67
Recoil Direction: 77
Jotunn Weapon Perks And What They Do
Charge Shot: Hold to charge up a tracking shot that explodes and burns on impact.
Volatile Launch: This weapon is optimized for an especially explosive payload. • Significantly increases blast radius • Slightly decreases handling speed • Slightly decreases projectile speed
Liquid Coils: Slower-building charge for higher damage. • Increases impact damage • Slower charge time
Shield Disorient: Energy matched shield explosion disorients nearby combatants.
Polymer Grip: This weapon's grip is made of lighter material. • Increases handling speed
Tracker Disabled: No tracker is displayed on this weapon.
Kill Tracker: This weapon tracks the number of enemies you defeated with it.
Crucible Tracker: This weapon tracks the number of Crucible opponents you defeated with it.
Good Luck.