Fortnite: Battle Royale Complete Weapons Stats List
Fortnite: Battle Royale is an exciting, fast-paced romp in a colorful world. Those colors are more important than you may think, though, especially when it comes to picking out which weapons to use in a fight.
In general, weapons in Fortnite: Battle Royale are ranked by their colors. The better the color, the better the damage, and the better the weapon.
It's important to get to know the color-codes in Fortnite and know which color means what, and therefore which weapon you should trade out for another if you come across it in the field.
Common (Grey)
Uncommon (Green)
Rare (Blue)
Epic (Purple)
Legendary (Orange)
Remember—the more rare the gun, the higher its damage, which usually means its DPS is higher as well.
Assault Rifles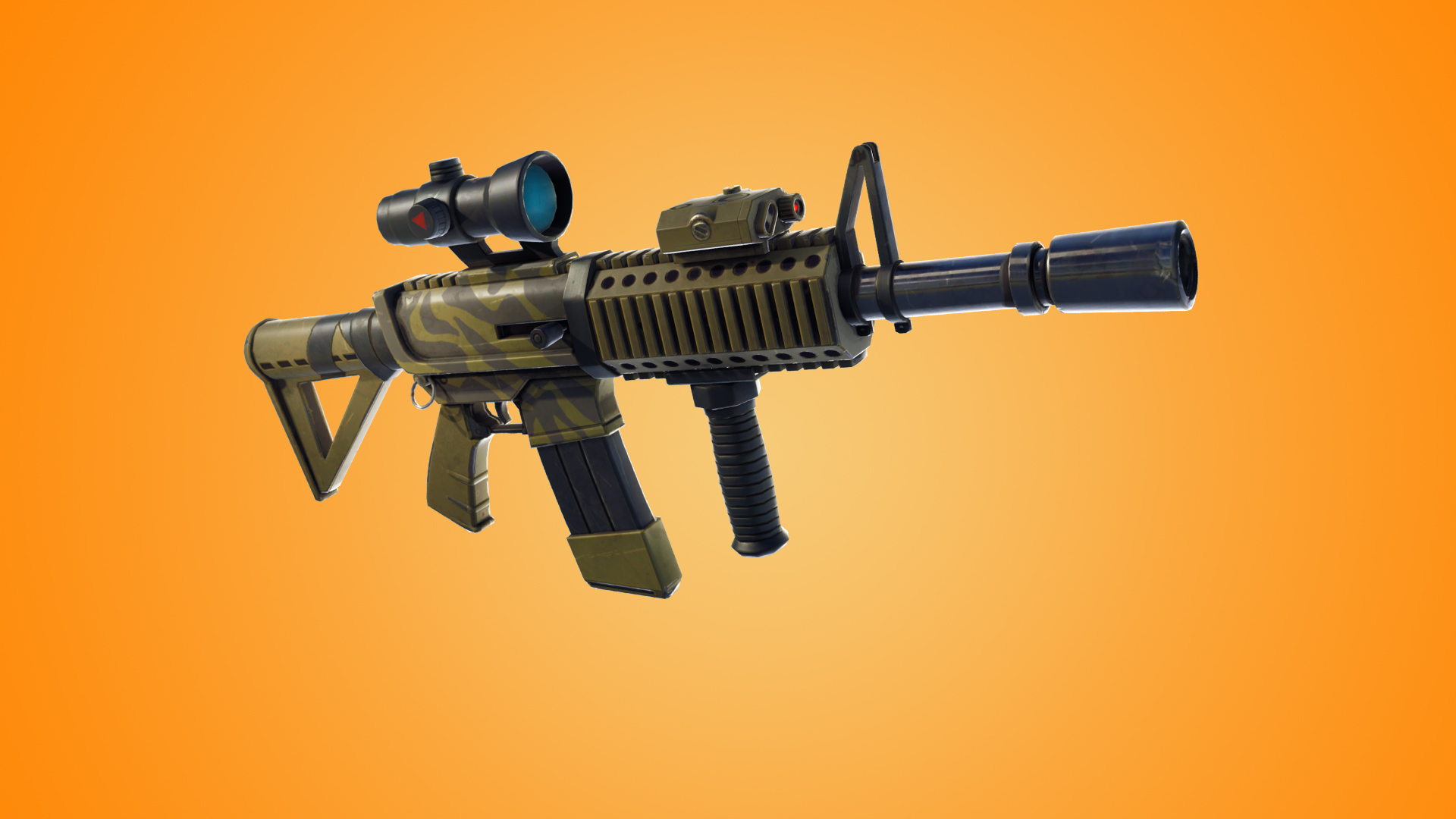 | | |
| --- | --- |
| Assault Rifle (Common) | 30 Damage, 30 Magazine Size |
| Assault Rifle (Uncommon) | 31 Damage, 30 Magazine Size |
| Assault Rifle (Rare) | 33 Damage, 30 Magazine Size |
| Assault Rifle (Epic)  | 35 Damage, 30 Magazine Size |
| Assault Rifle (Legendary) | 36 Damage, 30 Magazine Size |
| Scoped Rifle (Rare)  | 23 Damage, 20 Magazine Size |
| Scoped Rifle (Epic) | 24 Damage, 20 Magazine Size |
| Thermal Scoped Assault Rifle (Epic) | 36 Damage, 15 Magazine Size |
| Thermal Scoped Assault Rifle (Legendary) | 37 Damage, 15 Magazine Size |
| Burst Rifle (Common)  | 27 Damage, 30 Magazine Size |
| Burst Rifle (Uncommon) | 29 Damage, 30 Magazine Size |
| Burst Rifle (Rare)  | 30 Damage, 30 Magazine Size |
| Burst Rifle (Epic) | 32 Damage, 30 Magazine Size |
| Burst Rifle (Legendary) | 33 Damage, 30 Magazine Size |
| Suppressed Assault Rifle (Epic) | 32 Damage, 30 Magazine Size |
| Suppressed Assault Rifle (Legendary)  | 32 Damage, 30 Magazine Size |
Submachine Guns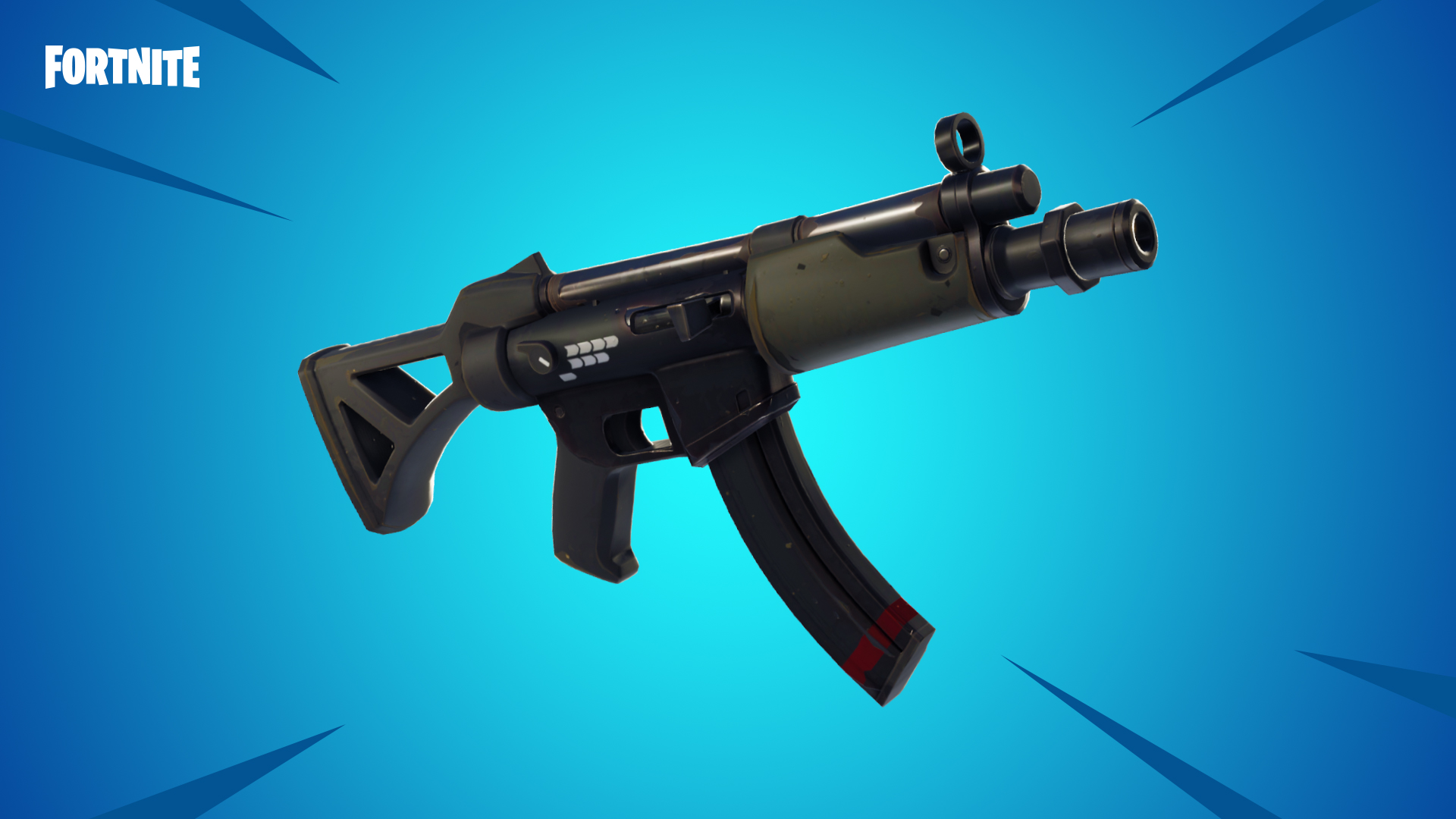 | | |
| --- | --- |
| Submachine Gun (Common) | 17 Damage, 30 Magazine Size |
| Submachine Gun (Uncommon) | 18 Damage, 30 Magazine Size |
| Submachine Gun (Rare) | 19 Damage, 30 Magazine Size |
| Suppressed SMG (Uncommon) | 23 Damage, 35 Magazine Size |
| Suppressed SMG (Rare) | 24 Damage, 35 Magazine Size |
| Compact SMG (Epic)  | 20 Damage, 40 Magazine Size |
| Compact SMG (Legendary)  | 21 Damage, 40 Magazine Size |
Pistols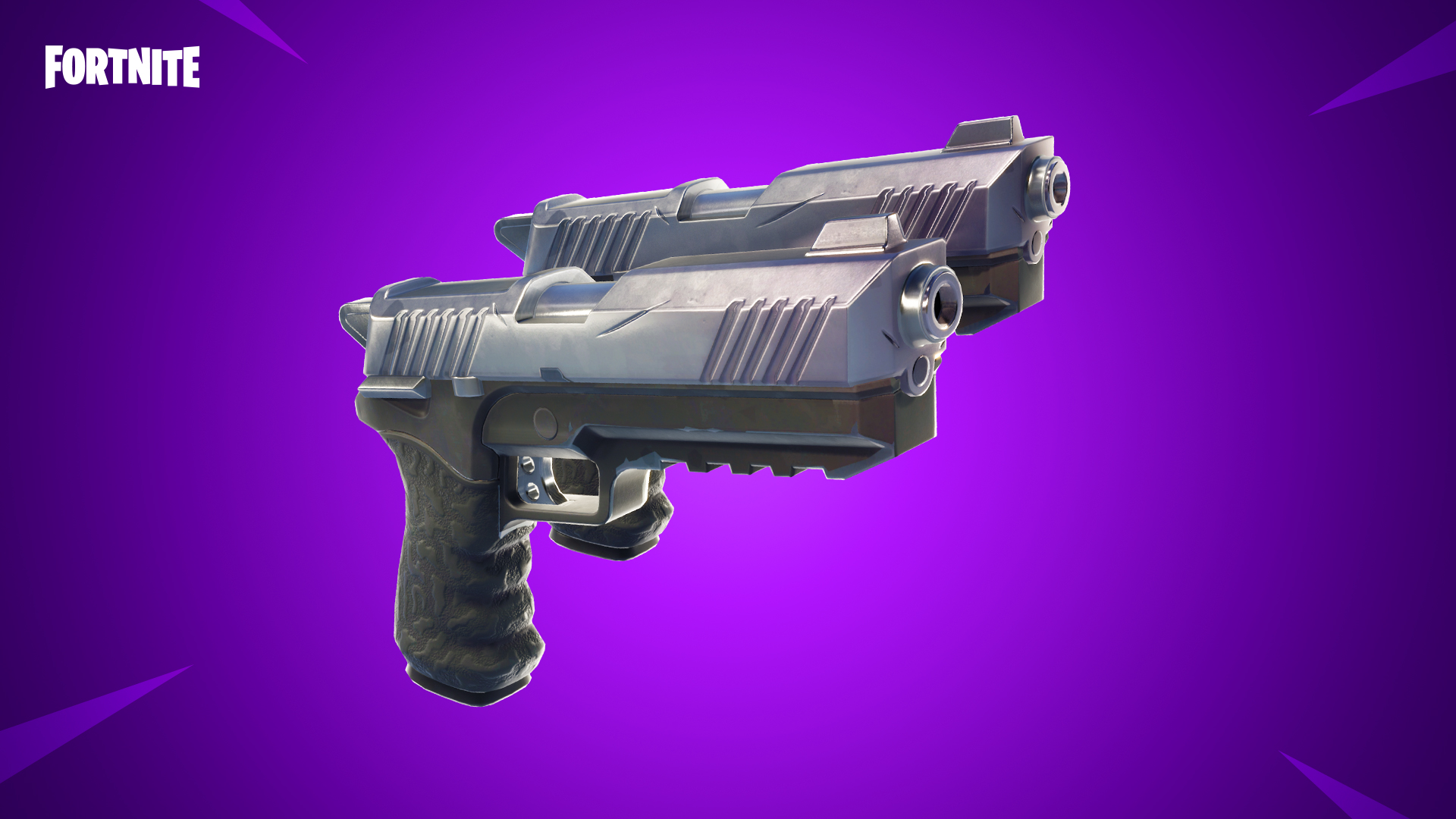 | | |
| --- | --- |
| Revolver (Common) | 54 Damage, 6 Magazine Size |
| Revolver (Uncommon) | 57 Damage, 6 Magazine Size |
| Revolver (Rare) | 60 Damage, 6 Magazine Size |
| Pistol (Common) | 23 Damage, 16 Magazine Size |
| Pistol (Uncommon) | 24 Damage, 16 Magazine Size |
| Hand Cannon (Epic) | 75 Damage, 7 Magazine Size |
| Hand Cannon (Legendary) | 78 Damage, 7 Magazine Size |
| Suppressed Pistol (Epic) | 26 Damage, 16 Magazine Size |
| Suppressed Pistol (Legendary) | 28 Damage, 16 Magazine Size |
| Dual Pistols (Epic) | 41 Damage, 18 Magazine Size |
| Dual Pistols (Legendary)  | 43 Damage, 18 Magazine Size |
Shotguns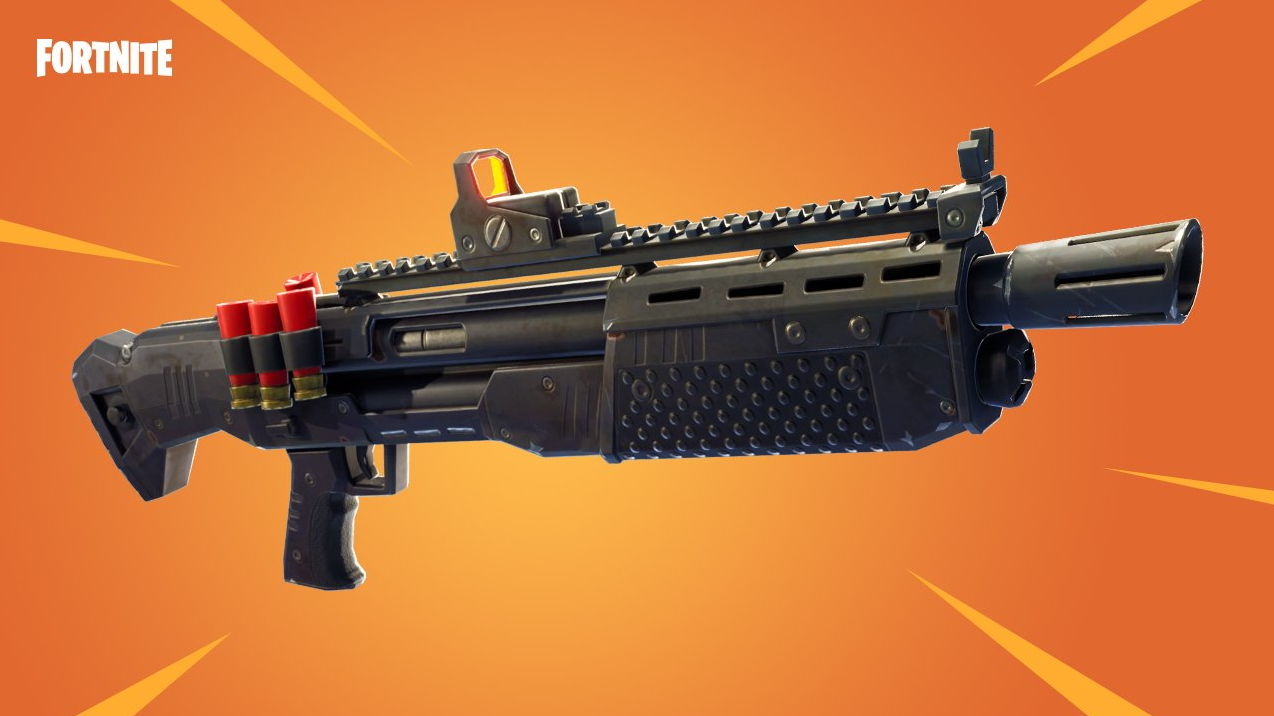 | | |
| --- | --- |
| Pump Shotgun (Uncommon) | 90 Damage, 5 Magazine Size |
| Pump Shotgun (Rare)  | 95 Damage, 5 Magazine Size |
| Tactical Shotgun (Common) | 67 Damage, 8 Magazine Size |
| Tactical Shotgun (Uncommon) | 70 Damage, 8 Magazine Size |
| Tactical Shotgun (Rare) | 74 Damage, 8 Magazine Size |
| Heavy Shotgun (Epic) | 73.5 Damage, 7 Magazine Size |
| Heavy Shotgun (Legendary) | 77 Damage, 7 Magazine Size |
| Double Barrel Shotgun (Epic) | 143 Damage, 2 Magazine Size |
| Double Barrel Shotgun (Legendary) | 150 Damage, 2 Magazine Size |
Sniper Rifles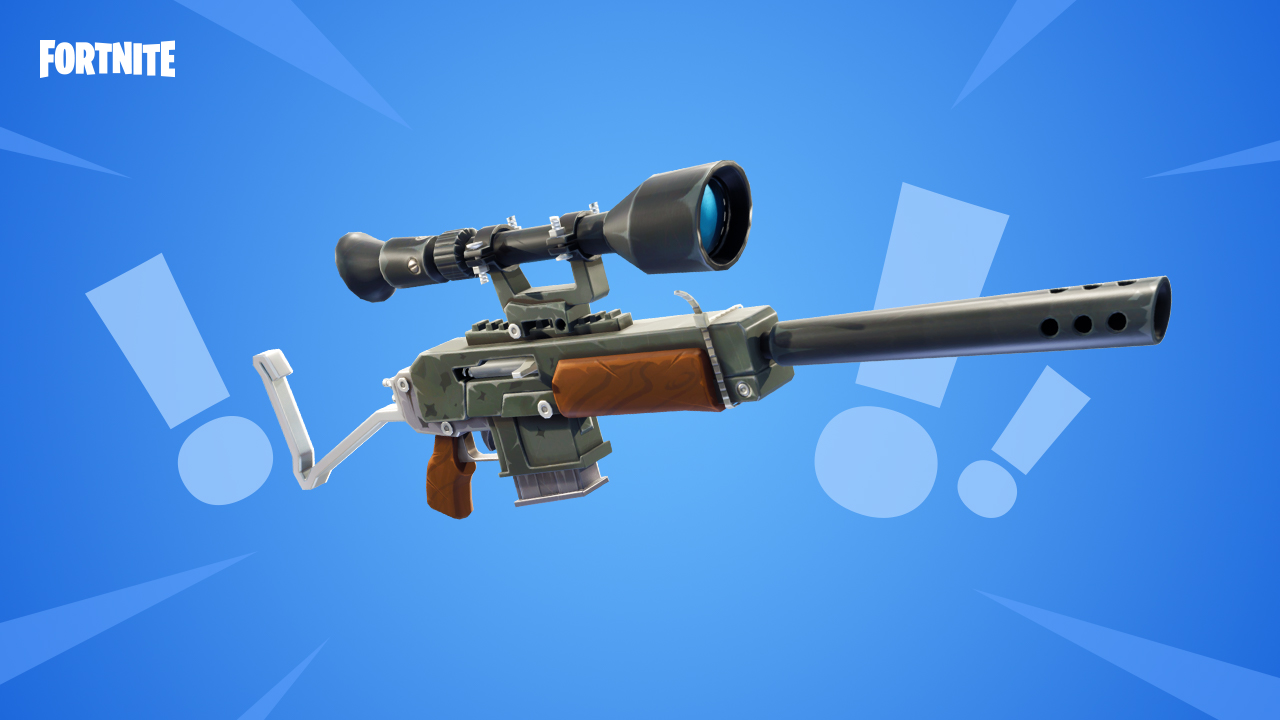 | | |
| --- | --- |
| Semi-Auto Sniper (Uncommon) | 63 Damage, 10 Magazine Size |
| Semi-Auto Sniper (Rare) | 66 Damage, 10 Magazine Size |
| Bolt Action Sniper (Rare) | 105 Damage, 1 Magazine Size |
| Bolt Action Sniper (Epic) | 110 Damage, 1 Magazine Size |
| Hunting Rifle (Uncommon) | 86 Damage, 1 Magazine Size |
| Hunting Rifle (Rare) | 90 Damage, 1 Magazine Size |
| Heavy Sniper Rifle (Epic)  | 150 Damage, 1 Magazine Size |
| Heavy Sniper Rifle (Legendary) | 157 Damage, 1 Magazine Size |
Rocket Launchers
| | |
| --- | --- |
| Rocket Launcher (Epic) | 116 Damage, 1 Magazine Size |
| Rocket Launcher (Legendary) | 121 Damage, 1 Magazine Size |
| Guided Missile (Epic) | 74 Damage, 1 Magazine Size |
| Guided Missile (Legendary) | 77 Damage, 1 Magazine Size |
Grenade Launchers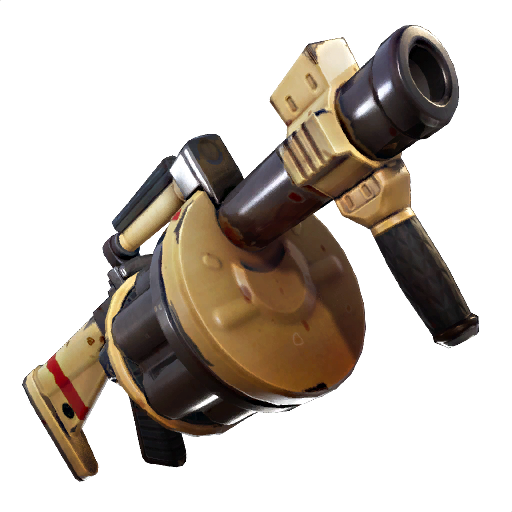 | | |
| --- | --- |
| Grenade Launcher (Rare) | 100 Damage, 6 Magazine Size |
| Grenade Launcher (Epic) | 105 Damage, 6 Magazine Size |
| Grenade Launcher (Legendary) | 110 Damage, 6 Magazine Size |
Others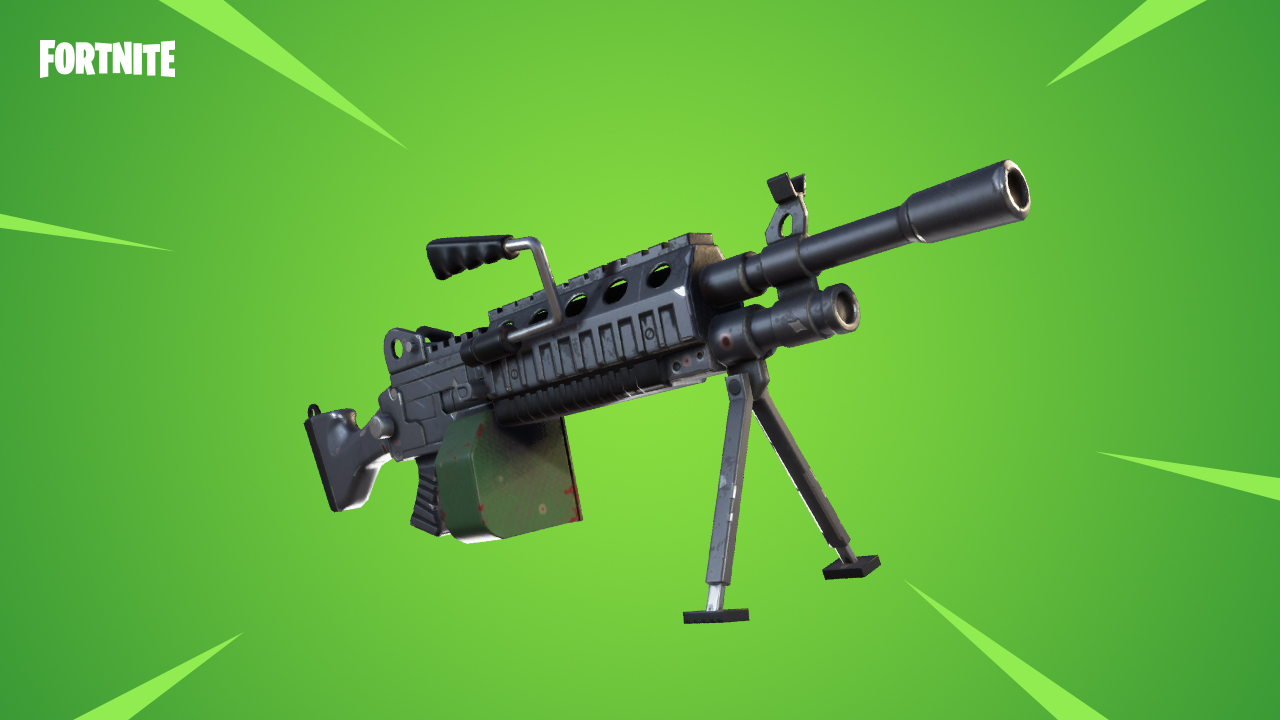 | | |
| --- | --- |
| Minigun (Epic) | 18 Damage, unlimited ammo |
| Minigun (Legendary) | 19 Damage, unlimited ammo |
| Light Machine Gun (Rare) | 25 Damage, 100 Magazine Size |
| Light Machine Gun (Epic) | 26 Damage, 100 Magazine Size |
| Stink Bomb (Epic) | 5 Damage per half-second, 9 seconds total |
| Clinger (Uncommon) | 100 Damage per 1 tile, 200 Damage to structures |