The 10 best games like Mario Kart on PS4 and PS5
Nothing is exactly like it, but these are close.
There is truly no experience quite like a Mario Kart game. The arcade action of boosting and drifting around corners while using items to your advantage is a ton of fun for people of any age. Unfortunately, that series will always be locked to Nintendo consoles.
If you are a PlayStation owner looking for something that will hit that same sort of feeling, you will need to sift through other titles that emulate that experience. While there are not a lot of great choices for this, there are a few options that bring similar gameplay to Mario Kart and offer a good time playing. These are the best games like Mario Kart on PS4 and PS5 in alphabetical order.
Related: The 10 best PlayStation 1 games
The best racing games like Mario Kart on PlayStation 4 and PlayStation 5
Crash Team Racing: Nitro Fueled
The original Crash Team Racing was the first game to truly compete with the Mario Kart series on the first PlayStation console. Nitro Fueled is a complete remake of that game with content from later CTR games and an in-game store filled with cosmetics if you want to spend a little extra money. The name of the game here is drifting. Once you understand how to get full use of the boost mechanic from drifting, you will speed along each track.
Disney Speedstorm
Disney Speedstorm has you play as classic Disney characters and take to the streets in karts. Characters on the starting roster include Mickey Mouse, Jack Sparrow, Hercules, Belle, and Mulan. We love the crossover potential this game has with how many memorable characters it can pull from. It is a free-to-play game, so if you love these properties, you can give it a try just by downloading it.
Hot Wheels Unleashed
While Hot Wheels Unleashed is not actually a kart racer, it's a really good arcade racer that lets you drive along the orange and blue tracks with iconic real-world Hot Wheels cars. There are no items to help you in races like the other games on this list, but you will need to drift around curves and choose the right paths to get to victory. Anyone who enjoyed these toys as a kid will find a lot of fun here.
KartRider: Drift
KartRider: Drift is another free-to-play racer that doesn't have the property power of Disney or Mario, but the series has been a powerhouse in Asian markets in the past. This release will be its first attempt at breaking big into the Western PC and console markets.
Nickelodeon Kart Racers 3: Slime Speedway
Nickelodeon Kart Racers 3: Slime Speedway is another racing game featuring your favorite childhood characters that you grew up with. Everything around the course environment is also Nickelodeon themed with their signature orange slime dripping around. Race around courses as Spongebob or another character from your favorite Nick show.
PAW Patrol: Grand Prix
PAW Patrol: Grand Prix is a game that so many kids – and even adults – will love, featuring their favorite PAW Patrol characters. This is a multiplayer game that allows up to four players on the track. Players also collect dog bones as they race around fun tracks that match the famous television series.
Renzo Racer
Renzo Racer is a racing game that features adorable animals. It is a cute game meant for both children and adults, bringing the vibes of some of your favorite childhood games. Race around on colorful bright tracks. There are about 16 different comic characters of different animals.
Team Sonic Racing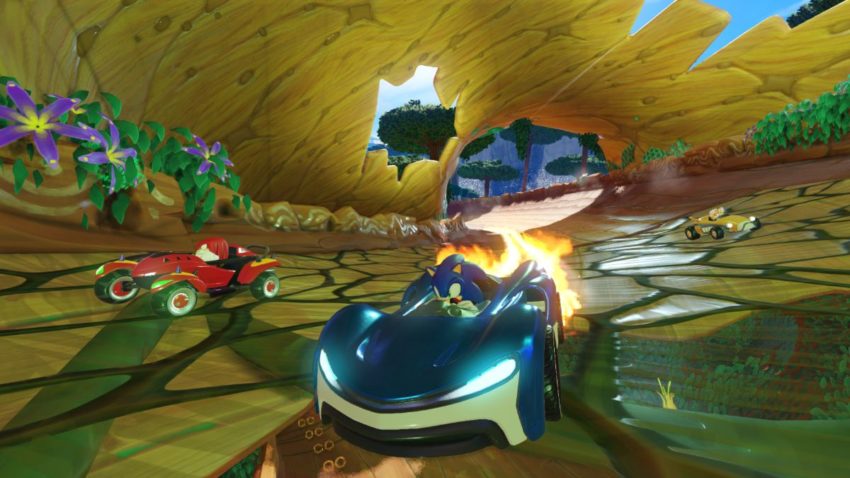 Team Sonic Racing may not be as good as Sonic & All-Stars Racing Transformed on the PlayStation 3, but this is the first racing game to actually focus on the "team" aspect of its name. Your placement in races will only play a part in your team's overall placement. You can be the first to finish, but if you haven't been helping your teammates finish at the front of the pack with you by giving them items and helping them with drafts, you can end up losing the race.
Trackmania Turbo
Trackmania Turbo gives the player an arcade-feeling racing experience. There are a ton of tracks in the game to keep the game exciting both played in singleplayer or in multiplayer. This game delivers a high-speed race with many hoops, twists, and turns, making sure players are always on their toes.
Related: The 10 best free multiplayer games on PS4 and PS5
WipEout Omega Collection
The WipEout Omega Collection includes multiple compilations from the franchise, including WipEout HD Fury and WipEout 2048, which are now enhanced. This is a racing game that gives players an out-of-this-world feel, but what makes it even cooler is that it supports PlayStation 4 VR. Not only can you enjoy the game as any other, but also in virtual reality.