How To Reset Xbox One X To Factory Settings
Why Xbox One X needs to be Reset to Factory Setting? Two main reasons that I can figure out are: the first one is that you are stuck on a nasty issue and you want to fix or troubleshoot it. Secondly, you are selling your Xbox One X to your friend or someone else, and before handling the console to them, you have to erase all your settings and data from the console. In these two scenarios going for a Restoring Xbox One X to Factory Setting is the best option. In this guide, we have mentioned all the steps you need to follow to Restore Xbox One X To Factory Settings.
PLEASE NOTE: Factory Reset is going to ERASE/DELETE all you save games, accounts, settings. I would advise you to Sync your account with Xbox Live so that most of the things are back-up. The best part of Xbox One console (Xbox One X also) is that they Sync automatically with Xbox Live is connected to the service, so you don't have worry if you Sync with Xbox Live time to time. However, If you are among one of those players who has not connected to Xbox Live for a while, I would recommend you to connect to Xbox Live before starting the Factory Restore Process.
Methods To Factory Reset Xbox One X Console
There are two ways to reset Xbox One Console to Factory Settings first is through the console by going into the settings and clicking on appropriate options. This only works if the console is working fine if it is not working then skip to the second option. You will need a USB for the process.
How To Restore Xbox One X To Factory Settings
Step 1: Press Xbox Button – this will open the Guide for you.
Step 2: From the options available – Select Settings
Step 3: Then Select All Settings
Step 4: Then Select System
Step 5: Select Console Info & Updates option
Step 6: Here you will find the desire "RESET CONSOLE" option. Select it.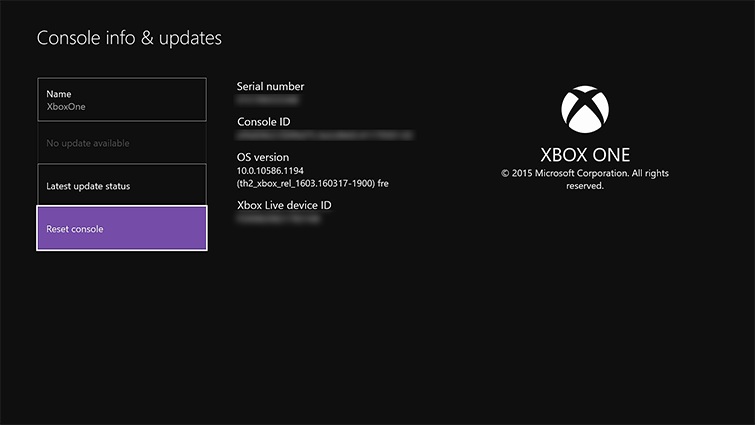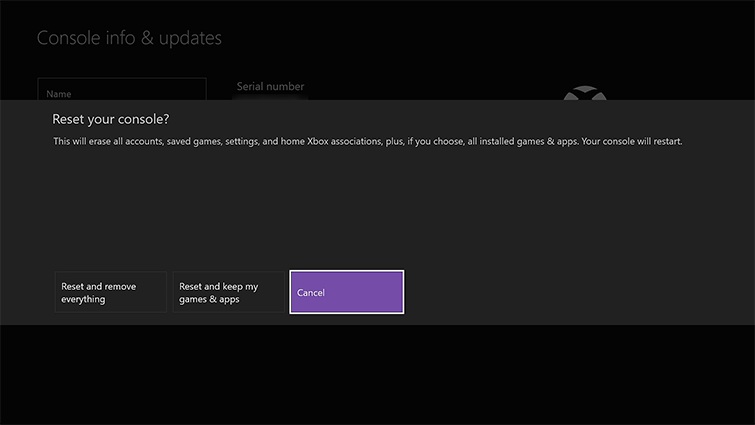 The moment you will select RESET CONSOLE option you will be greeted with THREE Options:
Types Of Reset Options & What They Do?
Reset and remove everything: As the name suggests, this option will remove everything – your data, games, setting and restore the console to the Factory Settings. It is best to use this Reset Option when you want to Gift the console to someone or Sell it.
Reset and keep my games & apps: This option just reset the OS and delete all potentially corrupted data. It won't delete your games or apps. For troubleshooting, this the best option to go for. If you don't get successful in fixing the issue, you are facing on your Xbox One X then only go for the "Reset And Remove Everything."
Cancel: Do I need to tell you what this third option will do.
Reset Factory Settings Using a Pen Drive (USB)
Format a USB to NTFS. You will need a minimum 4GB pen drive.
Click to download FactoryReset.zip from Xbox.com.
Extract the file using a tool like Winrar, and copy the data in the root directory of the USB drive.
There should be no other file, except the one you get from the package. There is a single file updater.xvd, copy this in the root.
Disconnect the Xbox from power, remove all network cables and Connect the USB drive.
Connect the power cable after 30 seconds, Press and Hold Bind + Eject. Then press the Xbox button.
After two beeps, release the Blind + Eject button.
Follow the onscreen instructions to Reset the console.
If you do not hear any beep sounds after hitting the Xbox button while holding Bind + Eject the process has failed, and there can be a hard issue. Contact technical support. This is how you Restore or Reset your Xbox One X to Factory Setting. If you have any doubt regarding the guide, then do let us know about it in the comment section below.