How to Run Resident Evil Zero HD Remaster in Full Screen
As you start the Game Resident Evil Zero HD Remaster it will run the game in window mode. Any of the keys or settings doesn't work to solve this issue. This Resident Evil Zero HD Remaster guide will help you to run the game in Full-screen mode instead of Window mode.
This is a small trick for all those Resident Evil Zero HD Remaster fans who are still playing in Window mode. All you need to do is follow the quick simple steps given below and you are good to go and run fullscreen.
Step 1:
Locate your Game's Steam Folder
C:\Users\????\AppData\Local\CAPCOM\RESIDENT EVIL 0 REMASTER HD
Step 2:
Now here you need to open the 'config.ini' file with any text editor(notepad).
Step 3:
Take the Backup of this file before we begin with the changes.
Step 4:
In the Display Part, You will need to make changes for
Resolution: (your Current Display Resolution)
Fullscreen: ON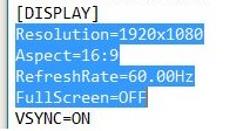 Step 5:
Save the file and exit.
Step 6:
Congratulations! you have successfully made the changes.
Run the game and enjoy your fullscreen gaming. If any issue with the display then do check the display setting you have adjusted in the game or just replace the backup file and get it resolved.