Shadow of the Tomb Raider Easter Eggs From Post Credit Scenes
Shadow Of Tomb Raider takes you to a vivid journey of ancient murals and cities hidden from mankind. Facing challenges set by the nature Lara's mission to save this world from dying. After the credit, there is a short video which has some hidden Easter eggs you might have failed to notice. In this guide, you will find the images and info on those hidden items.
All Post Credit Scene Easter Eggs
All the Easter Eggs are from the post-credit scene, there are various references taken from previous editions.
List Of All Easter Eggs From The Ending Scene
1). Yamatai Sword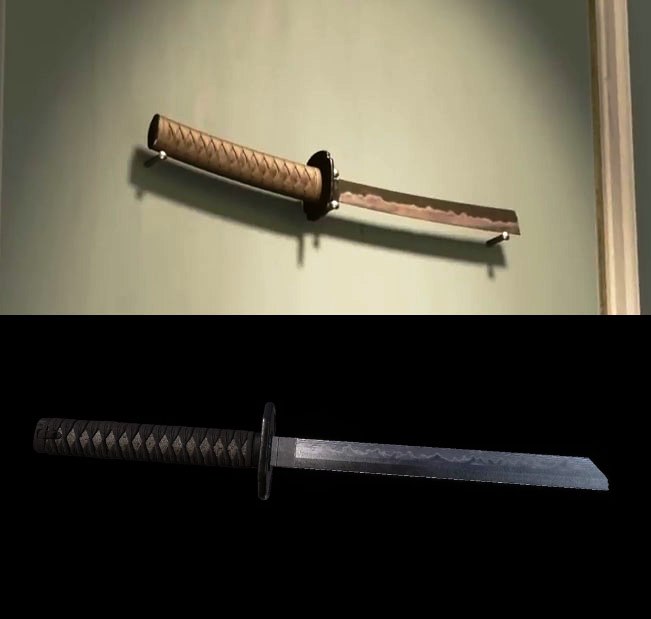 The top sword above the mask is a collectible item from Tomb Raider DLC – Blood Ties.
2). Japanese Dagger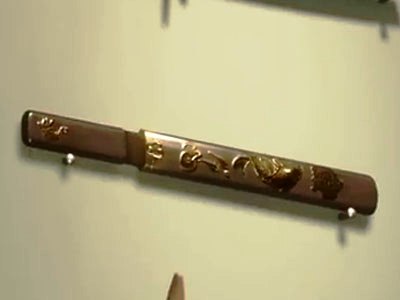 In the middle you can see a Japanese Ceremonial Dagger it comes from the same 2013 version of Tomb Raider.
3). Hannay Mask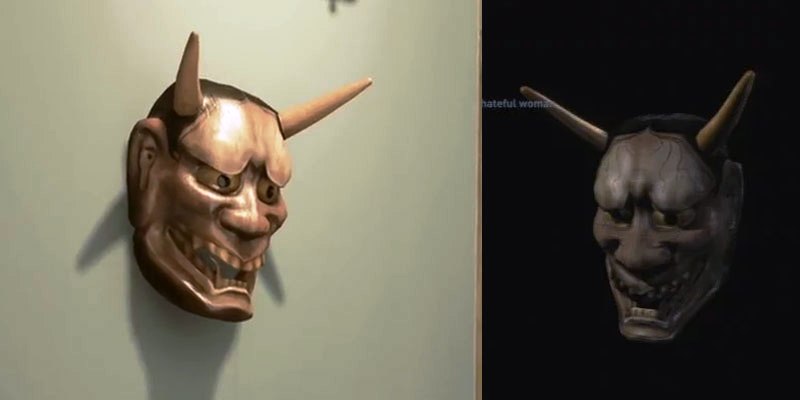 It is on the wall as the scene moves from Lara's playground towards the room where she sitting. The Hannya Mask is from Tomb Raider 2013. There are total three mask in the game.
3). Atlas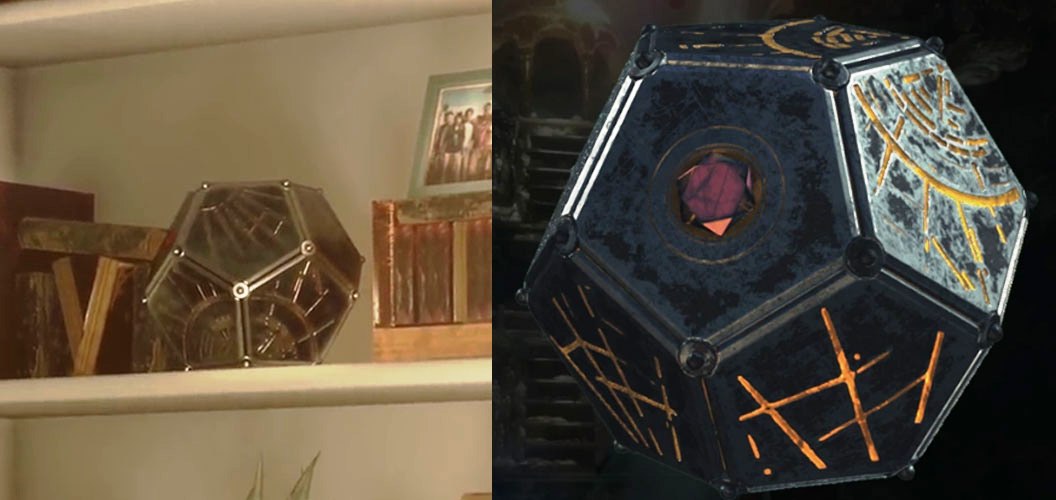 Atlas comes from The Rise Of The Tomb Raider 2015, Lara has to fight with Trinity soldiers to get this artifact.
4). Sam & Alex

Next to Atlas you can see a photo of Lara, Jonah and you will also spot Alex and Sam in it. They are from Tomb Raider 2013. There more in the picture from the same series.
5). Tlaloc Vase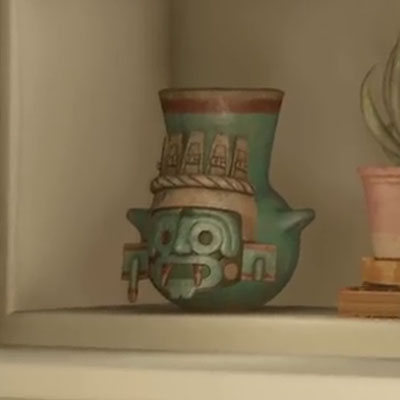 A collectible item from the game, you can find it in part of the Pantheon Gods collection which is located in the hidden city.
6). The Axe & The Bow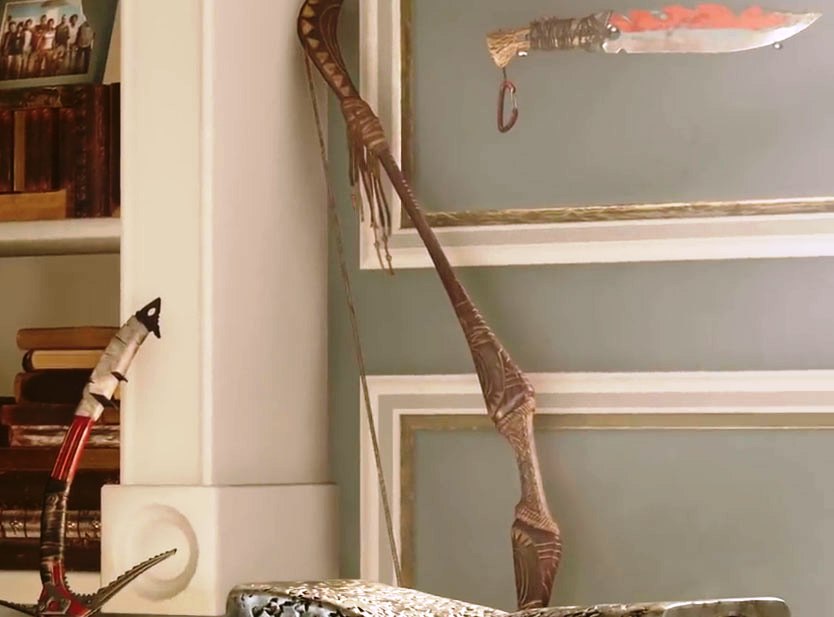 These are not Easter eggs just a reference form the game, the weapons Lara uses quite frequently in the game.
7). The Silver Box & Letter (Real Ending)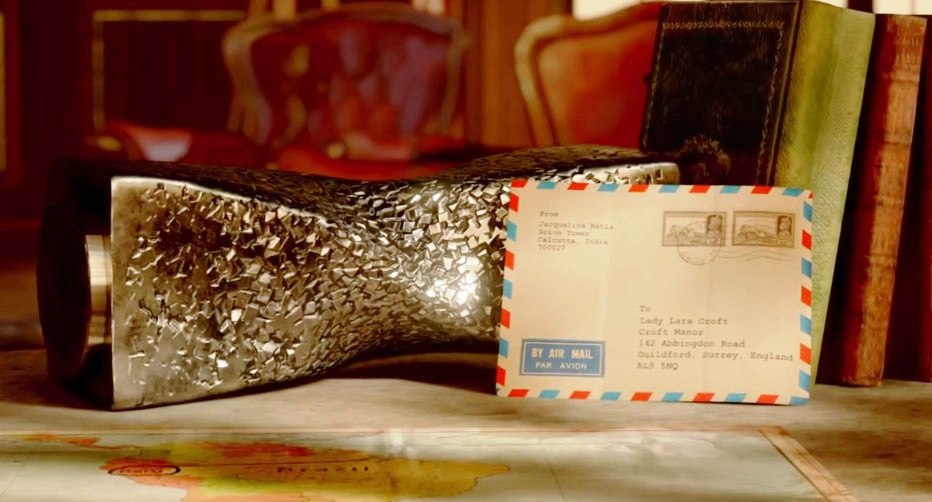 The final patch of the game removes the scene where you will see a letter kept with the Silver Box. This letter is written by Jacqueline Natla to Lara Croft. Natla is Lara's enemy, she is the main antagonist of the Tomb Raider series. She is a wealthy businesswoman and owner of Natla Technologies. She appeared in Tomb Raider: Anniversary and Tomb Raider: Underworld.
8). Painting In Photo Frame

In the last scene, you will see a hand-made drawing on the which gives you two references from Tomb Raider 1996. First is a Great Pyramid Of Giza and second is the T-Rex.
In a small glimpse, you can also see the Butler who brings the tea for Lara. For more updates on the game, you can also go through our Shadow Of The Tomb Raider Wiki guide.