The best HDR loadouts in Call of Duty: Warzone
Three loadouts bound to make you an expert sniper.
It is no secret once Caldera came into Call of Duty: Warzone that almost all Modern Warfare and Black Ops Cold War weapons received crushing nerfs. One of the few guns to not only survive this but also earn multiple buffs was the HDR. That said, since the battle royale's third season, the sniper is considered to be the best in its class. So, to ensure you build a sniper that suits your play style, here are the best possible HDR loadouts in Call of Duty: Warzone.
Loadout #1: The long-range damage dealer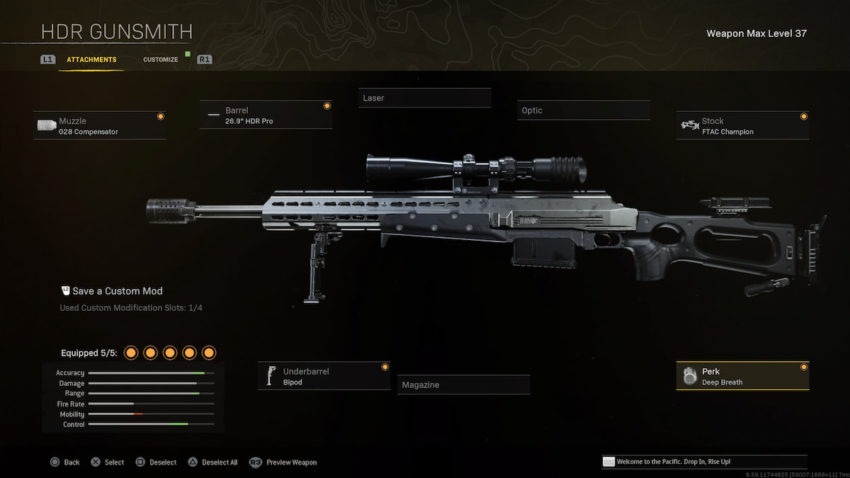 Muzzle: G28 Compensator
Barrel: 26.9″ HDR Pro
Underbarrel: Bipod
Stock: FTAC Champion
Perk: Deep Breath
This class is strictly for those who want to maximize the probability of long-range headshots eliminating opponents with just one bullet. That is because the loadout favors damage range and accuracy over every other aspect. In result, you can expect little to no recoil, immense aiming stability, and no damage negations. Although any almost class perk will pair well with this loadout, we highly recommend adding Combat Scout, an ability that highlights enemies you damaged for your teammates.
Loadout #2: Silent, but deadly
Muzzle: Monolithic Suppressor
Barrel: 26.9″ HDR Pro
Ammo: 9 Round Mags
Stock: FTAC Stalker-Scout
Perk: Sleight of Hand
Another that is suited for long-range campers, this second loadout prioritizes stealth and reload speed. It may take up to two shots to earn a kill, but the Monolithic Suppressor will ensure your location is concealed when firing. You'll also find that it takes just about a second to get numerous shots off, as the FTAC Stalker-Scout improves its ADS time and the 9 Round Mag provides for more bullets in the chamber.
Related: The best drop locations for Fortune's Keep in Call of Duty: Warzone
Loadout #3: The Resurgence-friendly HDR
Muzzle: Monolithic Suppressor
Barrel: 26.9″ HDR Pro
Laser: Tac Laser
Optic: Variable Zoom Scope
Stock: FTAC Stalker-Scout
Although the HDR flourishes the most on Caldera, there is still one build that makes it an all-around powerhouse on Resurgence's close-quarters Fortune's Keep map. Compared to other loadouts, this HDR is great at all ranges, mainly due to the Variable Zoom Scope's 5.5x and 12.6x optics. It also benefits quick-scopers as the Tac Laser and FTAC Stalker-Scout gives it the quickest ADS time of all three loadouts.
As Resurgence is incredibly fast paced, we also advise using the Overkill perk to have another primary weapon to switch to when the HDR needs to be reloaded in the heat of battle. There are several respectable assault rifles and SMGs that could fit this role, but the STG44 and MP-40 are regarded as two of the best around.