Vampyr Ultimate Skill Guide – All Skills, Upgrades And How To Unlock Them
Vampyr has different skills that you can choose from, but you are recommended to stick to one. There are skills that will help you hugely to progress in the game. Whichever style you use to play the game these skills will be very important to you. The skill that you need to upgrade early on is your stamina. Stamina is essential since it is required for your attacks or else you will have trouble surviving. Next is your Blood barrier that needs to be leveled up, a little more health is always better. This guide will tell you about each skill and its usefulness.
List of Skills And Their Upgrade Cost
Below you can find the list under Active, Defensive, Offensive, Tactical, Ultimate, Passive, Body, Bite, Blood and Science. To find more about unlocking them you can read our guide on How to Unlock and Upgrade Skills in Vampyr.
If Enemies are killing you to quickly then you need to upgrade your skills. when you are playing a non-killing run upgrade your passive stats since you will use them more. Below are all the skills and their function.
ACTIVE SKILLS
Active skills are abilities that you do manually when you are in a fight or when you are not in one. Such as Autophagy healing ability and combat ones like Bloodspear or ultimate attacks.
Autophagy: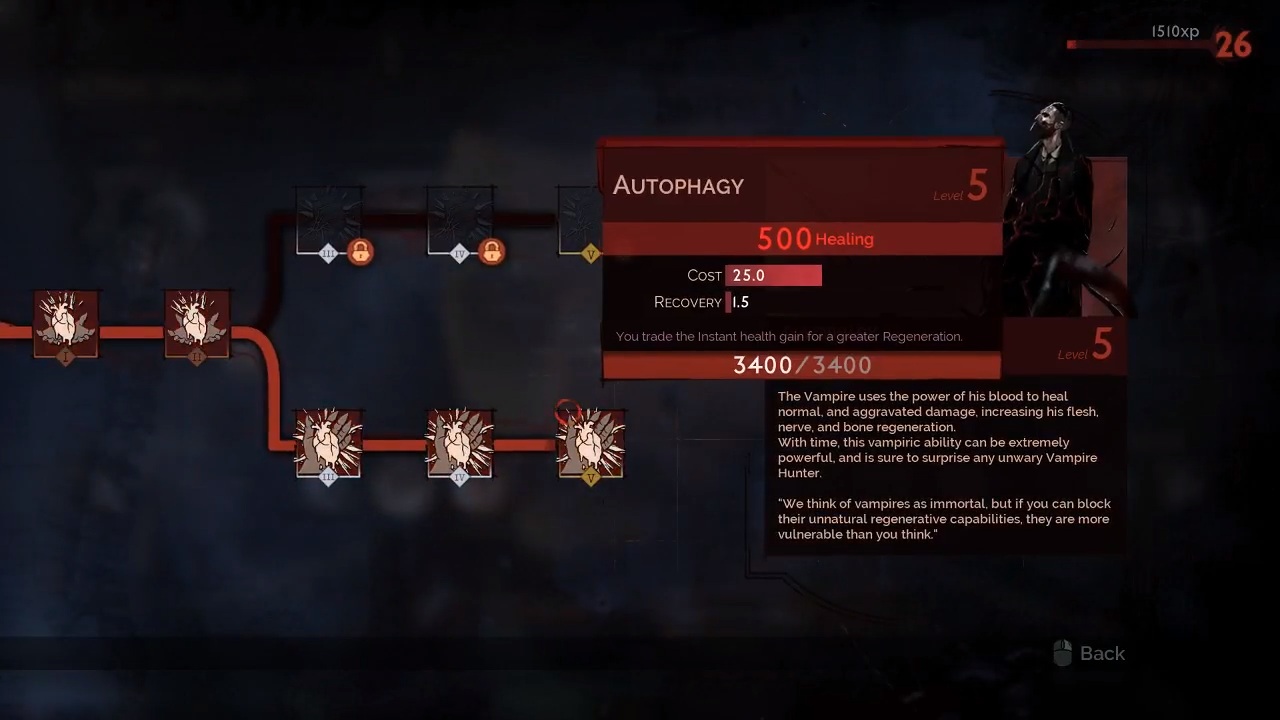 Autophagy is a unique skill. It is a healing skill and an important power to have. For little blood coast, you will heal a large amount of health.
Upgrade Cost:
DEFENSIVE SKILLS
Defensive skills focus on causing less damage.
Coagulation: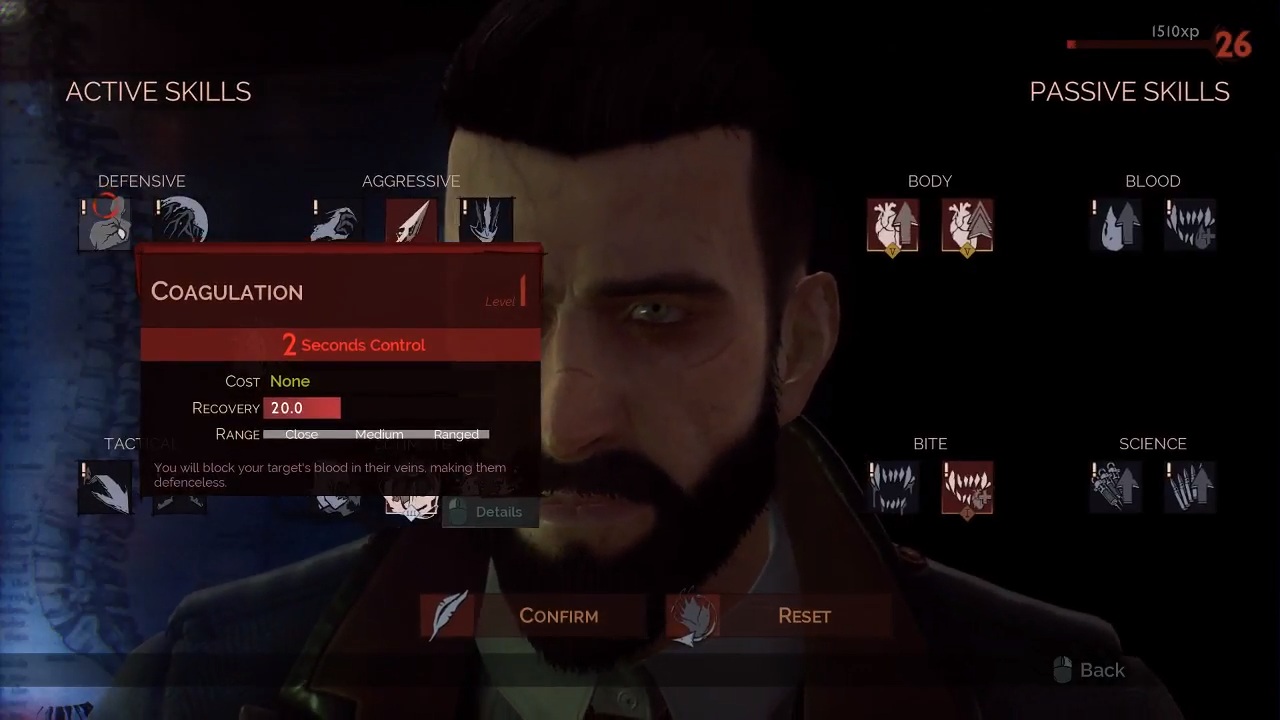 Coagulation is a skill that freezes enemies and even bosses for a period of time. Which will then allow you to hit them or focus on other enemies while they are frozen until you hit them. At a higher level, you can also drain blood from your opponent. A bottom upgrade path will drain the opponent of blood and add to yours.
Upgrade Cost:
Blood Barrier: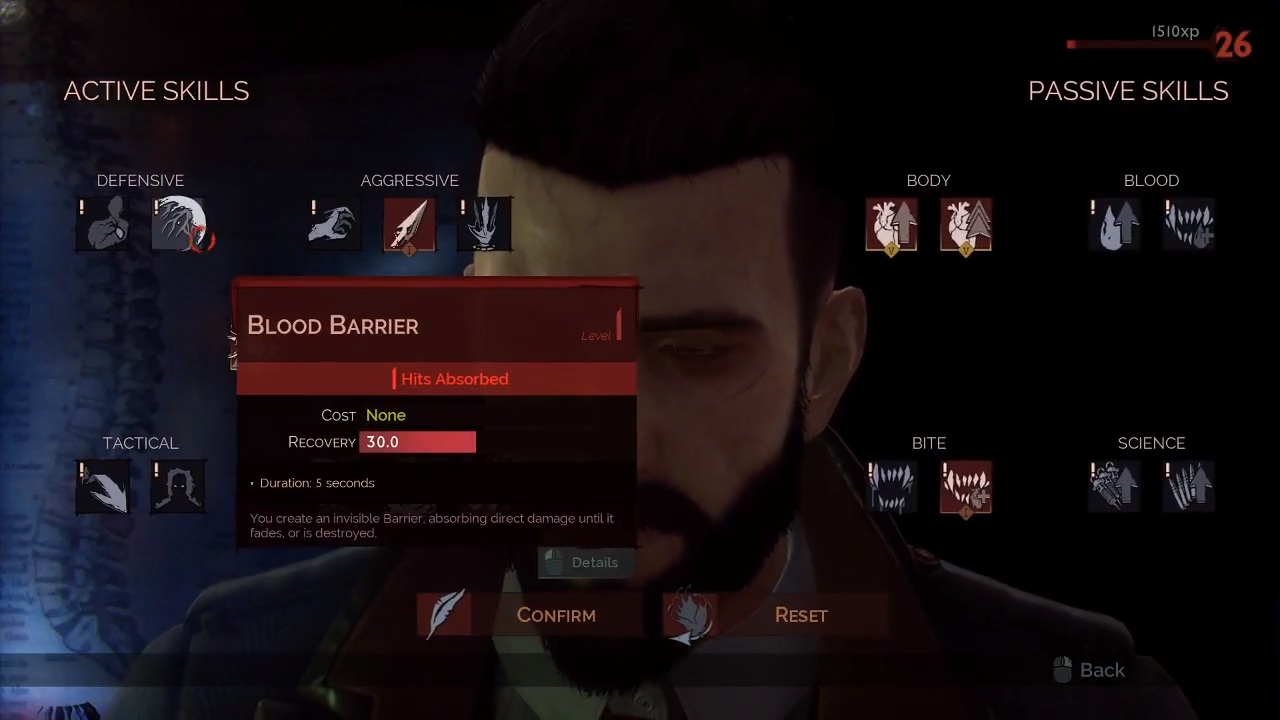 It is a defensive skill that when applied makes a shield of blood around you. At first, it absorbs one hit. When you upgrade it, it's capacity to take hits from enemies increases to 3. When this skill is applied you don't worry about being hit and you can attack your enemies freely.
Upgrade Cost:
OFFENSIVE SKILLS
Offensive skills are for dealing damage in combat. They can be upgraded to deal increased damage.
Claws:
Claws are stronger than any other weapon you can find. It doesn't use any stamina. It can be thrown in with your other attacks to cause some extra damage. It is a close option to your melee weapons. On a higher level, it can drain blood to help reduce the cost of the attack. The top upgrade will be weaker and will drain blood from the enemies as they get hit. Claws at full level, the attack will drop to a recovery time of .5 seconds, which allows faster usage of the skill.
A bottom upgrade is much stronger than the top, which adds a stun effect to it. Skill retains slightly extended recovery time. Both paths can work for the playthrough. Depending on other skills you use. If you focus on biting then both paths are good. If you focus on movement and aggression the top path will be better.
Upgrade Costs:
Bloodspear: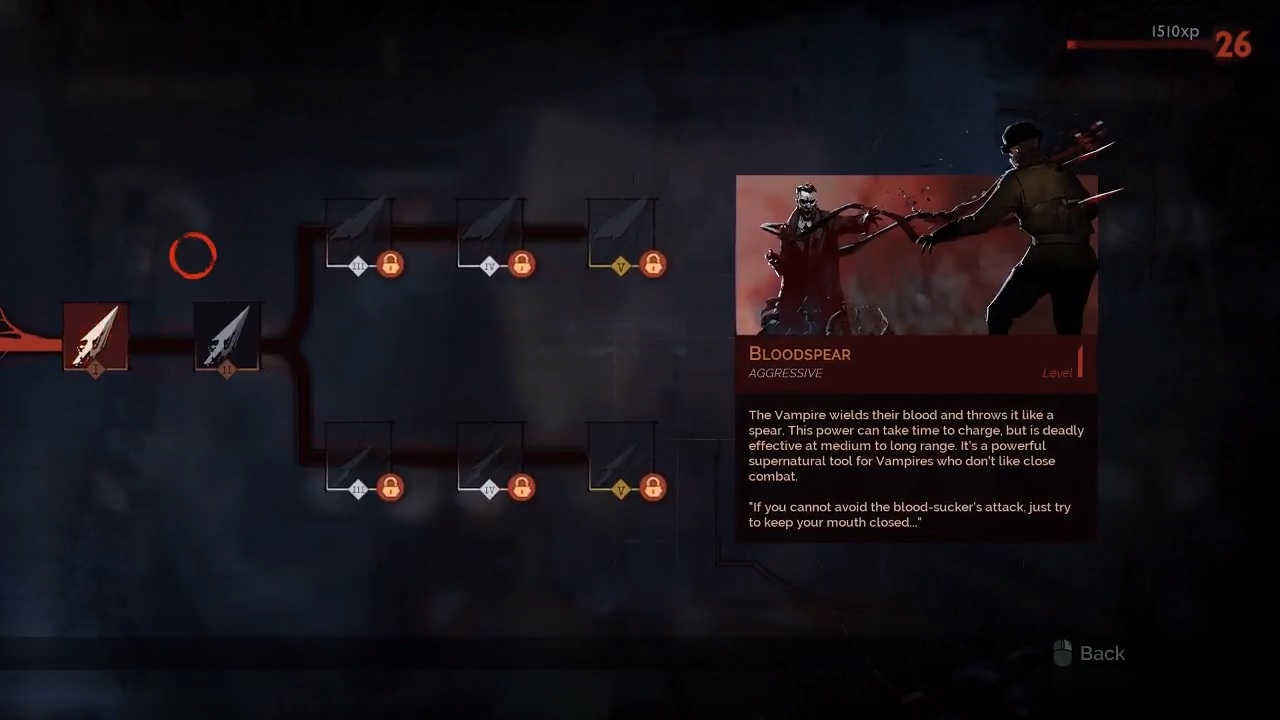 The Bloodspear is better than guns. It is much stronger than guns giving you more range than the short gun. It's useful and can pierce many enemies which makes it better for crowd fights. Bloodspear is an alternative to guns. The top upgrade makes the spear bigger and gives more damage and the length of the spear remains the same. If you like fighting up close you will prefer the bottom path. Want to keep a distance then use the top path.
Upgrade Costs:
Shadow Mist:
Shadow Mist is the strongest of all the aggressive skills. It puts a puddle below the enemy and after a period explodes hitting all enemies. It does take a while to come out. This attack counts as a Shadow attack for defensive purpose. Top Upgrade path keeps the attack for same.
Adds damage and makes the explosion bigger. The bottom upgrade does a lot less damage but hits enemies multiple times. It drains the opponent's blood and adds to your own pool. If the original works then stick with the top upgrade path. If you want more variety then go with the bottom path.
Upgrade Costs:
TACTICAL SKILLS
Skills to move freely in and out of an attack.
Spring: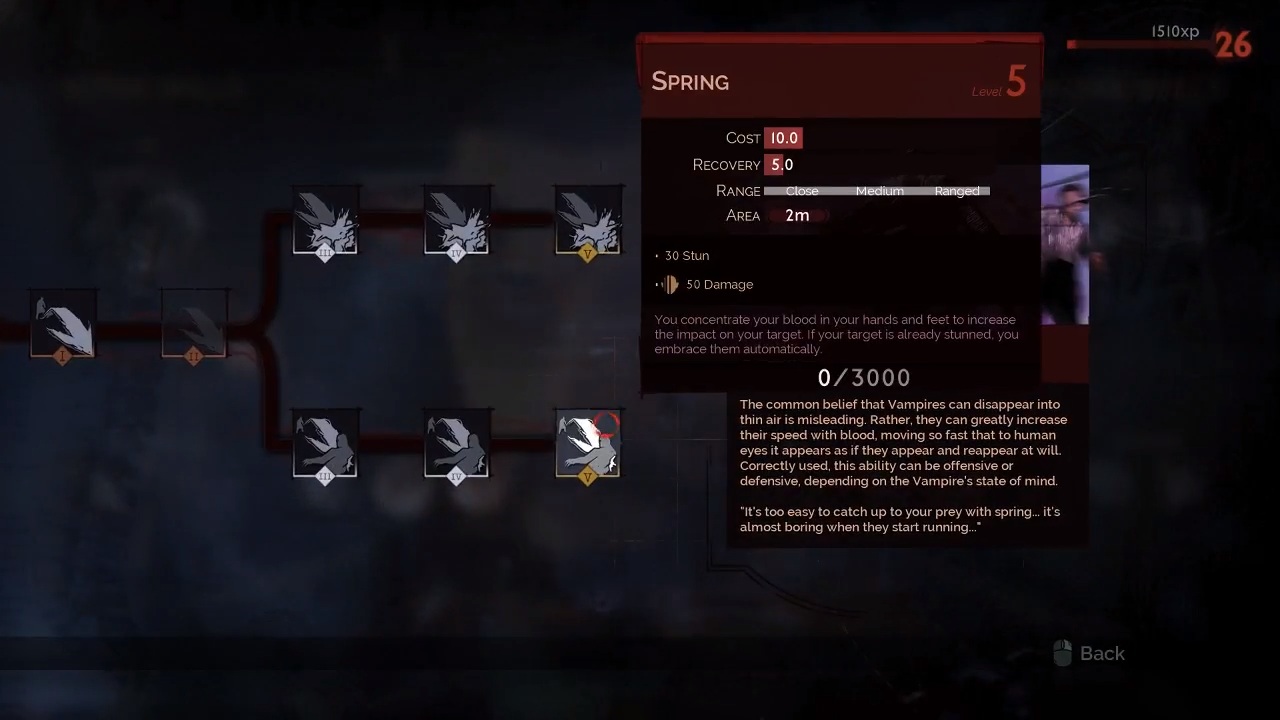 This tool will fling you forward and cause shadow damage on the target when you get there. The progression paths will do this or inflict more damage or stun. If you like giving stun then it's very useful for you. The top path does more damage and bottom path adds a stun to the attack. So you can choose between the bottom path and top path whichever suits your style. Choose the bottom path for raw damage and the top path will be better for you.
Upgrade Costs:
Shadow Veil:
This skill involves you turning completely invisible and you remain invisible until your stamina lasts. Later on the in-game, this skill is of less use because of the number of enemies this skill isn't of much use. Though there are differences in skill paths. The top path retains stamina drain rate of the base skill, but adds damage and stun bonus to your attack as you leave the shadow. And retains skill cost of 10 blood.
Upgrading to Bottom path gives you the ability to dodge while you are cloaked in shadow. Also, make the skill free and stamina drain the same whether you are standing still or moving. The way you choose your path totally depends on how you use the skill. Want to gain in combat? Then the top path is better. If you want to escape enemies then the bottom path is better. If you don't want to fight enemies then the bottom path is recommended since you want to get around the city without much fight.
Upgrade Costs:
ULTIMATE SKILLS
Ultimate are very useful skills and costs 0. But cooldown is huge up to 99 seconds.
Rage:
Rage turns you into a brutal beast for a short time. Hitting continuously to anything you approach. It is good for controlling crowds. Unlike other skills that only hit 1 target at a time.
Upgrade Costs:
Abyss: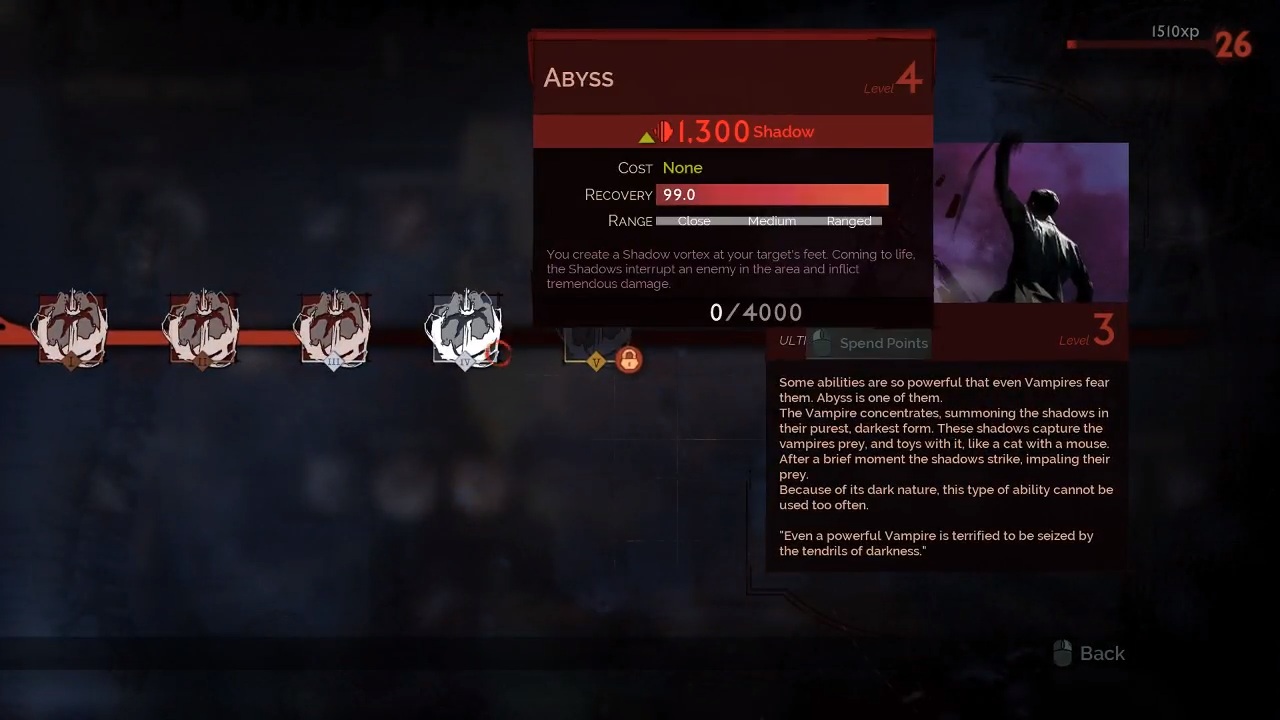 This is the strongest skill in the entire game. This skill forms a puddle below the opponent, and then lifts them up, into the air, leaving them suspended for a short time (allowing for follow up attacks). Finally, it slams them down on the ground, giving you plenty of time to reload your gun or refill a little stamina. This attack counts as a shadow attack for defensive purposes.
Abyss forms a puddle in the ground and the lifts them up in the air for a short time. Then it slams them on the ground. Which in turn gives you time to reload your gun and get some stamina. It is the strongest skill in the game. Lifting them in the air allows you to follow up attacks.
Upgrade Costs:
Blood Cauldron: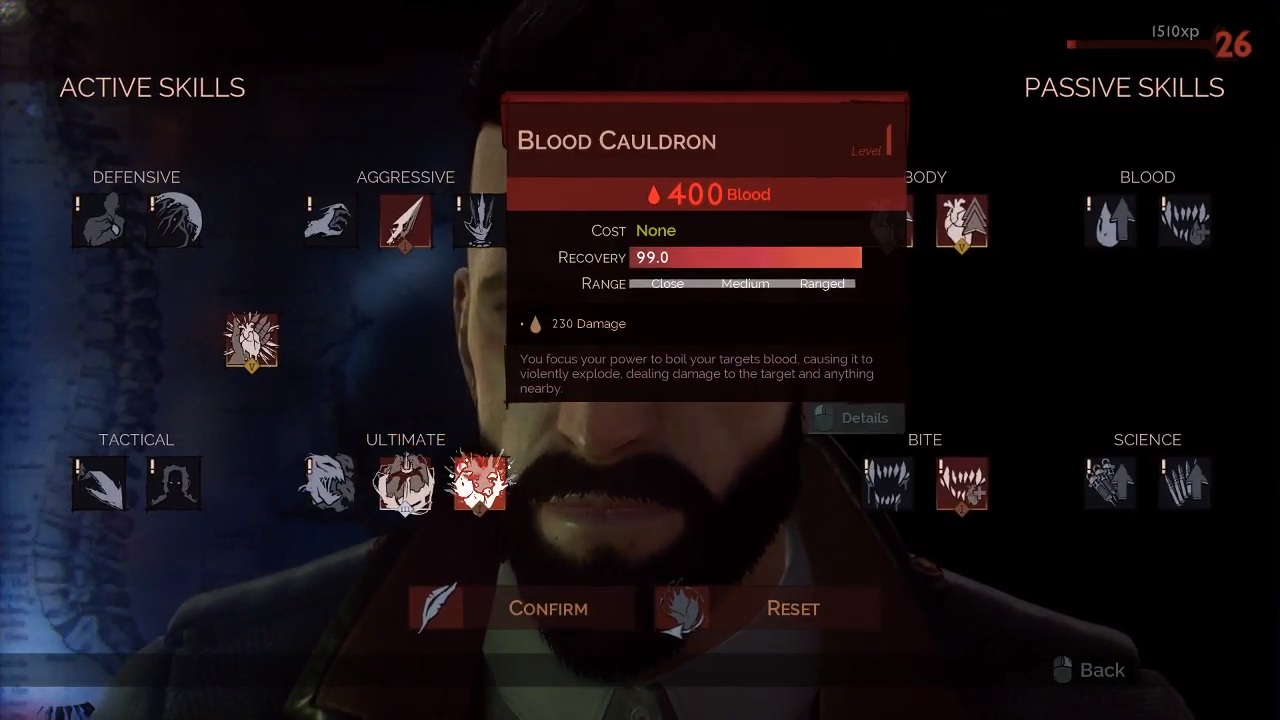 This is a skill with an explosion at the end, that can damage enemies nearby. An explosion disrupts enemies giving you the chance of attacking them.
Upgrade Costs:
PASSIVE SKILLS
All Passive Skills have Upgrade Costs:
Body – These skills focus on your strength and how long you last in your stamina.
Body Condition: Increases the health you have. If you don't increase your health, you will it difficult to survive as one hit would be enough to kill you.
Physical Prowess: Everything you do requires stamina and physical prowess is by far the most important passive skill. If you run out of stamina you won't be able to duck, dodge or attack. It is the most important passive skill.
Bite – Focused on causing damage when you bite a enemy.
Hard Biting – Does more damage when you bite. Good on enemies if you like biting.
Fast Regeneration – Increases health when you take from enemies when you use a bite attack. Is less important than other passive skills.
Blood – Blood skills are used to increase the carrying capacity and your blood abilities.
Blood Capacity – Increases blood storage and is useful if you use aggressive skills to get damage.
Big Thirst – Increases Blood that you regenerate when you bite your enemies. Useful if you perform a lot of aggressive skills and get stun damage a lot.
Science –
Medical Bag – By Default, you can hold 2. On an upgrade, you increase the amount of medicine you can carry. There is a medicine that upgrades your stamina and regeneration rate. Which will help you get through things quickly. Or else spend your XP on other things.
Cartridge Bag – Upgrades your ammo that your guns can hold. But upgrade rate very slows at max level of this skill. But your XP would be better used somewhere else.
For more guides, tips and updates on the game, you can read our Vampyr Wiki guide.