The Best Micro SD Cards for the Nintendo Switch
The Nintendo Switch has been around for just over six months now and has become a phenomenon, selling out across the globe.
The Switch is a unique system—it can be used as both a handheld system and a home console. But that also means it has some limitations, especially in terms of hard drive space. It internal HD has a max capacity of 32GB. The Xbox One and PlayStation 4 have a minimum size of 500GB of space internally on their hard drives, making the Switch's memory just under a 10th of the size of the other systems.
One of the largest games for the Xbox One library is Halo: The Master Chief Collection which is over 60GB in size. The biggest game currently on the Switch library is Pokken Tournament DX, which has a filesize of just over 3GB. This is partially because the Switch uses cartridges over disks. This gives more space to compress massive games like Zelda: Breath of the Wild and frees up room for the system as a whole.
Sadly, however, not every game can be compressed to such a ridiculously low amount. Cartridges do have their limitations. Nintendo Switch cartridges have a max size of 32GB. That means that some games need to use up almost the entirety of the system's storage space: NBA 2K18 requires a massive 30GB of space on the system.
As a result, most serious Switch owners will probably need to pick up extra memory in the form of micro SD cards.
Here's what you need to know when looking for a micro SD card for your Nintendo Switch.
What is a micro SD card?
A micro secure digital card, also known as a micro SD card, is a small storage device that was created for portable devices. These can be placed into the Nintendo Switch in the slot beneath the kickstand that holds up the console on flat surfaces.
They usually have high storage capabilities that small devices cannot reach and are often used as backups for data and important files and photographs.
Which are the best micro SD cards?
Each hard drive on this list has a different amount of space. If you're going to be downloading a lot of games off the e-shop and buying games digitally, then the bigger SD cards will suit your taste.
If you are just buying one so you can play your one favorite game, like NBA 2K18 or DOOM, then a smaller card will do.
Sandisk are probably the best and safest micro SD's currently available for the Switch and range from 32GB to 256GB. Considering games like NBA and DOOM require a base of 20-30 GB download, however, it might be wise to invest in the largest one available for the future
There are also official Nintendo Switch SD cards made for the Switch from Sandisk but these are usually overpriced versions of pre-existing models. It comes in 64GB and 128GB variants.
Setting up your micro SD card on Switch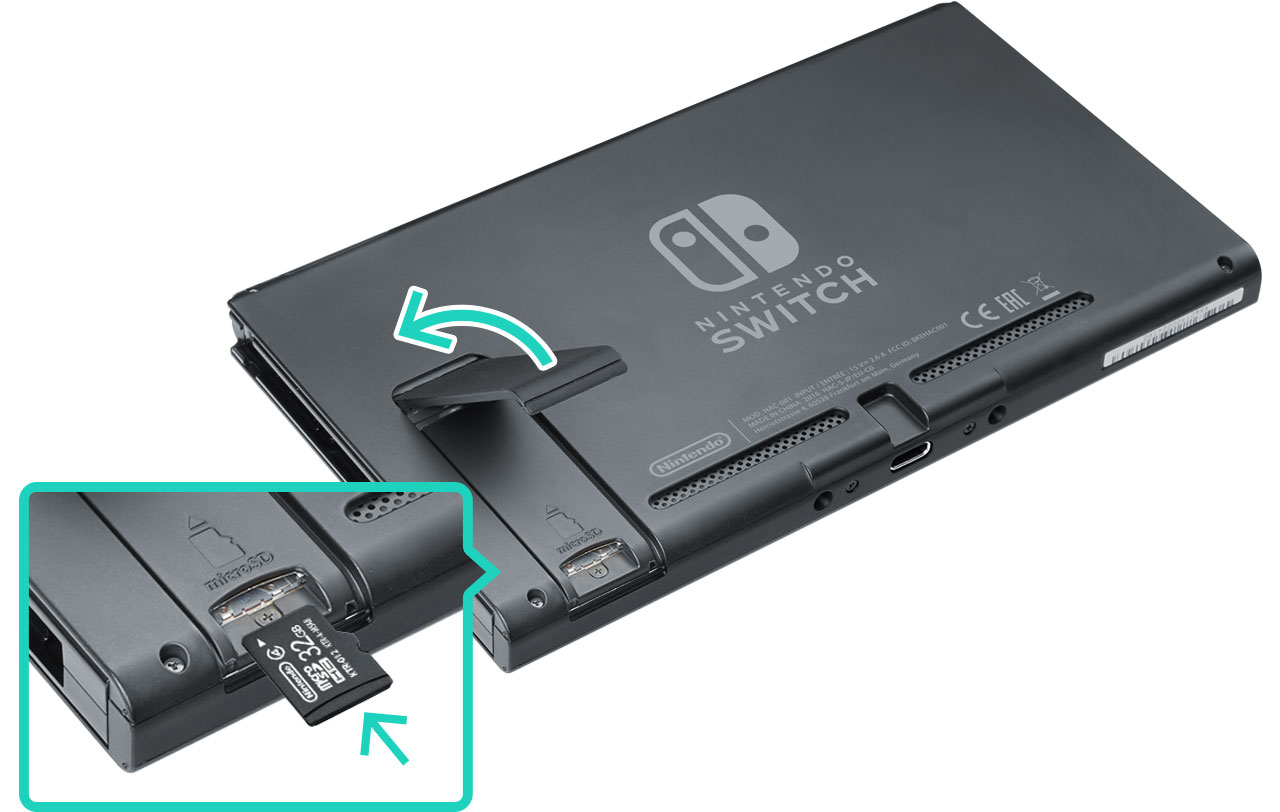 Setting up the micro SD card is pretty straightforward.
Behind your switch is a latch called the "kickstand" that can be pulled out. Underneath it is a slot for the micro SD. Gently push it in as far as you can and place the kickstand, securing it.
Then just turn your Switch on and the system will automatically format it to be used as a memory card. (This also means that, unfortunately, the SD card cannot be used for anything else.)
Can micro SD cards save data between systems?
Sadly, no.
Nintendo has so far not given players a way of saving their data to another system. If a player loses their Switch, then all the save data goes with it.
The SD card is only used for saving downloadable files and games, not save data. Save data is only saved onto the system itself—there's no external source and no cloud save data either.