Easily the most popular PC gaming client in the world, Steam offers a ton of games and intense sales quite often. But while the user interface of the program itself has seen improvements over the years, the default Steam look can still be lacking.
Did you know you could download custom skins for your Steam? They're simple to install and can change the entire layout of your gaming experience the next time you go to fire up your favorite PC title.
Before you check out our favorite skins, we want to point out a slight issue plaguing Steam users at the moment. With the introduction of Valve's new friends list and chat UI into Steam, some themes aren't entirely compatible with the new update or may clash aesthetically with the updated friends list system, Steam Skins reports. We've gone ahead and updated each Steam skin with its current status, pointing out whether it will load with the latest UI update, if it has some issues, or if users will need to revert to the old system.
If you'd like to do the latter, simply right-click on your Steam shortcut and add the lines "-nofriendsui" and "-nochatui" to the target's end. Steam will boot up with the old UI, which will let you use your old theme.
In the end, every skin comes down to preference. Custom skins can change things like fonts and colors, so it's all up to what you'd like to see. Before we unveil our top skins, here are five best picks and why you should download them.
| | |
| --- | --- |
| Skin | Reason to Use |
| Pressure² | This is the face lift that every Steam user deserves. Pressure² brings a brand new UI experience to users, and it makes much more sense than Valve's design scheme too. |
| Air | Simple gets the job done with this skin, and it's as beautiful as it is easy to learn. Air is an easy recommendation. |
| Compact Skin | Sometimes sleek, minimal, and unobtrusive is the best look for your Steam account. This skin does the job well. |
| Old Flat Green Skin | If you miss that classic mid-2000s Steam UI look, then Old Flat Green Skin should be your top choice. It isn't perfect, but it's as close as you can get to feeling like you're still in 2004. |
Blue Pulse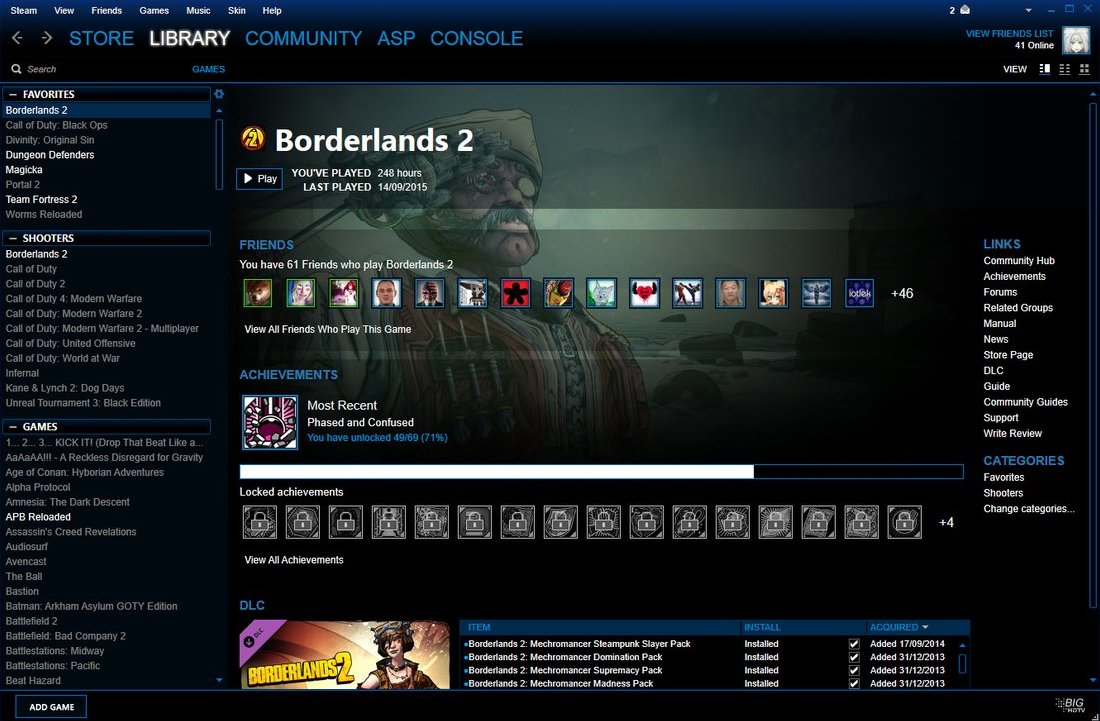 Black and blue are the stars of this theme, combining to create a sleek, darkened vibe with white text that stands out. This theme is easy on the eyes, especially when it comes to the brightness factor. If you're someone who darkens every window they can while using the PC, this is a good theme to start out with.
Note: This skin has some issues with the latest Steam UI update. You may want to revert to the old Steam skin setup if you wish to use this one.
Plexed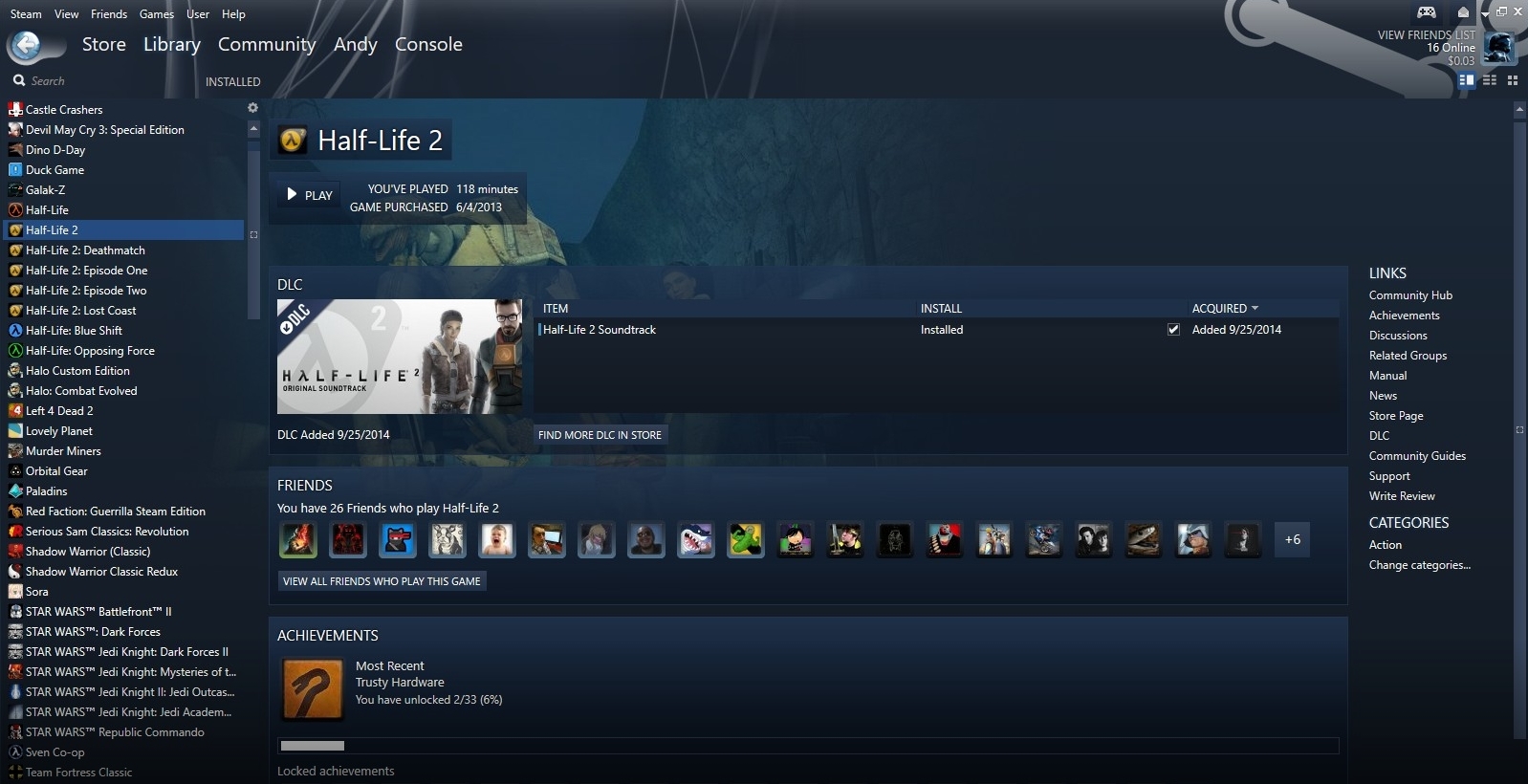 This skin offers a similar color scheme to the default Steam layout, but in a neater and simplified design. The top panel features a large version of the Steam logo.
Note: This skin is ready to use with the latest Steam UI update.
Air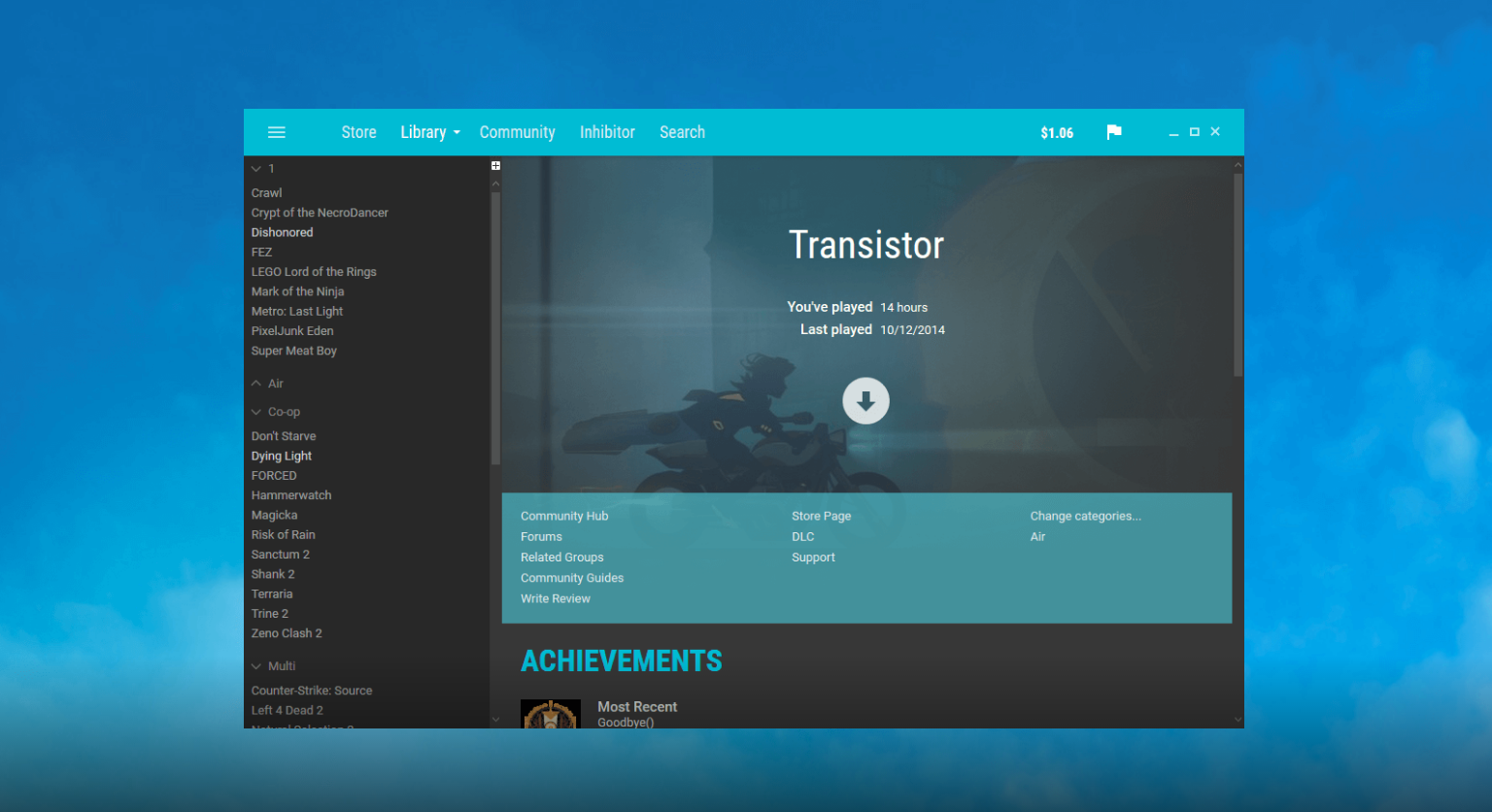 One of the more dramatic and visually stimulating skins out there, Air is a colorful and much different take on the Steam UI. This one is for those who are bold and looking for something that will stand out.
Note: This Steam skin should be fully functional with the latest UI update.
Metro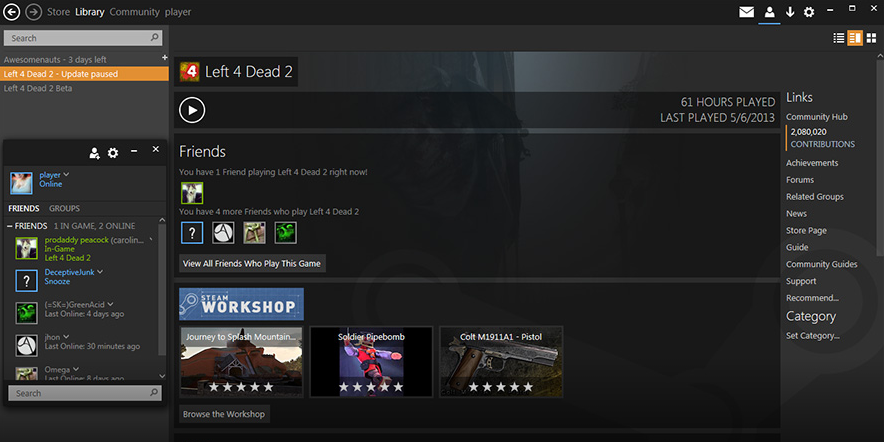 One of the most popular skins on SteamSkins.org, Metro is a clean take on the default Steam skin that works best in Windows 10.
Note: This skin is ready to use with the latest Steam UI update.
Team Fortress 2 Skin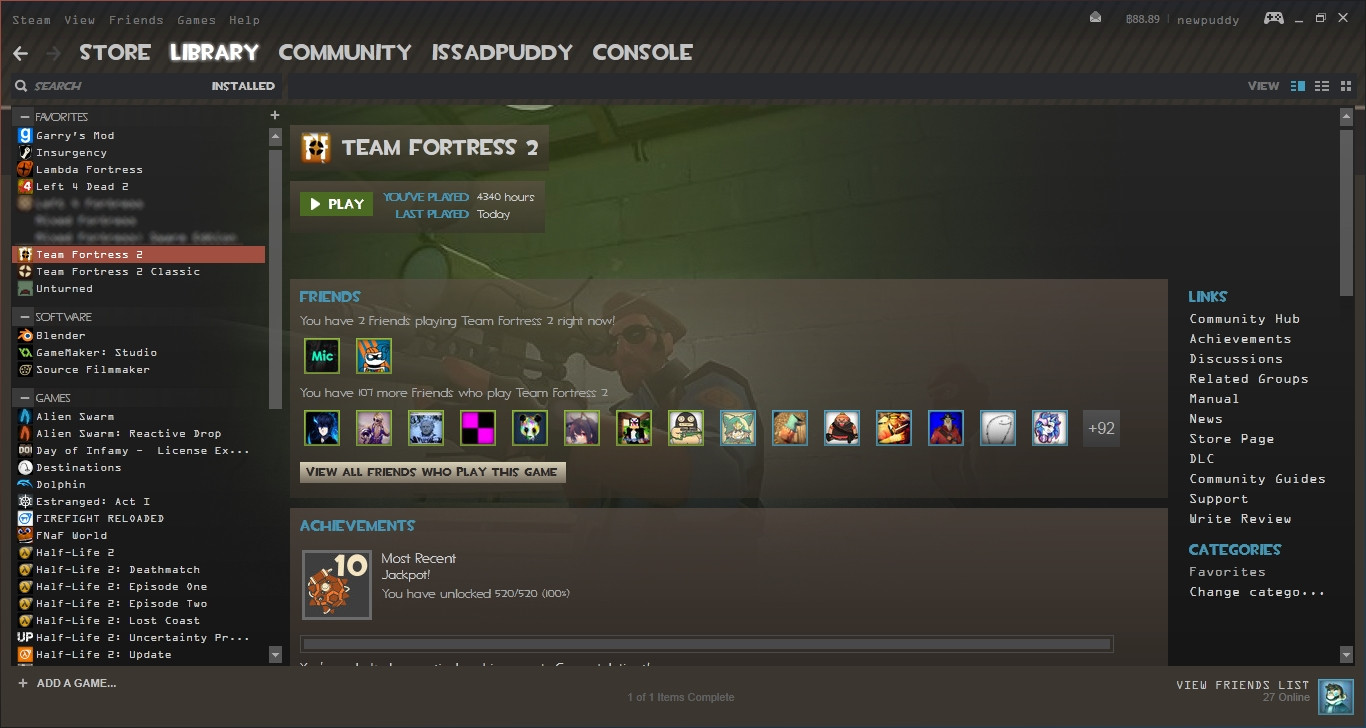 Team Fortress 2 and The Orange Box introduced many PC gamers to Steam. And this skin commemorates the game by mimicking Team Fortress 2's in-game look, particularly with its color scheme and cartoonish font. Old school fans in particular will appreciate this theme, which feels eerily similar to Team Fortress 2's original menu system.
Note: This skin may have issues with the current Steam update. We recommend reverting to the original UI for the time being.
Compact Skin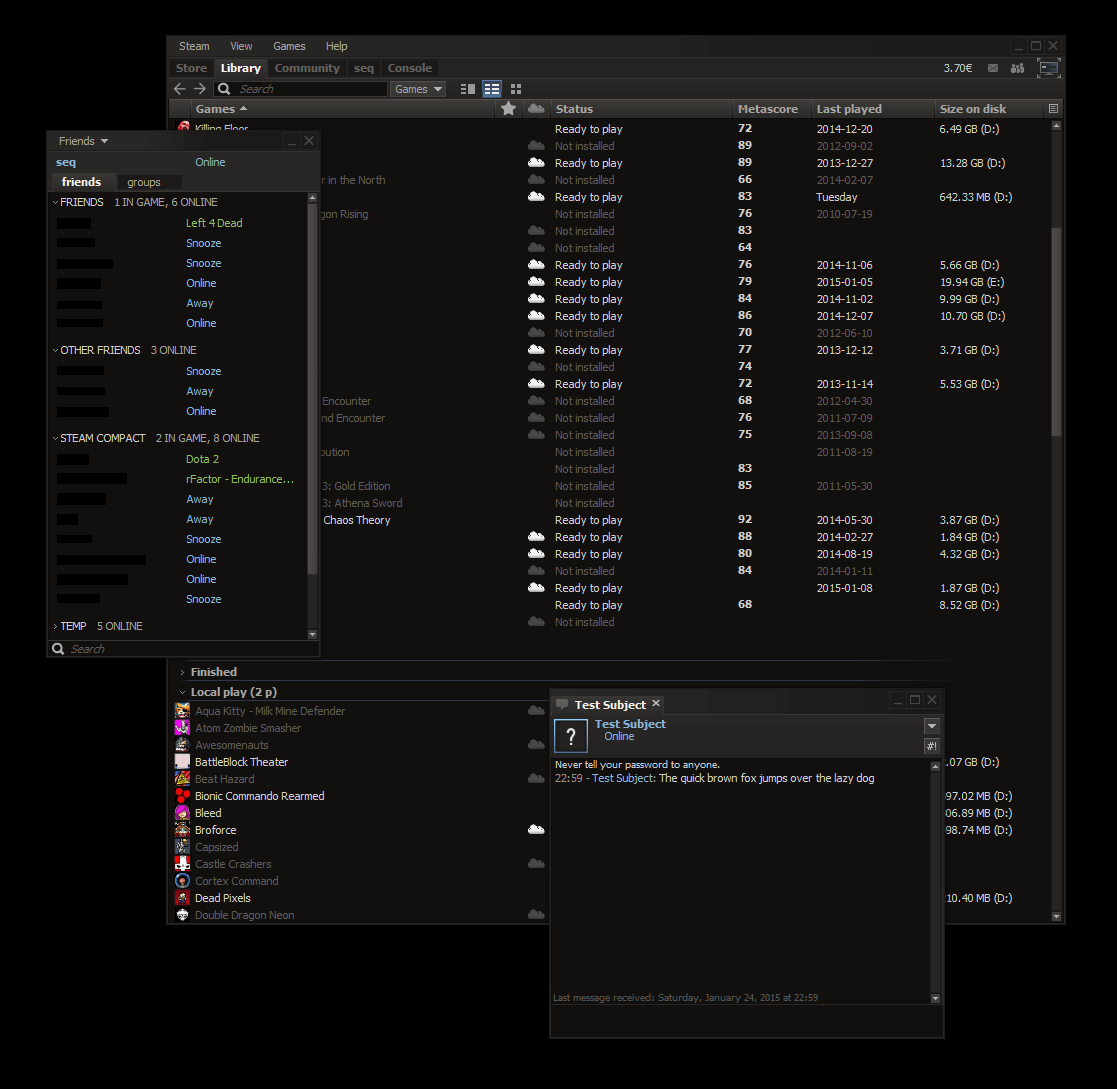 Looking for a sleek and minimal Steam experience that lets you jump straight into your games? Compact Skin keeps your Friends List, Library, and Steam overlay as simple as possible, letting you quickly hop in and out of play. For Steam users that want the least intrusive gaming experience possible, give this skin a try.
Note: This skin is ready to use with the latest Steam UI update.
Old Flat Green Skin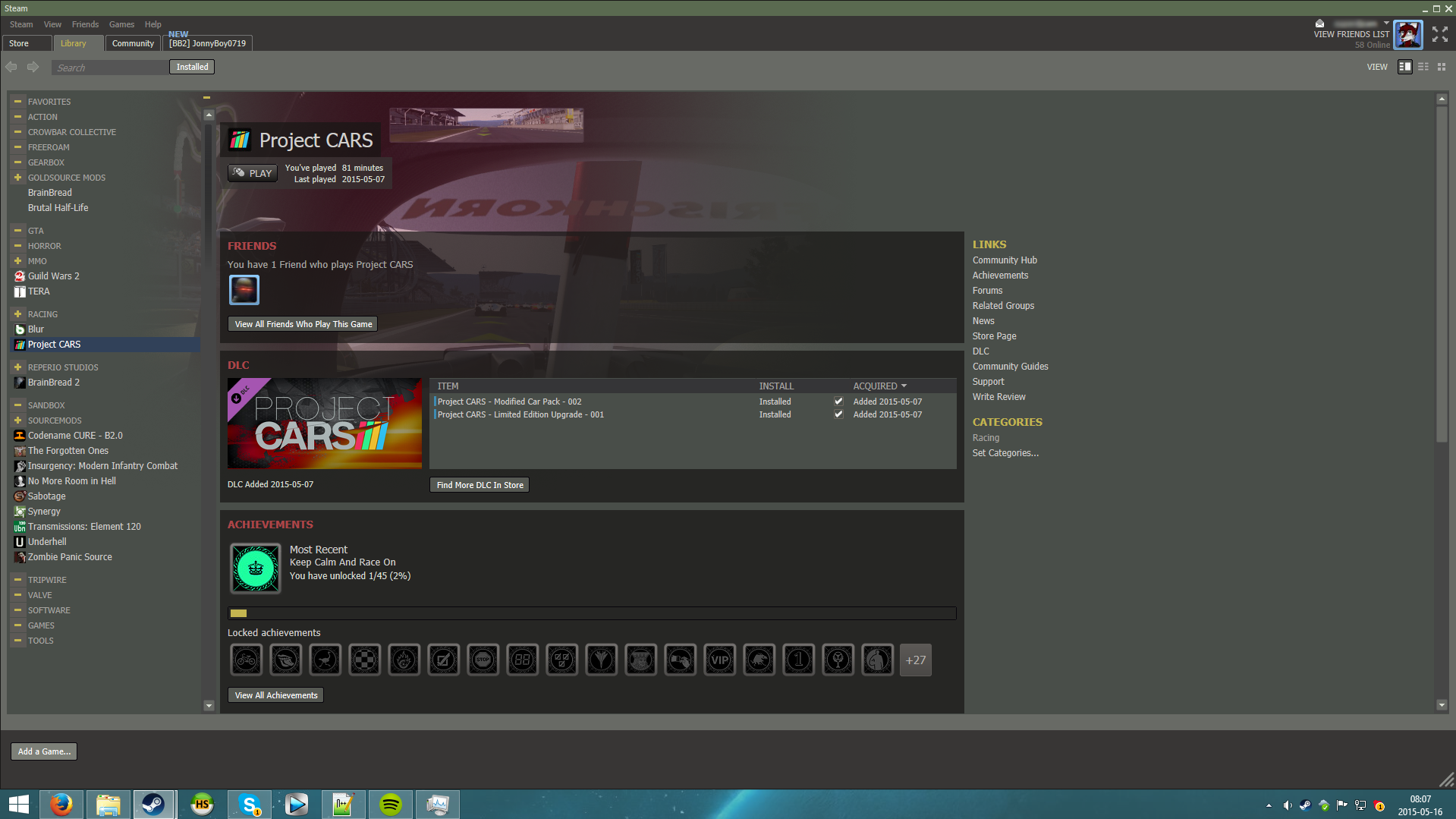 For Half-Life 2 and Counter-Strike: Source fans from yesteryear, this Steam skin is sure to delight. Inspired by the original Steam user interface from the mid-2000s, the Old Flat Green Skin is an old school Steam skin that replicates the classic Steam feel that was phased out over the years as the Steam design became more complex. Luckily, this skin brings back the past with a few new twists here and there.
Note: This skin may have minor issues with the latest Steam UI update, but for the most part, it should be functional.
FACEIT Skin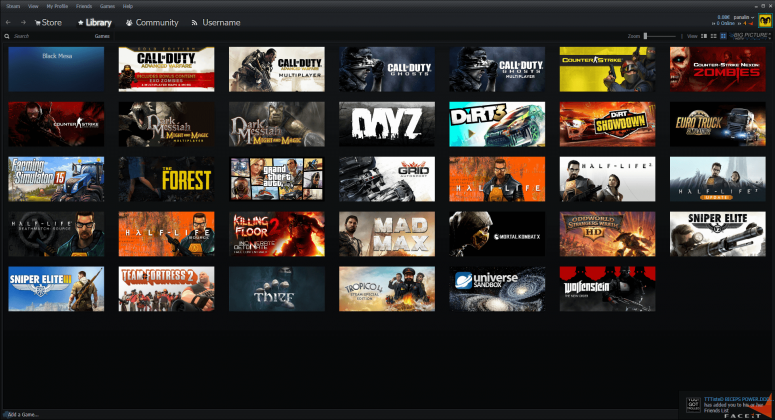 FACEIT has been around for quite some time now, and this Steam skin is actually based off another popular Steam skin, PixelVision. FACEIT Skin introduces a sleeker look to Steam's current UI, changing up the font and basic info display for a more seamless look. It's a relatively small tweak compared to some of the best skins out there, but sometimes less is more when it comes to improving a user interface.
Note: This skin should work with the latest Steam UI update, but there may be some issues with how it displays.
Pressure²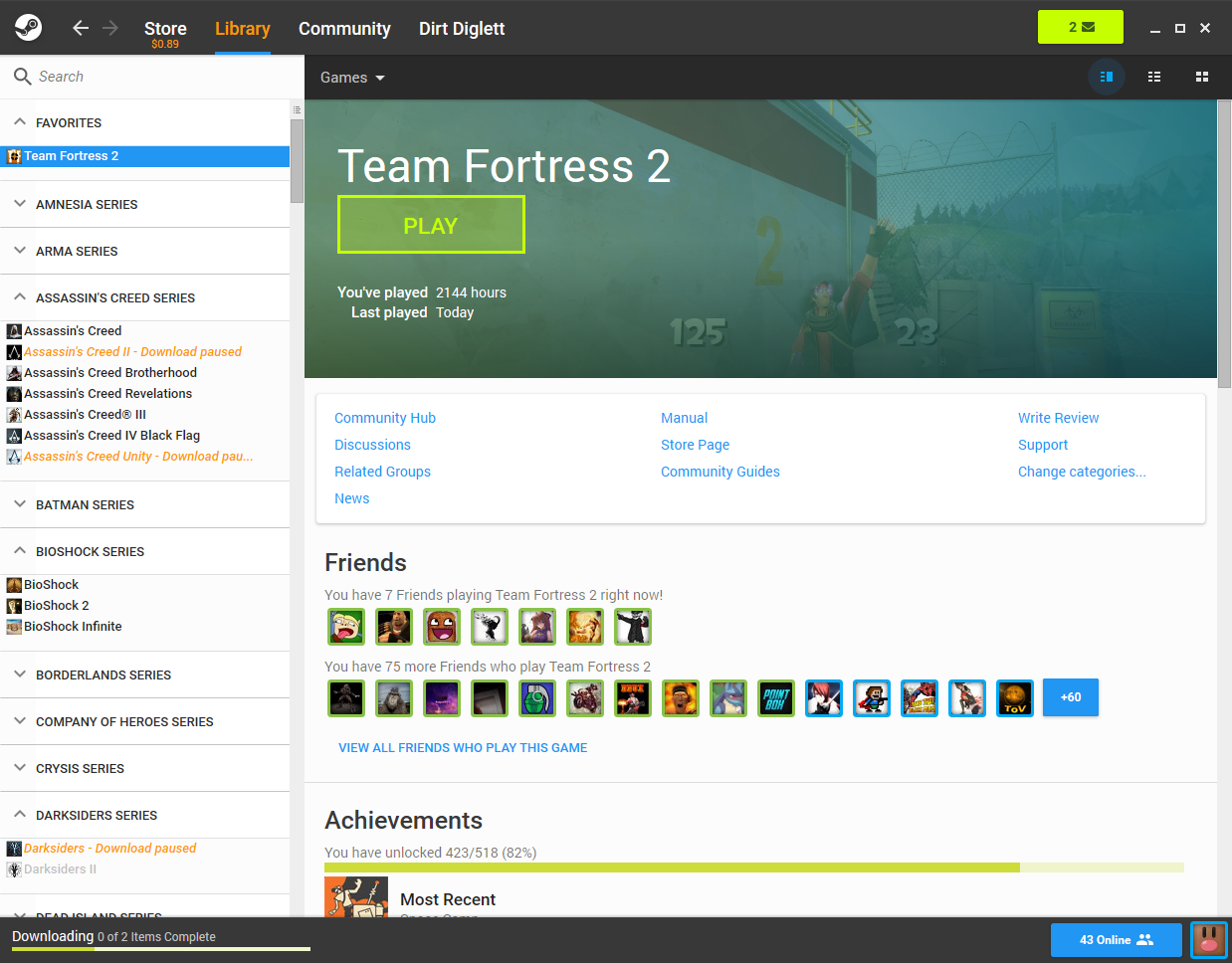 Let's face it, Steam's default UI is a little too clunky. Pressure² fixes that by drawing on Google's Material Design concepts, a visual language design that emphasizes "the physical world and its textures" and how "they reflect light and cast shadows." Case in point, Pressure² focuses on fluid and simplistic designs that are both visually appealing and easy to navigate, leading to a sleek design that's easy on the eyes and perfect for Steam users across PC, Mac, and Linux.
Note: Pressure²'s latest update compensates for the new Steam UI update and should function perfectly fine with its changes.
Publiclir
Good news for esports fans that want to show off their love for Publiclir: This Steam skin sports a brand new look perfect for the Swedish team. Even if you're not into competitive gaming, there's a lot to love about this skin, including its dark colors and sleek changes. For Counter-Strike: Global Offensive fans and curious esports fans with a Steam account alike, this skin is worth a download for sure.
Note: Publiclir may have issues with the latest Steam UI update. We recommend reverting to the original UI to prevent any bugs.
 Steam Customizer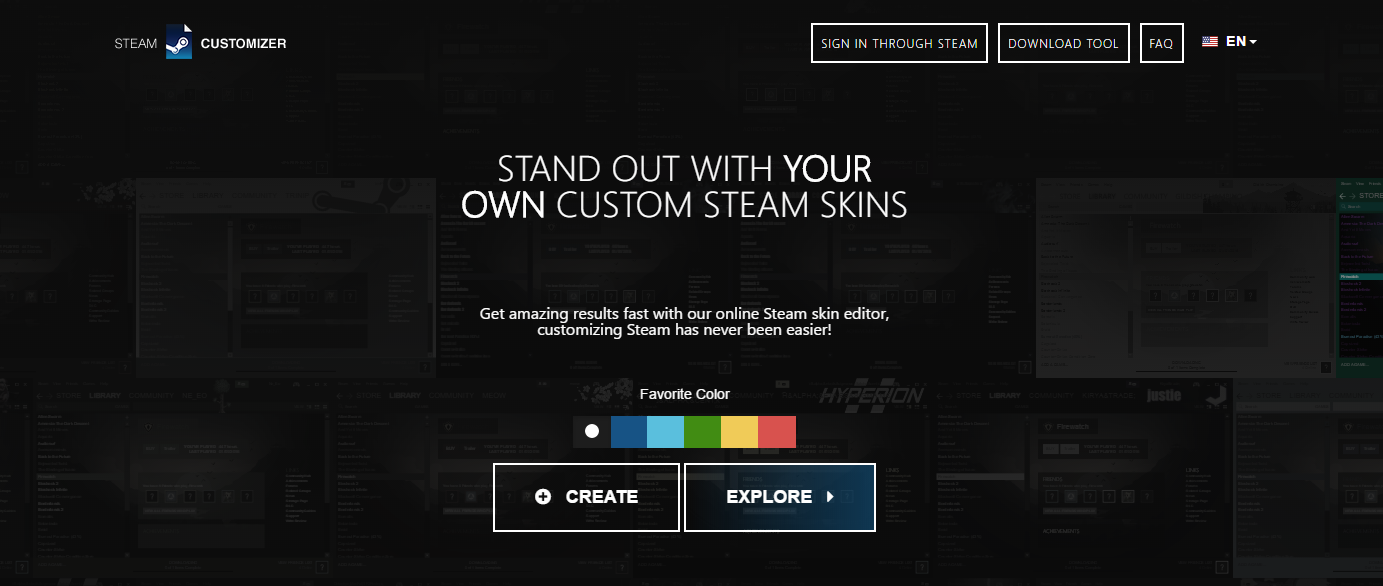 If you can't find anything that fits your tastes exactly, then SteamCustomizer is a good place to go. This site lets you make your own custom skins letting you tailor nearly every facet of the client's UI. There are a variety of fonts to choose from, a color wheel to customize most areas of the client, and it even lets you decide what your friends list will look like as well.
Not only that, but Steam Customizer has a ton of designs made by other users on the site. You have to connect your Steam to the site to download them, but the possibilities become great once you do. Here's a few that we found on the site after just a few minutes of browsing.
Overwatch Tracer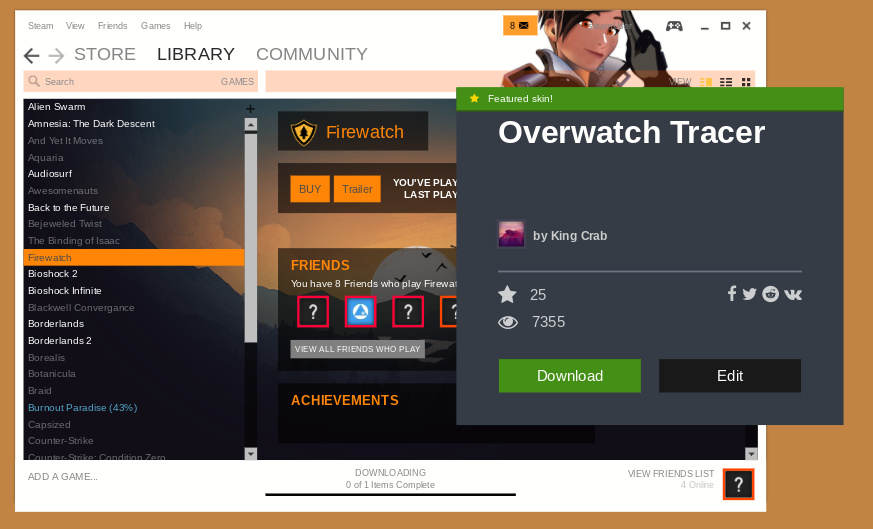 Dress your Steam profile up with Tracer from Overwatch. This skin is perfect for any Battle.net users who occasionally play on Valve's platform too.
VaultBoy Wink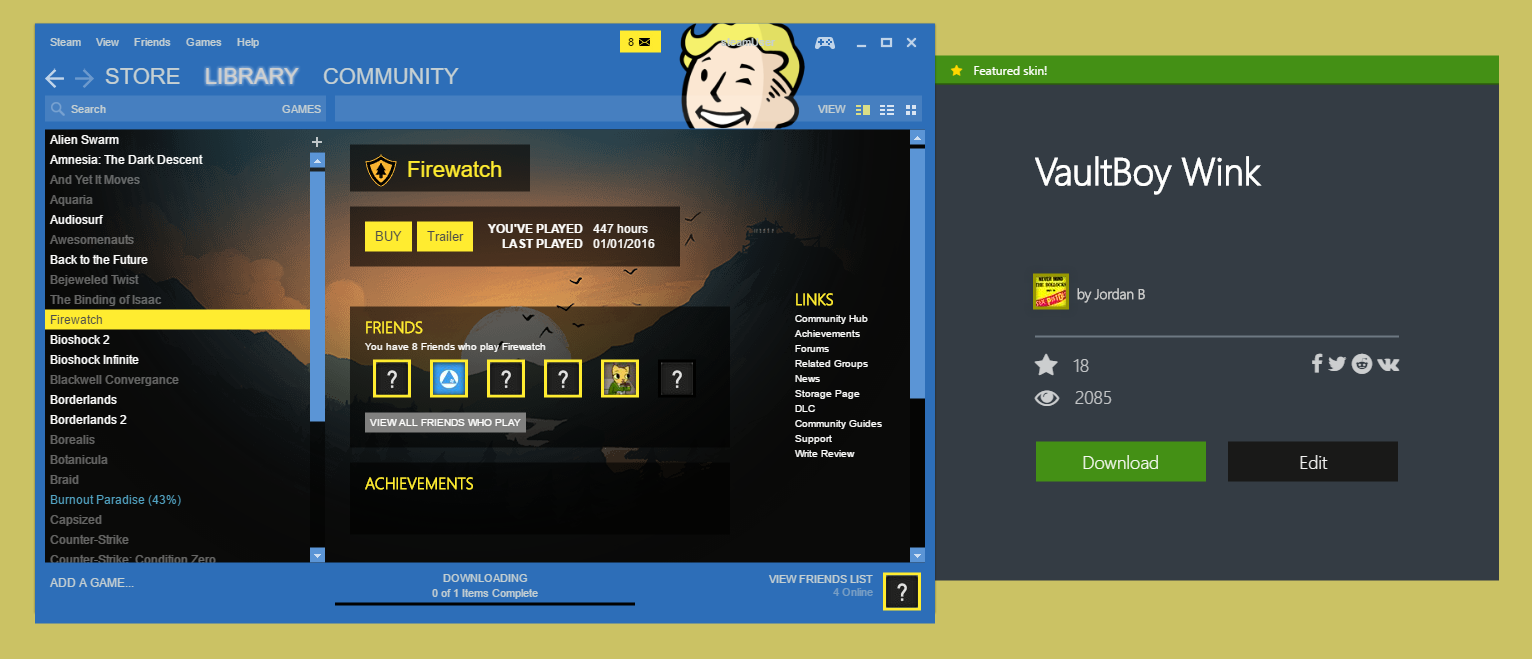 Interested in Fallout 76 and Fallout 4? This Steam skin is the perfect way to show off your passion for everything from Bethesda's incredibly popular post-apocalyptic game.
Skyrim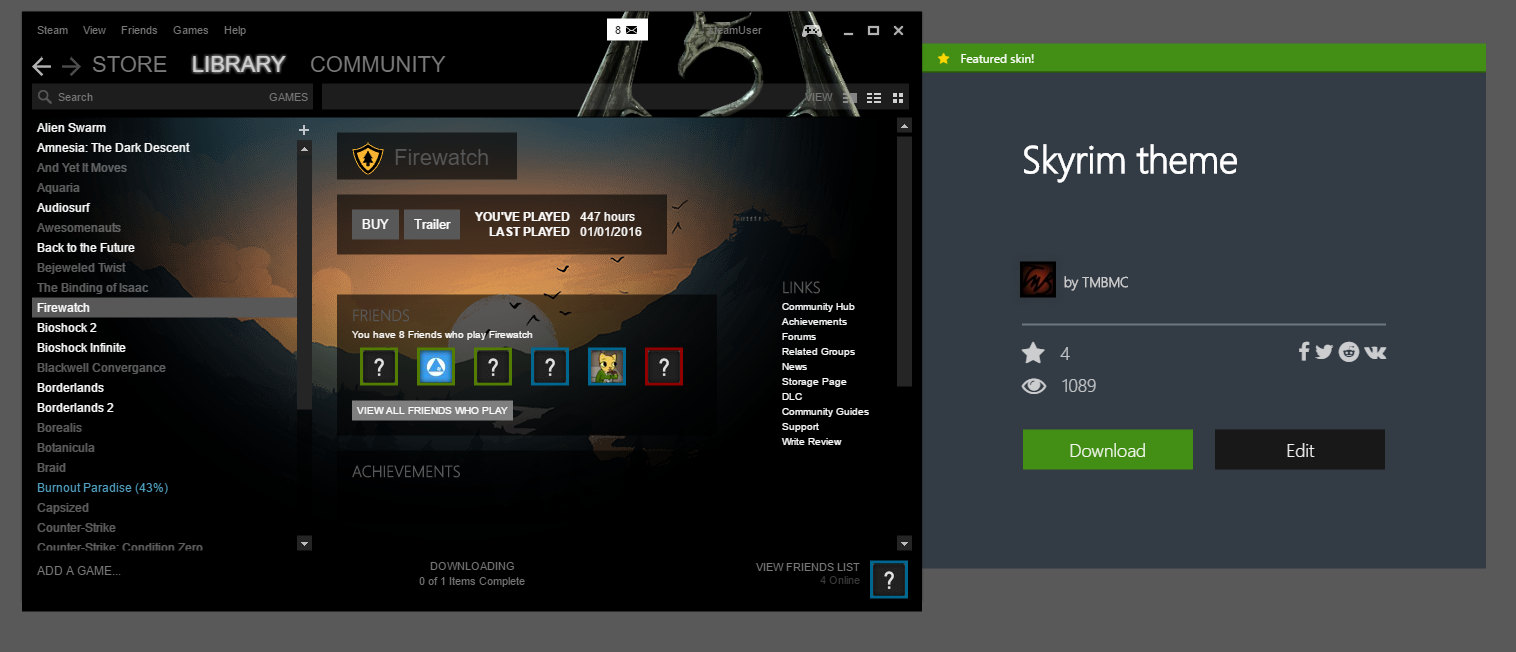 Good news, Skyrim has a skin available for Steam, too. Celebrate Bethesda's hit fantasy game with this Steam Customizer look for your account.
Euphoria UK v4
Feeling euphoric? Hopefully not. Luckily, this skin from ! boweN is a pretty great take, combining black, red, and silver to create a sleek look perfect for any hardcore gamer. We particularly recommend it for gamers that like darker color schemes when they game.
Paladins
Hi-Rez Studios' Paladins: Champions of the Realm is not just a major free-to-play hit, it's also one of Overwatch's biggest competitors. The game is available to try out on Steam by simpl creating an account and downloading the game, and what better way to celebrate your love for the series than a Steam skin dedicated to the MOBA title? This one is pretty nifty, and it adds a tasteful color scheme to your account to boot.
MikuUI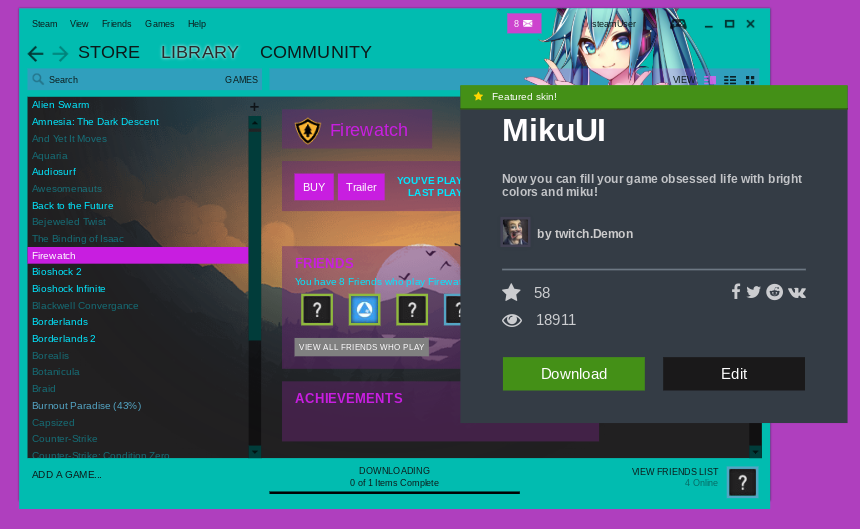 Remember Hatsune Miku from Vocaloid? You can dress your Steam profile up with her colors as a digital tribute to everyone's favorite virtual singer.
Rick and Morty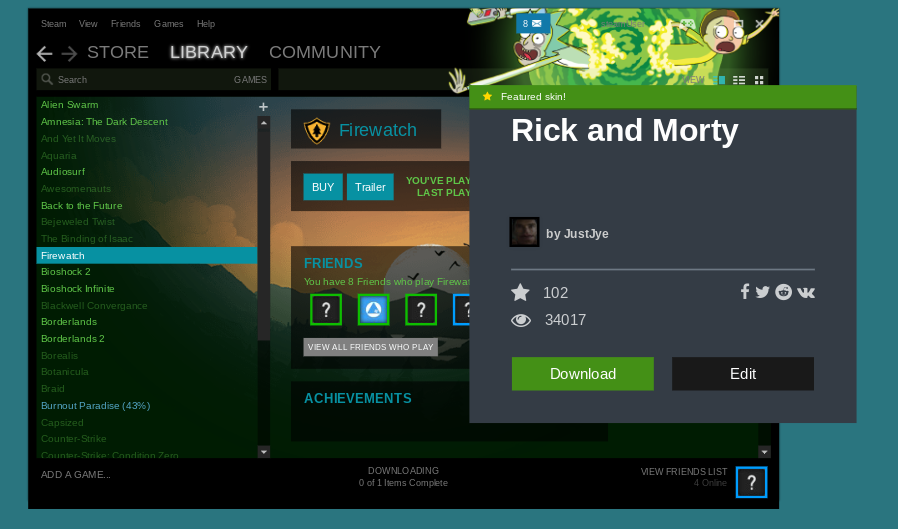 Yes, someone went there. If you're into Rick and Morty, well, there's a Steam skin for that too.
Life is Strange: Before the Storm
For every Life is Strange fan out there eager for the next update to the beloved series, this skin dedicated to its prequel Life is Strange: Before the Storm is a solid look. We're a big fan of the black and purple color scheme, as well as the butterfly design in the top right.
Renamon Skin
For every Pokémon fan and furry alike, there's this killer Renamon skin. Sure, it may not have the same flair as some of the custom Steam skins dedicated to Fallout or Overwatch, but it's still a solid look that gets the point across: Renamon is the best Pokémon ever.
Whether you want to darken or lighten your UI, stand out, feel a little bit of nostalgia for the past, or just represent your favorite games, there's a Steam skin out there for every taste.
Ana Valens contributed to this piece.