Borderlands 3 Box Art And Deluxe Edition Details Leaked
It is getting harder and harder to keep secrets in the gaming industry. Borderlands 3, the recently announced next installment in the Borderlands series, appears to have fallen victim to leaks today.
Twitter user Wario64, who is known for getting scoops in the world of gaming, has tweeted what appears to be the box art for Borderlands 3, and its two Deluxe Edition variants.
The box art features the series mascot, the Psycho, wearing robes, and appearing to sit on a throne of guns and flowers. They also included a promotional shot that appears to give us a lot of details about the Diamond Loot Chest Collector's Edition of the game.
It seems that this version will include the following items;
Diamond Loot Chest Replica
Sanctuary 3 Snap Model
10 Character Figurines
5 Character Art Lithographs
4 Vault Key Chains
Cloth Map of the Galaxy
Borderlands 3 Game
Steelbook Case
Season Pass
Deluxe Bonus Content
Gold Weapon Skins Pack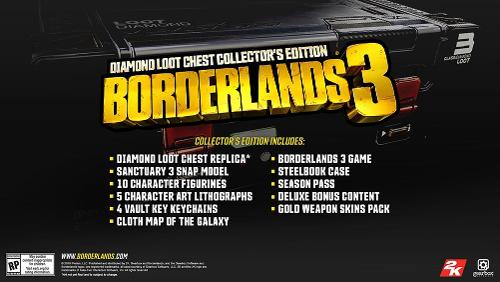 ​
The cloth map of the galaxy is what interests me, especially when taken in conjunction with the trailers "Explore the Worlds" line. Will it be a case of us travel from world to world throughout the story? It shouldn't be all that much longer to find out, as more announcements are set to come about Borderlands 3 over the coming days. We will, of course, keep you up to date on all of them.