Fallout 76 Exact Launch Times Revealed
Fallout 76 worldwide launch is just around the corner (November 14), and while many of you have already got your hands on the game via the BETA, but you still might be wondering about when exactly you will be able to start your full-game on November 14 i.e. what is the exact Launch Time of Fallout 76 in your region?
​
To solve this query of yours, Bethesda has shared a cool map (check it out below) which carries the exact launch time of Fallout 76 for different regions.
Fallout 76 Exact Launch Times
London: 12:01 AM UTC
Moscow: 12:01 AM MSK
New York: 12:01 AM EST
Paris: 12:01 AM CEST
Los Angeles: 9:01 PST (November 13)
Sao Paulo: 12:01 AM BRT
Tokyo: 12:01 AM JST (November 15)
Taipei: 12:01 AM CST (November 15)
Singapore: 12:01 AM SGT (November 15)
Sydney: 12:01 AM AEST
In addition to this, Bethesda announced that Fallout 76 is available for pre-load right now on all platforms (PC, PlayStation 4, and Xbox One).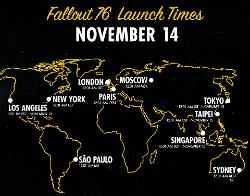 Wait, there's more announcement – Bethesda also shared the Minimum and Recommended PC System Requirements for Fallout 76. You can check them out below. Sadly, there was no update on at the Resolution/FPS at which Fallout 76 will run at Minimum and Recommended Specs.
Fallout 76 Minimum PC System Requirements
Requires 64-bit processor and operating system
OS: Windows 7/8/10 (64-bit OS required)
Processor: Intel Core i5-6600k 3.5 GHz /AMD Ryzen 3 1300X 3.5 GHz or equivalent
Graphics: NVIDIA GTX 780 3GB/AMD Radeon R9 285 2GB or equivalent
Memory: 8 GB RAM
Storage: 60 GB of free disk space
Fallout 76 Recommended PC System Requirements
Requires 64-bit processor and operating system
OS: Windows 7/8.1/10
Processor: Intel Core i7-4790 3.6 GHz / AMD Ryzen 5 1500X 3.5 GHz
Graphics: Nvidia GTX 970 4GB / AMD R9 290X 4GB
Memory: 8 GB RAM
Storage: 60 GB of free disk space