The Aftermath of Genesis Walkthrough | Red Dead Redemption 2
Arthur and Javier rescued John in the previous chapter Enter, Pursued By  A Memory. To begin the next mission Aftermath Of Genesis once you are out of your room to go left. You will find Mr. Pearson in a house once you are outside of your room. Walk towards the left end and you will find him near the coal fire warming himself. If you right towards a room you will find Bill Williamson that will trigger Old Friends. In this guide, you can read on The Aftermath of Genesis Walkthrough that is mostly about hunting and some flashback stories about what really made the gang to wander in such a harsh environment.
The Aftermath of Genesis Walkthrough
Press L2 to talk to Mr. Pearson who will tell you about low food supply. For earning Gold in this mission you will have to kill every dear with one arrow. You will go with Charles who will give you a hunting bow.  Follow Charles who will take you to place with Deer around. Press L3 to crouch and follow Charles and take the bow with you.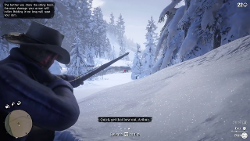 You can now use the Eagle Eye & Focus feature that will slow down the time a bit. To use it you have to press L3 and then R3 that will highlight the tracks of animals you have to follow. Follow the tracks quietly and walk towards the river. Follow the animal's footprints and you will spot a Deer far near the river. Don't go too near, once you killed the first one walk towards the river and you will spot another one. Pass a few trees and shoot. If you go too near they will run away. You have to kill at least two deer and carry it back to the camp.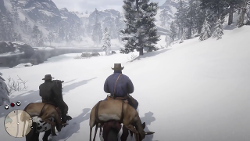 You can call your horse if you are too far from the mount. Place the deer on the horse and follow Charles. While on your way you can talk about Mrs. Adler and O'Driscolls. While returning to the camp area you will spot a Bear. There is no login in fighting the animal listen to Charles. He will tell you to find another way around, best is to keep quiet and don't try to approach the wild animal. It will walk away after some time. You have to calm your horse by pressing L3 as the animal gets after seeing a predator.
If you try to go near the bear will attack and kill you. Keep following Charles. Hitch your horse and carry the deer to Mr. Pearson.  Pearson will tell you to skin the Deer and he will tell you that you can sell them off for some quick cash.
For the next mission Old Friends you will have to meet Bill Williams. He is inside the house on the left side once you exit Mr. Pearson's kitchen. For similar guides, tips and updates on the game do have look on our Red Dead Redemption 2 Wiki guide.