That's Murfree Country Walkthrough | Red Dead Redemption 2
In the previous chapter Icarus and Friends, Arthur and Mrs. Adler were able to find John's location in the prison area. The next mission is That's Murfree Country, it is also the ending mission of Chapter 5 Guarma. To start That's Murfree Country mission, talk to Dutch in Lakay, he is sitting alone and talking to himself. Just talk to Charles to start the mission.
That's Murfree Country Walkthrough
To achieve Gold Medal in this mission you will have to deliver Meredith within 2 minutes and get 15 headshots. You have to finish up the mission with 85% accuracy without taking health items.
Go To Butcher Creek| That's Murfree Country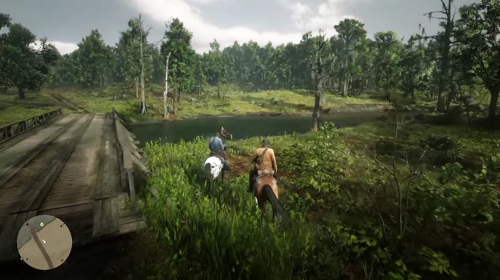 Locate Dutch who is sitting alone on the right of the house playing chess in his mind. Dutch will explain how much Pinkertons are behind them after the cutscene walks towards the north and you will find Charles. You and Charles will be going to Butcher Creek. You will be riding on a horse for a while and then get an option to use a Canoe. You can continue on a horse if you want, the objective is to reach Butcher Creek.
Follow Charles | That's Murfree Country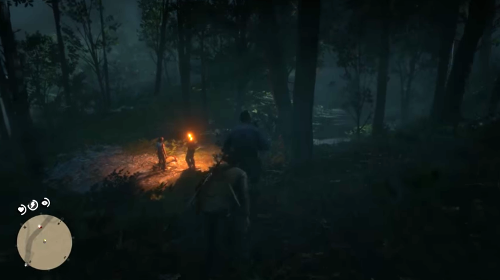 Once you reached the creek follow Charles who will take you towards horses, jump on and ride with him. He will tell you to slow down after a short while, next you will be on foot crouching quietly with Charles towards the target region. You will see two Murfree's and Charles will tell you to take down one. Target the left one, use an arrow to kill the target. After killing two of them continue following Charles. Using an arrow will help you not to attract any attention, but for Gold, you can instead use Dead Eye to shoot down both and then kill the remaining on your way. You will need 15 headshots. You will see a cutscene once Charles reaches a small hill and both will survey the area through binoculars and finds the missing stagecoach. You will have two choices here Sneak in or use a Dynamite to blow the cave.
Take out the Murfrees | That's Murfree Country
If you use Sneak you will be following Charles into the cave, you will have to kill the Murfree's and protect Charles along with, or else you will fail in the mission. If you pick Dynamite to follow Charles instruction to throw the bomb. In both the choices, you will have to fight the Murfrees.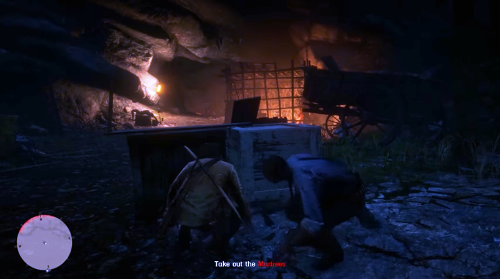 We picked Sneak, in this choice, follow Charles. Stay behind him, and loot the bodies on your way. You will get some weapons and ammos. Follow Charles order he will tell you when to attack. The red spots will help you to get locations of enemies. You will also hear a scream of a woman. You will spot two enemies torturing someone, once you shoot them the fight will start. It's time for a face to face fight, after killing all, walk towards the cage and open it.
Ride Meredith To Home | That's Murfree Country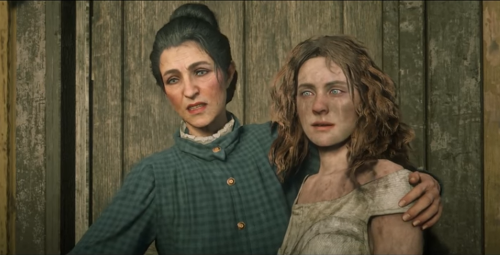 Arthur will ride Meredith to home, she will be terrified with what happened to her. Follow the yellow line and once you arrived the main street just ride for a short while and you will see a yellow patch. That is your destination. The girl will return back to her house and reunites with her mother. Meredith's mother will offer you some money, you can accept or decline it. If you decline the money your honor will increase.
Arthur will return to the camp and find Molly is drunk and creating a ruckus. Before you had seen Molly tried talking to Arthur and Dutch but ignored, she was not happy with it.  She will tell a lot of things and accept that she was the one who betrayed the camp members. Because of her Lenny and Hosea died and John is caught by Lawmen. Before Dutch shoots here Mrs. Grimshaw intervenes and shoots Molly.
This is the end of mission That's Murfree Country, with this Chapter 5 Guarma also ends. You can read our walkthrough on the first mission - Visiting Hours of Chapter 6 Beaver Hollow. For more similar guides, tips and updates on the game do read our Red Dead Redemption 2 Wiki guide.